QuickBooks enables users to setup and configure email services on QuickBooks Desktop for their convenience.
Once the email service is setup in QuickBooks, you can utilize it to send an invoice to your customers, receive or send reports, and conduct other transactions too from your particular from your QuickBooks Desktop via your webmail or Outlook ID.
This particular additional characteristic turns the accounting software QuickBooks into an extremely useful and helpful application for all the small and mid-sized business owners.
Save Time, Reduce Errors, and Improve Accuracy
Dancing Numbers helps small businesses, entrepreneurs, and CPAs to do smart transferring of data to and from QuickBooks Desktop. Utilize import, export, and delete services of Dancing Numbers software.
What are the Email Services in QuickBooks is all about?
When you email from QuickBooks directly, it saves time and effort and is treated as one of the most crucial features of QuickBooks.
Often the QuickBooks users experience problems in setting up email in QuickBooks. This is why today we will provide complete details regarding the setup process for an email in the QuickBooks Desktop.
Note: In order to setup email in QuickBooks, the information provided below is significant:
Username and Password
Outgoing and Incoming email addresses
Incoming email server type
What are the Primary Email options available in QuickBooks?
Often, users are unable to find the options for their specific email in the QuickBooks Desktop setup because of few reasons. Add to it, users can have alternate versions instead of the ones mentioned below.
Here are the three options to have a look at:
QuickBooks Email – This particular option is not usually preferred and liked by all the users.
Webmail – This particular feature bridges with Yahoo, Gmail, and other user email platforms.
Outlook – Those who have Microsoft Outlook running in there system can get the Outlook support. It is the most preferred email support preferred by clients since it is more effective and easy to use.
Why do you need to Configure Email Services in QuickBooks?
It goes without saying that QuickBooks is one of the best accounting software of all time and the email feature offers the added benefits.
Here is why you need to configure email services in QuickBooks:
The email feature sets payment reminders to all the clients via emails
The user is empowered to import data from particular spreadsheets and add attachments not more than 2MB
Send the estimates to the clients and direct email invoices with the QuickBooks email setup
With this email feature, users can get details from the vendors and customers
This feature allows users to share reports within departments and offices conveniently
How to Setup and Configure Email Services in QuickBooks?
The right method to setup email services in QuickBooks may differ for Webmail, Outlook, etc. We will discuss every process in detail.
Setup Outlook
Step 1: To setup Outlook, a user needs to have a new QuickBooks Outlook email
Step 2: If the user has an Outlook account already, he/she should switch to Next
Step 3: Arrange the data to set-up Outlook as an Email client
Step 4: Setup Outlook in QuickBooks
Step 5: User needs to select Preferences and then choose Send Forms from the particular QuickBooks Edit menu
Step 6: Choose Outlook and then press OK
Setup Email Service
Step 1: The first step to setup email service in QuickBooks is to choose the QuickBooks email settings
Step 2: Now the QuickBooks email option can be utilized by the users that may consist of any active Intuit services like QuickBooks Payroll, etc
Step 3: Now you need to add all the required data like email address, username, password, etc. When the information is added, the process is complete
Setup Webmail
Note: For those who have the current version of QuickBooks, they can use the secure webmail. The connection through secure webmail is there only for specific providers like:
QuickBooks 2017
QuickBooks 2018
QuickBooks 2019
QuickBooks 2020
Step 1: The first option is to choose the Edit Menu and then choose Send forms
Step 2: The next step is to select the My Preference tab and then select the Webmail radio from the visible options.
Step 3: Once it is done, the user needs to add the email address which they wish to utilize for QuickBooks emailing
Step 4: The next option is to select the SSL security checkbox
Step 5: Now add the right SMTP server along with port configuration and then press the OK button
Step 6: The user now needs to send the email and see if there is any kind of error visible
In this piece of content, we have provided all the necessary details that a user would need to setup an email in QuickBooks Desktop. We hope that the steps mentioned above will help the users to setup email in QuickBooks conveniently and without any assistance.
Accounting Professionals, CPA, Enterprises, Owners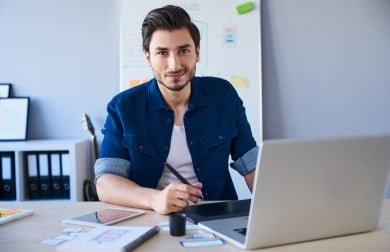 Looking for a professional expert to get the right assistance for your problems? Here, we have a team of professional and experienced team members to fix your technical, functional, data transfer, installation, update, upgrade, or data migrations errors. We are here at Dancing Numbers available to assist you with all your queries. To fix these queries you can get in touch with us via a toll-free number 1800-689-5491 or chat with experts.
---
Does QuickBooks prompts you to use the webmail password the first time an email is sent using the webmail?
Unlike the Secure Webmail, QuickBooks prompts you to type in the webmail password the very first time a user sends an email using the webmail.
Can the email feature in QuickBooks send Payment Reminders to the customers?
Yes. The email feature can send payment reminders to all of your customers.
The QuickBooks email feature allows attachments up to how much?
The email feature in QuickBooks allows importing data from spreadsheets and adding attachments that are no more than 2 MB.
What are the requirements of the QuickBooks Email setup?
Here are the requirements for QuickBooks email setup:
• Email address
• Username and Password
• Details of the server along with Incoming and Outgoing email settings