Follow the below mention steps to fix QuickBooks Email Invoice and Statements Problems.
You always look forward to starting your day of accounting with the most advanced technology named QuickBooks. However, there will be times when you will see some common issues or errors which will bother you to a great extent. After all, tech issues are petty and common, but can be resolved as well with a small number of steps. It is easy to generate invoices on the QuickBooks platform but what will happen if you cannot find a way to email it or you see an error while doing so.
Save Time, Reduce Errors, and Improve Accuracy
Dancing Numbers helps small businesses, entrepreneurs, and CPAs to do smart transferring of data to and from QuickBooks Desktop. Utilize import, export, and delete services of Dancing Numbers software.
This is a common error that being a QuickBooks user, you will experience while sharing invoices or statements to your customers. In this error, when you try to send an invoice through the QuickBooks to an email. Possibility is that with the service provider like outlook, users may get an error message like "QuickBooks is unable to send your emails to outlook". Here are the reasons you may see this error:
The incorrect setup of email preference.
Installation of QuickBooks got damaged.
Particular domain was blocked.
Security settings on the email account from your service provider.
Steps to Fix QuickBooks Email Invoice Problems
First of all, you need to make sure that your QuickBooks software is its latest version. With this approach, you will not miss out on any latest feature being added to the platform.
Secondly, you need to check the preference settings in the web mail:
Login to your Email account.
At the top right menu bar, click on the Edit button.
Click on the Preferences.
Press click on the Send Forms on the left panel.
Under the tab of My Preferences, you need to select the specific email account you're going to use.
You should click on the Edit option.
Next step is to mark the SSL box, or just select the Default tab.
In the field of Server Name, You also need to ensure that the server name matches your email provider's settings. For example, If you are seeing smtp.mail.outlook.com then, change it to intuit.smtp.mail.yahoo.com and click on OK.
If you are still getting the same error of an incorrect password error message, then, please you need to follow the detailed steps in this article to resolve this:
QuickBooks is Not Accepting the WebMail Password
If you are getting this above mentioned error then you may wish to try these troubleshooting steps in order to fix the error. It will allow you to send invoices from QuickBooks.
First of all, go to the menu bar at the top and click on the "Edit" button.
Click on the "Preferences".
Then you will see the panel at the left side, you need to click on the "My Preferences" tab.
Next is to click on the "Edit" to change the preference settings.
Then you need to choose the "Default".
Now, you need to ensure that your email provider server name matches "Server Name" field in the application.
Make sure you should be using the correct password for your email account. Otherwise you will also get an error of incorrect password.
Now in order to check whether the error is fixed or not you need to do a test run.
Go to the "File" menu select
Select the "Close Company".
Now you need to click on the "Open a Sample File" [It should be opened in "No Company Open" window.]
You need to choose the sample company file that you wish to open or share.
Fix and setup your email service provider settings in QuickBooks desktop and try to share the email once again.
You can also give us the query details and we will ensure to find the best possible solution for you which suits your business the most. If you any query then connect via Get a Free Consultation.
Accounting Professionals, CPA, Enterprises, Owners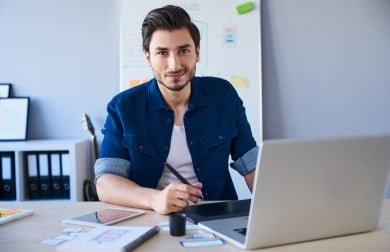 Looking for a professional expert to get the right assistance for your problems? Here, we have a team of professional and experienced team members to fix your technical, functional, data transfer, installation, update, upgrade, or data migrations errors. We are here at Dancing Numbers available to assist you with all your queries. To fix these queries you can get in touch with us via a toll-free number 1800-689-5491 or chat with experts.
---
How to Change the Email Settings in QuickBooks?

You can always choose to change your customer-facing email address


Then, please select the Settings gear icon, and then choose Company Settings.


This Company tab will be selected by default. Then you need to click on the pencil icon to edit. It will be visible on the right of the Contact Info section.


You need to enter your company's email address in the required company email field.


Click on the save button and then hit the Done button to save your changes.
How to Change the Administrator Email in QuickBooks Desktop?
There will be times, when you wish to change the admin email in your QuickBooks Desktop or account. Here are the steps to follow to do the same:

First of all, go to your Intuit account and login using your account credentials.


Then you need to go to the top right corner and Select Sign in & security.


Choose the specific Email address to enter.


Update the email address in the required field and then select the Save button.
How Can a QuickBooks Desktop Report be Emailed?
Let us guide you through the process of doing it in your QuickBooks Desktop (QBDT) software. Please refer to these below mentioned steps:

Firstly Login to your QuickBooks account.


Go to the Customer menu tab.


Click on Create the Statements.


In the window of the Create Statement, you need to enter the custom Statement Period From.


Then choose the appropriate customer for the statement.


Click on the Preview to review.


Lastly, you need to click on the email to send the statement to your customer.