GoDaddy has made a debut in the domain of bookkeeping software. The tool can cater to the fundamental accounting needs of a small to medium-sized business. However, it is not as smart as QuickBooks. The exceptional functions of QuickBooks have made it the most preferred choice among U.S. accountants. It offers the perfect business solutions, irrespective of the size of the business. You can only use GoDaddy accounting software online, whereas QuickBooks Desktop gives multiple users access at once.
Save Time, Reduce Errors, and Improve Accuracy
Dancing Numbers helps small businesses, entrepreneurs, and CPAs to do smart transferring of data to and from QuickBooks Desktop. Utilize import, export, and delete services of Dancing Numbers software.
Advantages of Migration from GoDaddy Bookkeeping to QuickBooks
Intuit is a popular name in the field of accounting software. Their products, like QuickBooks, are loaded with perks like various integrations, a user-friendly interface, and other innovative features. Thus, if you want to switch from GoDaddy to QuickBooks, it is an easy process, and all the data will be integrated. In other words, it is a comprehensive approach to revamping your business.
The migration also has the following advantages:
QuickBooks includes some amazing, advanced features, such as inventory tracking opportunities and monitoring invoices. These features are even available in the Android version of the software tool. Thus, you can manage all the warehouse activities on the go.
The Android application has a photo-clicking attribute with which you can click any sales invoice and upload it. In fact, the extended function of the software will save you from the worries of lost invoices. On the other hand, GoDaddy does not support payment of bills or tracking.
Unlike GoDaddy, QuickBooks is compatible with all sizes of businesses. Since the latter bookkeeping software has come a long way, you will get on-time updates for efficient tasking.
QuickBooks is a powerful tool and offers a cumulative package with analytics, budgeting, and reporting. Among the add-on aspects are tax calculation and payroll benefits.
Besides, many of its accounting calculations are automatic. Automation eliminates the possibility of manual errors and assures accurate results. There is a dual-screen dashboard.
GoDaddy fails to maintain client information on record. QuickBooks, on the other hand, is designed to possess an in-depth record of the clients as well as the transaction forms.
How to Import Your Data from GoDaddy Bookkeeping into QuickBooks?
Migration from GoDaddy to QuickBooks is primarily associated with exporting all the data into a CSV or Excel file at first. All this data will now be exported to the QuickBooks tool. As soon as the data is transferred from the CSV or Excel file, you can save it to any of your desktop locations. Now, you must follow the below steps:
Start QuickBooks
Go to the File menu.
Click on Utilities.
Select Import
Go to the Excel files.
Cancel the prompt screen instructing you to edit or add other "Multiple List Entries."
Keep tracking the transfer.
Click the Close tab after completion of the transfer.
A Detailed Comparison of GoDaddy vs. QuickBooks
| | |
| --- | --- |
| GoDaddy | QuickBooks |
| GoDaddy Bookkeeping is a cloud-based accounting operation designed especially for small businesses. | QuickBooks is another bookkeeping software that has some of the smarter versions on the market, like QuickBooks Android and QuickBooks Online. |
| It comprises the ABC of accounting, simplifying the process for only small businesses. | This automated bookkeeping tool saves time and is designed for all sizes of businesses. |
| GoDaddy misses out on some of the exclusive features that make it somewhat of a futuristic choice. | With this tool, you can monitor warehouse activities from anywhere and upload payment receipts to keep track of them in the future. |
There are many perks and benefits to choosing QuickBooks over GoDaddy. It not only saves money and time but also allows you to access some of the smartest accounting features. In addition, QuickBooks offers highly automated features with its highly priced plans. Some of such features are analytics, time tracking, inventory management, and payment management. It also keeps a record of all the invoices. GoDaddy is lagging in these exclusive features and fails to maintain any in-depth records.
Accounting Professionals, CPA, Enterprises, Owners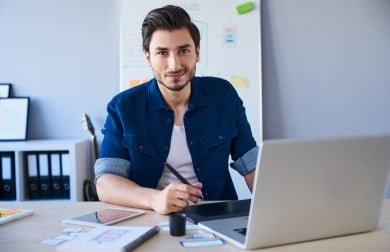 Looking for a professional expert to get the right assistance for your problems? Here, we have a team of professional and experienced team members to fix your technical, functional, data transfer, installation, update, upgrade, or data migrations errors. We are here at Dancing Numbers available to assist you with all your queries. To fix these queries you can get in touch with us via a toll-free number
+1-800-596-0806 or chat with experts.
---
Frequently Asked Questions
How will I Migrate from GoDaddy to QuickBooks?
Migrating data from GoDaddy to QuickBooks is simple and easy. All you need to do is transfer the data into an Excel file and then export it into QuickBooks. Prior to that, you need to buy a QuickBooks subscription. You can then log in to continue with the data import.
What are the Cons of Using GoDaddy Bookkeeping Software?
GoDaddy cannot provide you with advanced features like QuickBooks. Though it is also automated software, it primarily consists of basic features. With this software, you can majorly file taxes quickly in just a few easy steps.
What are the Details of the Monthly Plans for Both Programme's?
GoDaddy offers its members three categories of subscription: simple, essentials, and premium. However, the company does not offer a free trial to its potential customers. QuickBooks gives its new clients a free trial opportunity to enjoy the benefits. It even comes with the four pricing modules, with Advanced being the most feature-loaded to help you cut costs and save time.