Recently, QuickBooks 2021 Desktop was released by Intuit. In order to better inform you about the new products, Insightful Accountant has been evaluating various pre-release versions of these products for months and has spent their hours communicating with Intuit personnel who include product managers and developers.
Save Time, Reduce Errors, and Improve Accuracy
Dancing Numbers helps small businesses, entrepreneurs, and CPAs to do smart transferring of data to and from QuickBooks Desktop. Utilize import, export, and delete services of Dancing Numbers software.
This article is one in a series of individual product features designed to provide additional information in the QuickBooks Desktop 2021 product summary.
Advanced Bank Feeds
This is referred to as Improved Bank Feeds because of Intuit. Intuit referred to it in their promotional literature for the feature. However, under the preference settings, where users can choose to use this new bank feed method, it is referred to as the Advanced Mode. As a result, it is known as Advanced Bank Feeds even though you can call it as improved over both the Express Mode and Classic Mode.
When you connect to your financial institution using QuickBooks Desktop's Bank Feeds online feature, then you can download transactions and access additional online services. You can efficiently process bank and credit card transactions using Bank Feeds, giving you extra time for other business needs.
There have been issues despite how sophisticated the bank feeds Express Mode is. Due to a limited or inaccurate bank rule-based automation, users have been forced to manually categorized far too many bank feed transactions that are not in their books. As a result, they had to spend a lot of time manually adding details, such as the payee, memo, class, and other information to their imported transactions. Lack of batch action processing was another time-consuming task related to bank feeds; as a result, users had to individually change each newly downloaded transaction.
With the introduction of an entirely new mode named Advanced Mode, QuickBooks Desktop 2021 has made substantial improvements to overcome the Bank Feeds' prior restrictions and increase efficiency. Because some QuickBooks users preferred their new Bank Feed option, Intuit Developers decided not to force everyone to switch every to this new format, this new Advanced Mode of Bank Feeds.
Getting Started with Advanced (Mode) Bank Feeds
You must be logged in as the QuickBooks Administrator in order to select the new Bank Feeds enhancements. After that, choose Edit from the QuickBooks Menu bar, then select Preferences, after that click on Checking, then click on the tab of Company Preferences, and then select "Advanced Mode" under Bank Feeds.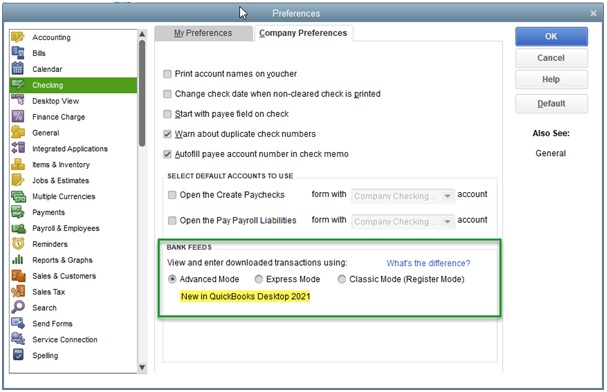 Using Advanced Bank Feeds for Daily Transactions
If you want to launch Bank Feeds then you have to begin at the QuickBooks menu bar, after that select Banking. Then choose the Bank Feeds and then select Bank Feeds Center.
QuickBooks' Advanced Bank Feeds categories most downloaded transactions by payees, accounts, and classes more automatically than Express Mode with improved matching to any transactions that may already exist within QuickBooks.
QuickBooks can partially match a downloaded transaction and prompt users to review the downloaded transactions to the most likely matched transactions in these situations. To add the transaction(s) to the register, users can quickly choose the appropriate transaction and click on Confirm match.
Other times, when a transaction is downloaded from your bank, QuickBooks is unable to find a matching transaction. It's possible that QuickBooks hasn't before received a transaction. Even though you downloaded your credit card transactions, it's possible that it hasn't been posted using a other method (like the new Receipt Management function). It's possible that QuickBooks already has the transaction but that there isn't enough difference in the information to enable QuickBooks to identify a match. Rarely a newly downloaded transaction matches a QuickBooks transaction that has already been reconciled, and since the reconciled status prevents matches, Advanced Bank Feeds' smart logic won't match them.
Click on the Drop-down next to Add in the Action column and choose Add more details from the menu that appears if you need to split a transaction into more than single line item of detail.
When you are ready, click Save and send to register. Add as many detail lines as are need to properly itemize the downloaded transaction.
The new batch action option permits users to quickly select multiple transactions, modify them in bulk, and then add them to your books with a minimum number of clicks, making it easier to post multiple transactions from downloaded Bank Feed data.
After unrecognized transactions are confirmed then they will appear within the Added to register tab.
Enhanced Bank Rule Capabilities
When it comes to bank rules, Advanced Bank Feeds continues where Express Bank Feeds left off. In the same time, bank rules are continuously refined with artificial intelligence, and QuickBooks uses these enhanced bank rules to categories your transactions automatically. Greater machine learning is being used so that rules are becoming smarter and don't just simply follow the first trend they encountered.
From the QuickBooks menu bar, click on Banking, then Bank Feeds, then Bank Feeds Center, and finally choose Rules.
Because QuickBooks developers are aware that users transactions are unique that don't always follow specific patterns, they give you the option to refine or create your own rules for automatic matching and adding details to transactions. By doing this, you can speed up the matching of future transactions that QuickBooks hasn't previously auto-matched.
The option to define whether a rule is for Money-in or Money-out transactions is one of the new functionality added to bank feed rules; this is something we were unable to do in earlier bank rules. This is a great improvement to bank rules because it allows users to clearly define how rules should be applied.
This gives the AI-established rules more flexibility and efficiency to help further define categorization criteria in all upcoming banks feed reviews.
Feature Availability: Improved Bank Feeds is scheduled for release within the United States at the time of the initial release of QuickBooks Desktop 2021, and they will work with QuickBooks Pro and Premier, QuickBooks Accountant, QuickBooks Pro Plus, QuickBooks Premier Plus, and QuickBooks Enterprise.
In the above blog, there are all the important steps mentioned related to Advanced Bank Feeds in QuickBooks Desktop 2021. With the help of this article your all doubts related to Advanced Bank Feeds will be cleared. In case you are still facing any issue related to this then you can connect with Dancing Numbers experts to resolve your issue in few minutes.
Accounting Professionals, CPA, Enterprises, Owners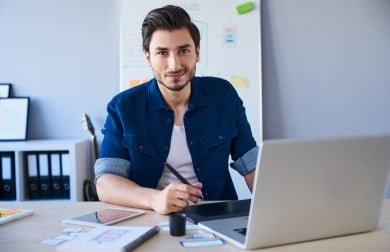 Looking for a professional expert to get the right assistance for your problems? Here, we have a team of professional and experienced team members to fix your technical, functional, data transfer, installation, update, upgrade, or data migrations errors. We are here at Dancing Numbers available to assist you with all your queries. To fix these queries you can get in touch with us via a toll-free number
+1-800-596-0806 or chat with experts.
---
Frequently Asked Questions (Faqs)
What is Advanced Mode in Bank Feed Transactions in QuickBooks Desktop?
To add or match transactions, use the Transactions List window. You may quickly update transactions for future matches or set up rules to have transactions automatically recognize and matched to your books.
What is the Use of Bank Feeds in QuickBooks?
Bank feeds take the place of manual entry into accounting software, improving the efficiency of reporting and reconciling transactions. You can automatically track and manage revenue and expenses with the bank feed feature in QuickBooks Online. The bank feed for QuickBooks Online supports the import of all banking transactions.
What are the Three Tasks that You can Perform When using Bank Feeds in the Banking Area?
● Create a new transaction.
● Create bank rules.
● Transfer from or to a different account.
● Delete the transactions that you don't want to import.
● Match the transactions to outstanding invoices, receipts or credit notes.