Invoicing clients, managing leads and tracking revenue are all made possible by QuickBooks CRMs, Which integrate with users' QuickBooks accounts either directly or through third parties. Create and send invoices, set up accounting procedures and keep track of past-due payments are all capabilities offered by the best QuickBooks CRMs.
Save Time, Reduce Errors, and Improve Accuracy
Dancing Numbers helps small businesses, entrepreneurs, and CPAs to do smart transferring of data to and from QuickBooks Desktop. Utilize import, export, and delete services of Dancing Numbers software.
CRM is a mechanism for developing trusting relationships between a company and its clients. Customer relationship management fosters a relationship between a customer and a business and it assists in producing leads and crucial information to engage a growing number of customers. It does not, however, bring in new clients; rather, It only keeps track of your existing, Reliable customers and their interactions, transactional or data entry with your company. A customer analysis is based on the demographic age, gender, marital status, etc of a customer and regional data is also provided. Additionally, It identifies the VIP, regular and frequent clients who are connected to your company and provides details on the interests of your clientele.
Accounting can be a useless if you don't have the necessary tools. Today, QuickBooks is among the most popular accounting programs which are used by companies across a range of industries. In essence, It's utilized to arrange financial data for businesses.
There are various best CRM for QuickBooks Integration from all of them one is Freshsales which is the best overall CRM.
Freshsales is a leading sale CRM which offers free QuickBooks connectivity. After integration, you can simply browse invoices, trace past sales and get immediate payment alerts all without ever leaving the Freshsales site. You can use the built-in phone in the free tier to call people about late payments, and you can upgrade to any paid tier to use other messaging services like SMS and iMessage, as well as to leverage Freddy AI to automate your accounting procedures.
Freshsales is an innovative CRM that is Customer Relationship Management software program which is created specifically for sales teams of expanding and thriving organizations. With the aid of this CRM software, salespeople can complete transactions more quickly and streamline every step of the sales process from creating leads to nurturing them to closing them. It functions as efficient cloud-based IT Help desk and service management solution provider software. With the aid of innovative technologies like AI and Freshsales, sales teams can effectively manage accounts, contacts, and pipelines. Additionally, it streamlines contact management for sales teams by assisting users in grouping contacts into segments according to criteria like page visits, email engagement, and audience behavior. The sales teams have the ability to create thorough profiles of the businesses and contacts they deal with it. A 3360-degree view of their relationships and deals is consequently provided to the sales teams. It consequently makes it easy for them to add context to their interactions with leads and consumers.
Although you can't directly create and send QuickBooks invoices on the software, Freshsales is a superb operational CRM for companies searching for sophisticated accounting integrations at a reasonable price.
About QuickBooks Desktop and Online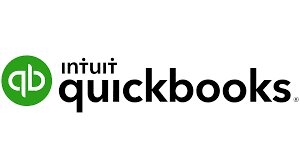 QuickBooks Desktop
One of the accounting software packages for small businesses that is most frequently used globally is QuickBooks Desktop. The user-friendly, reasonably priced QuickBooks Desktop software is perfect for both new and expanding enterprises. These are the four QuickBooks Desktop editions that are currently offered: QuickBooks Pro, QuickBooks Premier, QuickBooks Enterprise, and QuickBooks Accountant are available.
For accountants who want to work with and manage their clients who already use QuickBooks Desktop software, QuickBooks Accountant is the best choice, even though the first three editions offer a wide range of features and capabilities.
Small business owners have good reason to select QuickBooks Desktop. It is saleable, packed with helpful features, fairly priced, and offers straightforward system navigation. There are several hosting firms that will host QuickBooks Desktop for you if you are apprehensive because it is a desktop application, giving you access whenever and wherever you need it.
QuickBooks Online
The company that made QuickBooks, Intuit, has essentially controlled the small business accounting market since it was launched more than 30 years ago. Early in the new millennium, they produced an online version of QuickBooks, but it had already undergone a complete redesign five years before. They keep making improvements and adding new features to it. In order to meet the demands of merchants as small enterprises, this enabled third parties to integrate and offer them access to a more diverse ecosystem.
Regardless of whether you manage your own accounts or hire an accountant or bookkeeper, modern accounting software significantly reduces the discomfort associated with accounting procedures. QuickBooks Online is one of the better options out there. Similar to Pay Simple, QuickBooks Online has several advantages, such as being accessible from any location with a business internet connection and being simple to use. You can run comprehensive reports on topics like profit and loss, taxes, and much more because it is also very customizable and intelligently records every transaction.
Need of Integration of Freshsales with QuickBooks
You can easily view the relevant lead or contact's invoices by integrating Freshsales with QuickBooks.
Obtain an overview of the entire paid and unpaid sum for each lead.
Receive alerts whenever a payment is made by a lead or contact.
Help to pin QuickBooks invoices to your lead in Freshsales.
You can search your QuickBooks invoice without leaving your Freshsales.
Use Freddy AI's next-generation AI to analyze data, gain insights and receive recommendations.
Receive immediate alerts from QuickBooks whenever a client makes a payment.
Invoicing with QuickBooks by using Freshsales to search for invoices or pin them for quick access.
Communicate with customers in a variety of ways like including text and phone.
Workflows with several steps that use different apps and activities can be created.
For your integrations, Connect lets you design unique triggers and actions. This implies that you can create workflows that are tailored to your company's requirements.
It also enables you to create conditional workflows depending on specific criteria.
You can set up a custom field mapping if you just want to sync a limited number of fields between Freshsales and QuickBooks. This makes sure that the two apps only sync the information that is required.
Freshsales and QuickBooks Online can sync in real time. Any modifications made in one app are thus immediately reflected in the other.
Advantages of Freshsales Integration with QuickBooks
The centralized and thorough picture of all the users' enterprises would be available in one location. Making judgments based on correct information they have received will be simpler for them.
The necessity of simultaneously manually entering information into two places is largely eliminated. Whenever a modification is made in either system, the information is automatically updated in both systems.
Using email monitoring, users will receive all the details about incoming deals from Freshsales and using Freshsales Call monitoring, users will be notified when activity occurs on those deals in Freshsales.
Users can automatically synchronies contact information between Freshsales and QuickBooks Online by sending information about clients from Freshsales into QuickBooks Online via email tracking.
You can automate tedious operations, optimize your workflow and increase productivity by integrating Freshsales with QuickBooks Online. This will eventually save you time and increase your output.
You can enhance team communication by making it simpler for team members to share information and keep on top of projects by integrating Freshsales with QuickBooks.
Since you don't need to employ a developer or buy pricey software, it offers an affordable method to combine Freshsales with QuickBooks Online.
You can alter your integrations to meet your unique requirements.
Even people with little to no coding skills may easily and quickly integrate Freshsales with QuickBooks Online.
You can optimize your workflow and cut down on the time and effort needed to complete activities by connecting Freshsales with QuickBooks Online.
Collaboration and communication between various teams and departments within your company can be enhanced by integrating Freshsales with QuickBooks Online.
You can obtain insights into your company's operations and make better decisions by integrating Freshsales with QuickBooks Online because it can improve data visibility.
Integrating Freshsales with QuickBooks Online will automate repetitive operations, which will boost productivity and efficiency inside your company.
Your company may get a competitive edge by integrating Freshsales with QuickBooks which enables you to operate more quickly, effectively and accurately than your rivals.
Working of the Freshsales with QuickBooks
Enable Integration from Freshsales
First you have to sign in o your Freshsales account as an admin by using correct credentials.
Now navigate to the Settings of Admin and then select Integration from it.
From the drop down menu of integration select Third Party Integration and then QuickBooks.

Activate the toggle. When you reach the page you were led to, click the Connect to QuickBooks button.
Your browser opens the QuickBooks page. Simply click Authorize to continue if you are already logged in.
Log into your QuickBooks Account if necessary and then select Authorize.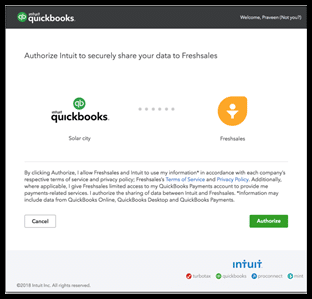 Following a Successful Authorization, Freshsales will take you to the QuickBooks Integration page under the Admin Settings section.
Your company name and email are displayed here as they are in your connected QuickBooks account.
Enable the checkbox if you want to receive a notification each time a lead or contact pays.
Click on Save.
Accessing of Invoices from Freshsales
A lead's or contact's specific details page will include all bills associated with that lead or contact.
Visit the Leads or Contacts module. To examine an invoice, Click on the desired record.
The details page's bottom by scrolling down.
There is a tab for integrations with all currently active integrations directly beneath the timeline of recent activities.
Now you can click on QuickBooks Invoices which are related to leads which are listed here.
Customization of Integrating view of QuickBooks
Many of the tools are by default which you can utilize in this integration by default are as follows:
Lookup Field: This allows you to search for particular invoices by invoice number.
Date-based Filtering: You can see a list of all invoices with dates that fall within a certain period of the year. To view the filtered results after entering the start and end dates, click Apply.
Totals Earned and Unearned: These two clickable boxes display, via QuickBooks, the total amount that has so far been paid and the total amount that you're Lead or Contact still owes. The list of all paid and unpaid invoices is displayed when these boxes are clicked, respectively.
Pinned Invoices: You can bookmark any significant invoice for easy access by selecting the pin icon that can be found to the left of each invoice. All of these pinned invoices can be listed by selecting the Pinned Invoice view. This can be utilized more as a priority filter view.
Saved Views: A list of five saved views that makes it easier to quickly scan a selected set of invoices.
Filter Name
Filter conditions
Paid
Balance = 0 and Status=Paid
Unpaid
Balance>0 and Status = Open or Overdue or Partially Paid
Open
Balance > 0
&
Due date > Current date
Overdue
Balance > 0
&
Due date < Current date
Pinned
Invoices that are linked to your Lead or Contact
Source: Freshsales
Pagination: Choosing how many records to list each page can be done using the record- and page-level pagination settings. You have the option of listing three, five, or ten records on each page.
Interpreting of the List of Invoices
For each invoice, the following information is available: the invoice number, date, type, balance, total, and status paid or unpaid. The information viewed in QuickBooks determines whether this is filled in or not.
The invoice number is clickable among the aforementioned information and directs you to QuickBooks comprehensive view of your invoice.
When a paid invoice is handled as part payments, or when payments are made in installments, a Payments link appears next to the relevant paid invoice status box. To find out the date, sum, and payment number for each installment, hover your cursor over this link. The status column also displays the total number of paid installments.
If you checked the box to enable notifications in the Admin Settings, an in-app notification that may be clicked on will show for each new payment-whether it's a full or partial payment-and include the invoice number and the name of the lead or contact who made the transaction.
Steps for Integration of Freshsales and QuickBooks
Your productivity can increase and your process can be made more efficient by integrating Freshsales with QuickBooks. By integrating these two apps, you may automate routine processes, save time by requiring less manual labor and improve team cooperation.
Integrating Freshsales with QuickBooks can have a variety of advantages, regardless of whether you run a little business or are a part of a major corporation. This allows you to save manual data entering and lower the possibility of errors by automatically mapping the data fields between the two apps.
It offers a variety of pre-built QuickBooks and Freshsales automation workflows that may be adjusted to match your unique needs. As a result, you can set up workflows to cause certain actions in one app in response to certain events in another.
Follow the following steps of integrating Freshsales and QuickBooks:
Freshsales admin users with an active Inuit account and a QuickBooks admin can integrate Freshsales and QuickBooks.
The integration from Freshsales needs to be enabled. Users should take these actions: –

Users should log in as an Admin to Freshsales.
Now you must visit Admin settings and then Integrations.
From drop down menu select third party integration then QuickBooks.
After enabling the toggle, navigate to the recommended page and select the Connect to QuickBooks option.
The QuickBooks page will be displayed to users; they should click Authorize to continue.
Following a successful authentication, users will be taken to their QuickBooks account and to the QuickBooks connection page, which is located under the Freshsales Admin Settings.
The user's company name and email address as they are listed in the connected QuickBooks account will be shown.
Users can enable the checkbox to receive notifications whenever a lead or contact makes a payment if they so choose.
At last, Press the Save button.
We hope that after reading this post, you can now adequately describe how Freshsales and QuickBooks integrate. The data on the page strongly suggests that users connect their Freshsales and QuickBooks accounts. Ask one of our IT professionals for help if you still need it. You will find it simpler to understand and use QuickBooks and Freshsales as a result of them. You can always get help from our professionals at any time.
Accounting Professionals, CPA, Enterprises, Owners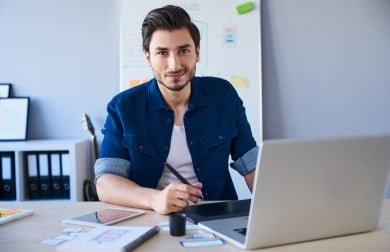 Looking for a professional expert to get the right assistance for your problems? Here, we have a team of professional and experienced team members to fix your technical, functional, data transfer, installation, update, upgrade, or data migrations errors. We are here at Dancing Numbers available to assist you with all your queries. To fix these queries you can get in touch with us via a toll-free number
+1-800-596-0806 or chat with experts.
---
Frequently Asked Questions
Does Freshsales Integrate with QuickBooks?
QuickBooks is accounting software that simplifies managing payments and related chores. These days, Freshsales can integrate with this program.
What are the CRM with Which QuickBooks Integrates?
• HubSpot
• Salesforce
• Copper
• Pendrive
• Method
• Inslightly
• Capsule
Can You use QuickBooks Online as a CRM?
QuickBooks is frequently used by small firms as their first CRM because it keeps track of customer relationships and purchasing patterns. When your company is just getting off the ground, having access to client contact data from your accounting software might be sufficient.
What Type of Information can be Imported Directly in QuickBooks?
• Vendors
• Customers
• Banks
• Invoices
• Product and services
• Chart of Accounts
Is QuickBooks an ERP or CRM?
Due to the fact that QuickBooks only includes one of the components of an ERP system, It is not an ERP. ERP systems can assist companies in managing a number of the operations of company, including production, inventory control, procurement and sales & marketing.