With QuickBooks Online, you can easily import credit notes so you can have more time for your business. Here are the steps you need to take.
Users are struggling with how to import Customer Credit Notes into QuickBooks no need to worry; this guide makes it easy for you. In this guide, we will walk you through quick and simple steps so that you can save your time and focus on other work for your business.
Save Time, Reduce Errors, and Improve Accuracy
Dancing Numbers helps small businesses, entrepreneurs, and CPAs to do smart transferring of data to and from QuickBooks Desktop. Utilize import, export, and delete services of Dancing Numbers software.
Things can be Imported into QuickBooks
The below-listed are the following things that you can import into QuickBooks with much ease:
 Supports Multi-currency.
 For Each Invoice, Credit Notes can be imported with Several line items OR as a Complete Value.
 VAT Codes are mapped so there's no need to Update the VAT Codes before Importing into QuickBooks VAT Code Formats.
Important Note: It is recommended that a maximum of 100 credit notes can be imported at one point of time.
Quick and Simple Steps to Import Customer Credit Notes into QuickBooks
Check out the appropriate steps to import your credit notes. It is advisable for you to follow the steps in the given sequence order only. If you missed out any steps or do not go with the sequence order then import might not happen successfully and might give you errors. So do perform the steps with lots of attention. The steps involved:
Step 1: Open Your Import Credit Notes Tool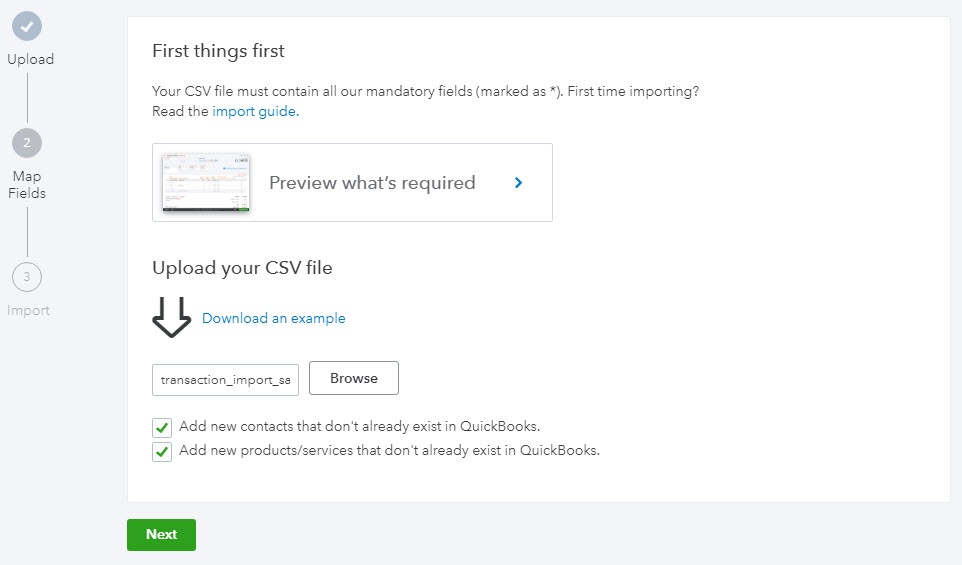 Initially, Open Your QuickBooks
Next, Go to Gear icon that you can see on the top
Now, Under the Tools section select "Import Data" using the Drop-down
At last, Choose the option named "Import Credit Notes"
Step 2: Next, You have to Upload Your CSV file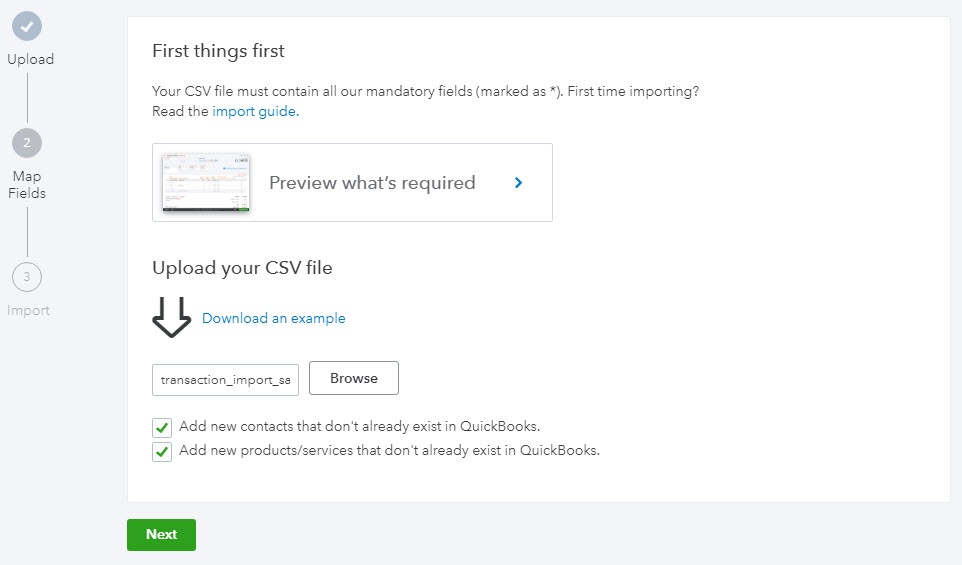 The very First step is to Preview the Credit Notes that you wish to Import
When you Verified all the Mandatory Fields are Correct
Then Select Browse and Choose the File with an Extension .csv
Note: If no item is present QuickBooks will populate this field with a generic item called "Sales"
Now, You can see that there is Auto-create option
You can Create New line Items or Customers
In case, if you want Auto Create Line Item and/or Customers then you can check out the Applicable option
Once Find then Hit the "Next" option
Step 3: Map Column Headings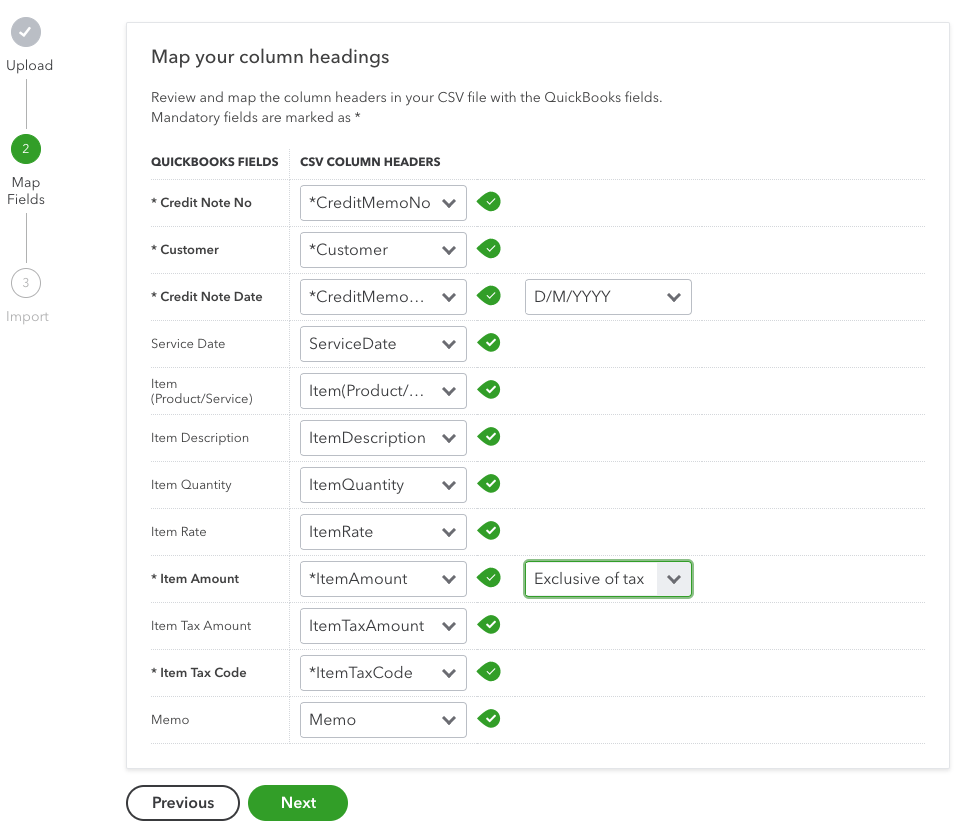 Firstly, Make sure that the Mandatory Fields must be marked with an asterisk (*)
Along with that other required Field must not be Present or "Not Applicable" should be Selected
Now, Choose the Format of the Date, i.e. DD/MM/YYYY that you've used
Next, Choose the VAT option if relevant; Inclusive or Exclusive.
In case, if VAT option is not Available or not Set up in QuickBooks
Then Map Your VAT Code on the Final Page of Mapping
And then Click on the "Next" button
If any Mapping Problems will be illustrated at this Point so You can go Back and Fix them.
Step 4: Import Credit Notes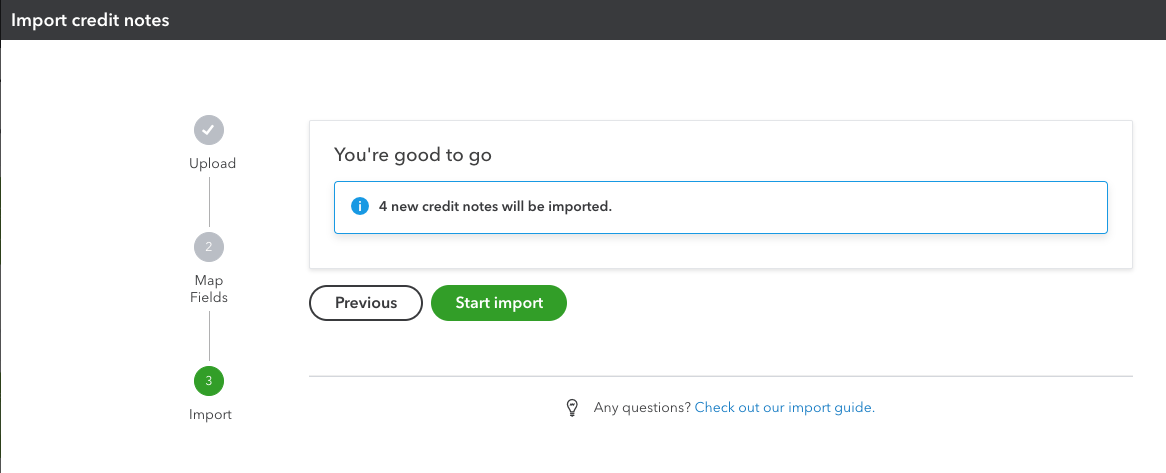 Once You are Completed the Mapping Section then an Import Summary will Appear on Your screen
Now, Click on the "Start Import" and the Process will Start Importing
Once the Import Process Completed then an Import Summary Display on the screen
In case, Any Credit Notes Fail to Import then make a Note Why it Happens
Next, Hit the "All Done" and then you get a Final Overview of Your Completion
Finally, Press the "Ok" Button to Complete the Process.
So, You can perform the above-mentioned carefully steps and import Customer Credit Notes into QuickBooks at ease.
Accounting Professionals, CPA, Enterprises, Owners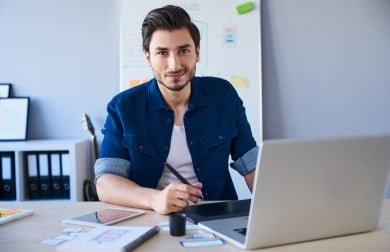 Looking for a professional expert to get the right assistance for your problems? Here, we have a team of professional and experienced team members to fix your technical, functional, data transfer, installation, update, upgrade, or data migrations errors. We are here at Dancing Numbers available to assist you with all your queries. To fix these queries you can get in touch with us via a toll-free number
+1-800-596-0806 or chat with experts.
---