If you're an Amazon Business account holder looking to streamline your Accounting, the Amazon Business Purchases app can help. By linking it to QuickBooks, a top-notch Accounting platform, Amazon Quickbooks Integration becomes a time-saving solution for keeping your books current. This integration eases the process of importing all your Amazon Business purchases into QuickBooks and categorizing them accordingly with links to bank or credit card records. All that's left is for you to give approval after reviewing the work.
Save Time, Reduce Errors, and Improve Accuracy
Dancing Numbers helps small businesses, entrepreneurs, and CPAs to do smart transferring of data to and from QuickBooks Desktop. Utilize import, export, and delete services of Dancing Numbers software.
Here are the major benefits of Amazon QuickBooks Integration:
1. Workload Reduction
Even if you consider yourself a QuickBooks pro, you could still need to spend several hours each week manually entering transaction records into your accounting software. By synchronizing with your Amazon account and automatically importing Sales records, the new QuickBooks update simplifies the procedure. You can spend the hours of work saved by Amazon QuickBooks Integration towards expanding your customer base.
2. Reduced Accounting Errors
It's simple to transpose numbers when manually entering sales data, which can affect the accuracy of your books. Because Amazon QuickBooks Integration pulls the essential data directly from your Amazon account, there is no chance of typos. This not only makes keeping track of your financial data simpler, but it also offers a level of precision that is unmatched.
3. Product Data Compilation
When QuickBooks imports your data, it classifies the sold goods and calculates your net revenue automatically. This action totals your expenses and highlights your most profitable things, giving you a detailed picture of the financial situation of your business. You may enhance your Amazon Sales and plan for the future with the help of the Amazon QuickBooks Integration.
4. Handle Foreign Currencies
The appeal of Amazon is that anybody may sell their goods anywhere in the world, giving them access to a sizable market. QuickBooks makes it simple to accept internal payments, record transactions in multiple currencies, and modify your reports to take currency fluctuations into account.
5. Cooperation with Business Partners
Since not all Amazon sellers operate independently, it's critical to maintain team cohesion. To improve communication between you all, you can give your accountant and staff access to certain features. You may also limit access in QuickBooks so that only anyone with the right permissions can view your financial records, and you can share reports without disclosing login details.
How to Set up Amazon QuickBooks Integration?
For a smooth tracking of purchases in QuickBooks online, you need to connect accurately the Amazon Business account with QuickBooks.
Here are the Steps you Need to Follow:
Firstly you have to be ready for the Authorization of QuickBooks Commerce
For this sign in to the Amazon Seller Central
After this hit on the Settings option and then click on the User Permissions button
Now scroll down to the bottom of the window to discover the Third-party developer and apps option
Locate Visit Manage your Apps
Hit on the Authorize New Developer button
Write the Developer Name and ID
After this click on the Next button
You have to accept the License agreement by placing a check-mark on the box
Hit on the Next button
Now fetch the Merchant Token, MWS Authorization Token, and Marketplace ID
At last, you need to finalize the integration process. For this follow the below steps:

Locate the App Store
Hit on the Amazon Integration option
Choose Install Amazon
Now enter the fields on the Amazon integration form asking Merchant Token, MWS authorization token, and Merchant ID
Click on the Primary Marketplace ID appears in the drop-down options list
It will display a screen where you require setting up the Amazon store locations
Choose the two options i.e. Existing locations and Create New
Pick the price list to sync your Amazon Retail prices or make a new price list
It will load a screen
You have to provide the confirmation whether you like importing products from at a later stage or at Amazon now
Hit on the Continue option
Match the products
Once you match all the products you will get an email notification
Hit on the Next option to proceed with setting up the process
This will complete your QuickBooks Amazon integration successfully
How does Amazon Online Work with QuickBooks?
Some software lets you directly link QuickBooks with the Amazon Online store to simplify the sync of orders, inventory, payments, customers, or bank deposits, etc. Here you can get the benefits of the ability to sync updated or old historical content automatically. Say goodbye to the manual entries of the product order and inventory as well.
When you connect QuickBooks with an Amazon seller account then chosen software fetches all the information. The details include transactions, sales, and fees. After retrieving the details it posts automatically in the QuickBooks accounting software in an organized manner.
To get started with Amazon you need to sign up for an account with Intuit or Amazon credentials. After this fill in the Amazon MWS credentials and select the QuickBooks version and suitable plan. At last, select the automatic or manual management of Amazon fees or other charges or transactions.
Once you complete the Signup process then you are eligible to proceed with importing the Amazon transactions.
Amazon Integration with QuickBooks Self-Employed
To categorize your business transactions easier, you can import Amazon order information into QuickBooks Self-Employed. Only a few test users can presently use the feature through the QuickBooks Self-Employed labs. If you want to link your Amazon account:
First, you have to select the gear in the upper right corner and then select Labs
Then you have to select Turn It On
Now you have to enter your Amazon credentials and allow your connection to complete
You will initially just notice a few orders once you have connected to Amazon but don't worry, it's still working in the background to pull in more orders dating back to January 1, 2018. To view the Order details, hover your cursor over transactions imported from an associated Amazon account. Depending on how many order items have been attached, they will be identified. The transaction can then be split based on the ordered item.
The transaction defaults to a split per item when splitting in QuickBooks Self-Employed, with the shipping and sales tax for the order distributed equally across the products. You can select a checkbox to treat the delivery and sales tax as separate expense lines.
Few things that you should remember
There are no new transactions produced. Order information is added to existing transactions that have been imported from your bank or payment card and matched to Amazon orders.
You need to have linked the account that you use to make Amazon purchases for the information of your orders to show up in QuickBooks Self-Employed. The transaction's details won't show up if the account is not connected because they won't match a transaction. Only the purchases made with the payment method linked to QuickBooks Self-Employed will appear in QuickBooks Self-Employed if you make purchases on Amazon using two different payment methods.
There won't be any items that were bought with a gift card or promotional credit.
Your work will be saved once you've saved the split transaction, even if you decide to disable the Amazon integration. Only the order goods themselves will be removed from the transaction.
Connect Amazon Seller Central with QuickBooks Commerce
After your QuickBooks Commerce account is connected to your Amazon Seller Central account, you may manage your inventory and sales orders there.
Step 1: Install the Amazon App
First, you have to sign in to QuickBooks Commerce.
Then you have to go to Browse Apps and then you have to select Amazon.
Now you have to select the Install app.
From the Primary Marketplace ID dropdown menu then you have to select your primary marketplace ID and then select Continue.
Then you have to select Agree to permit QuickBooks Commerce to connect with Amazon. In case you are already signed in to your account then QuickBooks Commerce will automatically connect to Amazon. Otherwise, you will need to log in.
Lastly, you have to select Continue and then click Next.
Step 2: Set up Your Locations and Products
Set up Your Amazon Stock Locations
You have two options for completing orders on Amazon: Amazon MFN and Amazon FBA.
QuickBooks Commerce will construct an equivalent location for each location on Amazon. Moreover, QuickBooks Commerce will state the location from which it will accept orders for fulfilment.
Sync Amazon Price List
Assign an existing price list in QuickBooks Commerce to create your price lists. You might also create a new price list. QuickBooks Commerce will regenerate the Amazon product price list after syncing.
Note: As pricing changes in QuickBooks Commerce, Amazon prices will also change. Price changes on Amazon, however, will not cause QuickBooks Commerce to update its prices.
Import Amazon products
Choose the Amazon product information import method on the QuickBooks Commerce installation page.
Import Items Right Away: Amazon products will be imported into QuickBooks Commerce as new products. If QuickBooks Commerce is empty of any products, use this option.
Import Products Later: During installation, QuickBooks Commerce will not import or match Amazon products. If you already had products created in QuickBooks Commerce before installation, choose this option. If a customer has Amazon products they don't want to sync to QuickBooks Commerce, they may choose this option.
Note: QuickBooks Commerce won't import a new product you create in Amazon after the installation.
What are the Significant Benefits of QuickBooks Amazon Integration?
Know the significant benefits of QuickBooks Amazon integration that will help you build up your business.
Ease of Reconciling or Recording Sales
This strong integration breeze the pain of the manual matching process of sales and simplify the reconcile process. You can get a clearer view of the Amazon seller sales and other fees. Also, you can count on the best methods to effectively run the business.
Auto Sync Amazon with QuickBooks software
You can enable auto-sync to perform the import process automatically. Moreover, you can send the available settlements into QuickBooks.
1 to 1 Free Support
You will get free 1:1 support and onboarding to all users. You can easily talk to them and get advice at any point.
Reduce the Stress of Manual Entry
Delete the time-consuming and challenging task of manual entering of Amazon orders into QuickBooks. It instantly syncs Amazon information with QuickBooks. Like sync of inventory and sales from multiple e-commerce platforms.
Up-to-date Inventory Items
This integration lets to keep the inventory up to date. It in turn results in great customer satisfaction and increasing sales.
Better Order Recording
You can record the orders in a better way. It includes the feature of summarizing the orders according to day, week, or monthly. Supports class-tracking, currencies, and Sales update automation.
It is hoped that the above Guide on QuickBooks Amazon integration is helpful for you. Now you have understood the features and set up a process to integrate Amazon online with QuickBooks. What to think? Start integrating Amazon into QuickBooks to get an exceptional experience.
Accounting Professionals, CPA, Enterprises, Owners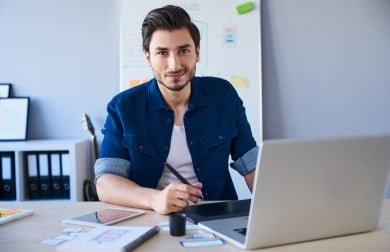 Looking for a professional expert to get the right assistance for your problems? Here, we have a team of professional and experienced team members to fix your technical, functional, data transfer, installation, update, upgrade, or data migrations errors. We are here at Dancing Numbers available to assist you with all your queries. To fix these queries you can get in touch with us via a toll-free number
+1-800-596-0806 or chat with experts.
---
Video Tutorials For QuickBooks Amazon Integration
---
Frequently Asked Questions (Faqs)
Can I sync Amazon fees to my orders into QuickBooks?
Yes, this is possible after QuickBooks Amazon integration. Here are the steps to enable the feature:

Login into the accounting software.


Hit on the Manage option.


Now expand the initial area.


Write shipped as the order status.


Now expand the merchant fees.


Write an item name and then hit on Sync now.
Can I Sync Inventory with QuickBooks and Amazon Integration?
Sync inventory keeps the level of the inventory up to date with the frequent sales and returns. It helps in preventing overselling, tracking multiple inventory items and sites.
"I need to Sync my all Sales Summary from Amazon to QuickBooks" Can I do this after Integrating Amazon to QuickBooks?
Yes, Amazon QuickBooks integration provides ease of syncing the daily summary of all the shipped order. It will simplify the stress of matching particular sales to Amazon settlement reports.
What are the core Benefits of QuickBooks and Amazon Integration?
know the core benefits of QuickBooks and Amazon integration:

Better order recording.


Ease of organizing Amazon fees & additional sales tax.


Auto sync of Inventory.
How can I Integrate Amazon with QuickBooks Self-Employed?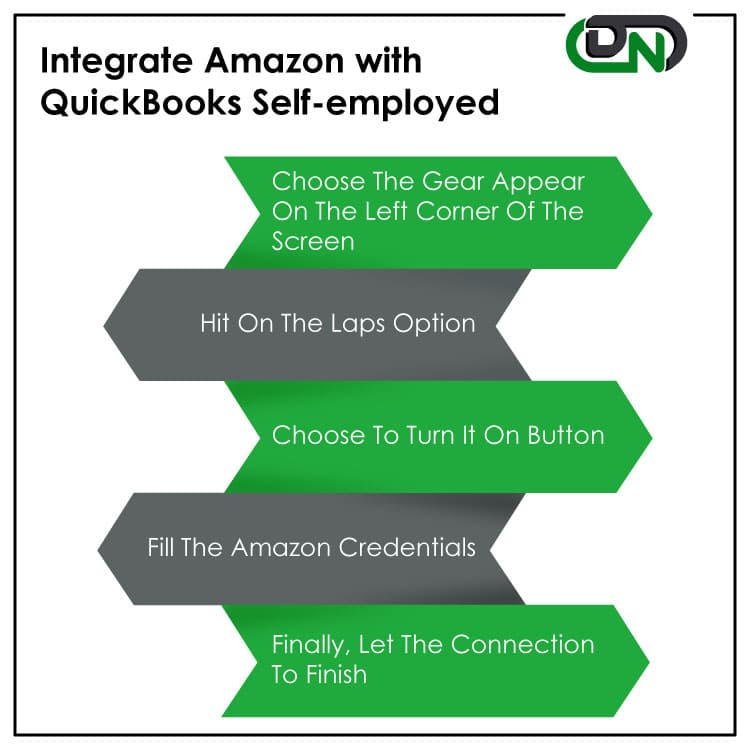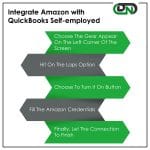 You need to enable the feature to import Amazon order information. Follow the below steps:

Choose the Gear appears on the left corner of the screen.


Hit on the Laps option.


Choose to Turn it on the button.


Fill in the Amazon credentials.


Now let the connection finish.