A fully automated and real-time solution is the WooCommerce QuickBooks Integration via software that lets users sync orders, payments, products, inventory, and more. It includes a direct connection from your WooCommerce store to QuickBooks and brings you a full-featured customer, payment, order, inventory, product, and pricing sync to your platform just in a single robust extension.
Save Time, Reduce Errors, and Improve Accuracy
Dancing Numbers helps small businesses, entrepreneurs, and CPAs to do smart transferring of data to and from QuickBooks Desktop. Utilize import, export, and delete services of Dancing Numbers software.
WooCommerce is compatible with QuickBooks Desktop, Online, and POS as well. With this integration, you can save time, increase accuracy and monitor the financial health of your business just by connecting your online store with your QuickBooks accounting platform. We will learn more about WooCommerce QuickBooks Integration under this article so continue reading this post till the end to get aware of all related things to it.
QuickBooks Sync for WooCommerce
A smooth and successful firm depends on a number of aspects, including accounting and financial management. We can build a robust ecommerce platform with WooCommerce and QuickBooks Online connection that offers numerous advantages, simple management, and sales and performance information to more thoroughly assess the existing business strategy.
You have a wide range of alternatives when deciding how to establish an ecommerce store. WooCommerce is one of the top choices. Compared to other ecommerce platforms, WooCommerce powers more than 25% of the top 1 million websites worldwide. Considering how adaptable and user-friendly it is, these numbers keep rising. You can use the WordPress WooCommerce plug-in to create an online store. It transforms WordPress's normal operating system into an ecommerce store that runs without a hitch.
Any product or service may be easily and affordably sold on your website using WooCommerce. It helps you to sell both physical and digital goods, accept safe payment methods, manage your inventory, and file all of your taxes effortlessly. Invoices, income, costs, sales reports, and other accounting-related tasks are all handled by QuickBooks, an all-inclusive accounting system.
Additionally, it manages customer and employee relations, orders, inventories, and much more. Since it has marketing and merchant tools, it can be divided into these two categories. In this article, we'll talk about the integration of WooCommerce with QuickBooks and how it can help your company. So let's get started without further ado.
Setup Process of WooCommerce QuickBooks Integration
First, Go to the WooCommerce >> Settings >> QuickBooks tab
Next, Create new account within QuickBooks Tab
Again go back to the WooCommerce >> QuickBooks Feeds tab
And here, you have to create new feed in the same tab
Now, Mapping is needed from QuickBooks fields to WooCommerece order fields
Open any of your WooCommerce Order and then click on the tab named "Send to QuickBooks"
Again, Go back to the WooCommerce tab and then "QuickBooks Logs"
And finally, Verify whether your entry was sent to your QuickBooks Accounting software or not.
Advantages of WooCommerce QuickBooks Integration
With this integration, you'll get many benefits and also make your life easy and quick. Few of the benefits involved with this integration:
Increase Accuracy and Save Time: This integration is a two-way sync that lets you manage your order and inventory easily and automatically by keeping them up-to-date on both platforms.
Make Your Accounting Activities Effortless: With the software sync integration helps you to grow your business by automating your accounting so that you can focus on other bigger achievements.
Quick Setup and Easy-to-Use: There is unlimited support, videos, available documents help you to get up and make it run right away so let the instant sync takes care of the rest.
Benefits of QuickBooks Integration with WooCommerce
Your WooCommerce store and QuickBooks CRM are connected by QuickBooks Integration for WooCommerce, enabling you to control and sync yours spending. You can sync information from your online store to the platform via QuickBooks online integration. According to the QuickBooks modules, it synchronizes the data for items like Orders, Customers, and Products. You may create Customers, Items, and Invoices on the platform using QuickBooks Integration for WooCommerce. Integrating WooCommerce and QuickBooks online has a number of benefits. It streamlines the management of several facets of your organization in addition to automating accounting, which is a laborious task. Now let's discuss in detail its benefits:
1. Robotics Accounting
With the help of QuickBooks, you can easily concentrate on other aspects of your business while the entire accounting process is automated. You may link your WooCommerce sales straight to QuickBooks online, allowing the invoice and taxes to be transmitted to QuickBooks whenever a customer puts an order. Additionally, it Manages Sales Orders, and tax returns, all of which are accessible from QuickBooks Online.
2. Product Administration
QuickBooks controls inventories and products in addition to finances. Any product added to WooCommerce after the WooCommerce QuickBooks integration will be updated on QuickBooks and vice versa. In a similar manner, updates to stock levels are also made to QuickBooks.
3. Eliminate Errors
To be honest, managing and tracking finances is a tedious task that may result in mistakes made by employees. We can quickly solve this issue by integrating WooCommerce and QuickBooks Online, letting the program handle everything for you.
4. Truthful Information
You don't need to be concerned about any errors or computations being entered incorrectly because it is automated software. Every expense, order from a customer, Invoice, and Payroll are accurately created on QuickBooks and updated as well if there are any modifications.
5. Simple to Use
Furthermore, This software is quite simple to use. It is appropriate for small-sized organizations as well and has a number of features that can aid in their professional management of expenses as well as speedy growth. QuickBooks also allows you to Print Checks directly from the software and features a due date option for recurring bills. Additionally, It is a straightforward and user-friendly accounting program that is simple to set up and offers quick access to the majority of its features.
6. Save Time, Improve Precision
Manage orders, Inventory, Payments, and more with ease due to a strong two-way sync that updates your platforms as frequently as every five minutes.
7. Beyond the Fundamentals
There is no procedure we haven't mastered due to our strong support for custom fields, additional compatibility with 25+ WooCommerce Extensions, extensive bank deposit + transaction fee support, and advanced settings.
8. Complete Data Control
You may map fields in an object's feed for QuickBooks accounts, events, and other objects using the QuickBooks Integration for WooCommerce. This gives you the ability to choose the event that initiates the synchronization and manage the data you wish to sync.
How does WooCommerce Work with QuickBooks?
Various Software sync generates a direct link between QuickBooks and WooCommerce that helps you to easily sync your orders, customers, payments, Inventory, bank deposits, etc. The automatic real-time sync works in both ways like it always keeps your both accounting as well as store up-to-date. So, you can take advantage of the ability to sync new or old historical data automatically.
It means that it is a breeze to get caught up in-store management and accounting. No headache with manual entry of your orders and inventory and you can use it with other QuickBooks products like QuickBooks Desktop and QuickBooks Point of Sale (POS) as well as it is compatible with them.
Additional Details Related to WooCommerce QuickBooks Integration
Unlimited Syncing Activity: This integration offers you unlimited synchronization in a hassle-free manner.
Intelligent Bank Deposits: Software generates batch bank deposits everyday automatically.
Real-time Automatic Sync: Monitor inventory, orders or more other synchronization between both devices
Simple Setup and 24*7 Support: You will get user-friendly interface, easy setup, 24*7 support, and both free and paid plans available at ease, and more.
Complete Two-way Sync: It helps you in both ways like automatically sync between new and old historic data as well as inventory.
How You Can Connect QuickBooks Account
You can connect your QuickBooks Account via auth 2.0 (It is nothing but the industry-standard protocol for authorization) and also with multiple QuickBooks accounts.
Fields Mapping
For field mapping, you can simply select the QuickBooks objects such as Invoice, Sales Receipt, Estimate, payments, etc. then perform mapping with WooCommerce order fields to QuickBooks object fields.
Export Event
When WooCommerce Order data should be sent to QuickBooks, you need to select Event. You can consider it as an example, when your Order Status will change to "Processing", send WooCommerce Order to QuickBooks.
Primary Key
The primary key indicates that you update your old object instead of creating a new object. You can do so by setting the Primary Key field.
Error Reporting
In case, any error is encountered while sending data to QuickBooks then immediately email is sent to you to your specified email address which contains error information.
CRM Logs
The plugin saves all the detailed logs of each and every entry whether it is sent or not sent to QuickBooks and can easily resend an entry to QuickBooks.
Filter Orders
You can apply filters and set up rules to control or limit the sent orders to QuickBooks, however, all orders will be sent to QuickBooks automatically by default. You can limit your orders sent to QuickBooks by sending orders from some specific city to QuickBooks.
Need of QuickBooks Sync for WooCommerce
By establishing a direct link between your WooCommerce store and QuickBooks, QuickBooks Sync for WooCommerce adds a powerful plug-in to your platform that offers a full-featured customer, order, payment, product, inventory, and pricing sync. It works with QuickBooks Desktop, Online, and POS. For integration services, QuickBooks Sync for WooCommerce requires a free or premium account with MyWorks, although it is free to download and install. QuickBooks Sync for WooCommerce is required because of its key features such as:
1. Tax Value and Tax Rate Synchronization
Based on this most recent feature of syncing tax value and tax rate, tax value and tax rate will now be synced to QuickBooks Invoice along with the orders; this assists in syncing QuickBooks with the tax details. The identical tax rate needs to be generated at the QuickBooks invoicing end as well in order for the orders on both ends to sync properly.
2. Syncing Shipping Fees
No need to manually enter invoices, clients, or products. Since the QuickBooks plug-in offers an unlimited real-time synchronization of Orders, Customers, Inventory, and Shipping Costs, there are no longer any synchronization limitations. You must navigate to Settings > Account & Settings > Sales > Sales Form Content and make sure the Shipping checkbox is selected in order to enable the synchronization of shipping charges.
3. Feed Condition Filter
By applying filters to feeds, QuickBooks plugging now provide you the choice to sync your data in accordance with your preferences. You have access to many different filters; you can arrange the feeds according to Dates, Exact Matches, Quantities, Texts, and much more.
4. Check for Errors
As you are already aware, the QuickBooks Integration plug-in offers a complete sync log report that enables you to quickly spot issues. You can filter out all of those mistakes from the logs area during data synchronization by using the filter for error feature.
5. Feeds and WooCommerce object Data Sync
You may get feeds that manage the data synchronization procedure for WooCommerce objects using this QuickBooks connection plug-in. These feeds can be set up to sync your data according to your needs. Among the feeds for objects are Customers, Products, and Invoices. You can regulate data synchronization using a variety of parameters included in these feeds. Several options for modifying feeds are shown below.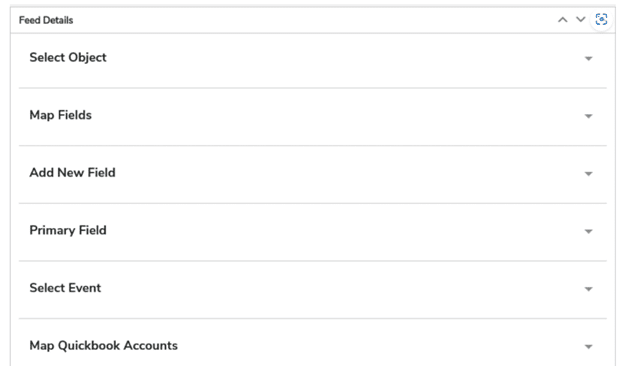 Choose object: Select the QuickBooks object type to which you wish to transfer your data in the Map fields.
Map QB Fields: To WooCommerce fields, Map QuickBooks fields
Add a Fresh Field: Update your feed with a new field.
First Field: Choose a field to serve as the primary key.
Choose an Event: Select the occasion that will start the data synchronization process.
Map Account for QuickBooks: Create a map of your Income, Expenses, Assets, and Deposits.
6. Complete Sync Logs
An extensive report of your sync logs is provided by the QuickBooks Integration for WooCommerce plug-in. The issues with parameters like Objects, Object ID, Feed, etc. are described in detail in this log report. This explains what went wrong and enables you to identify the issue and address it.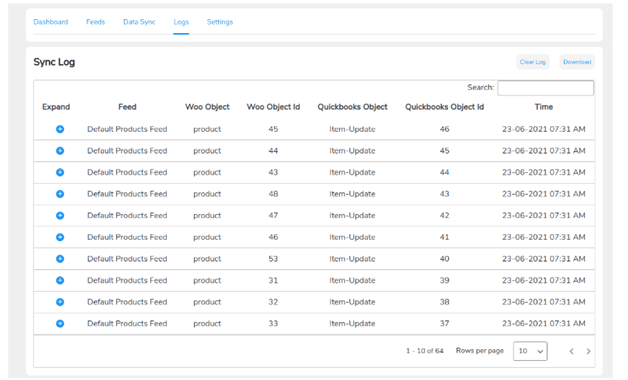 7. Sync the Historical Information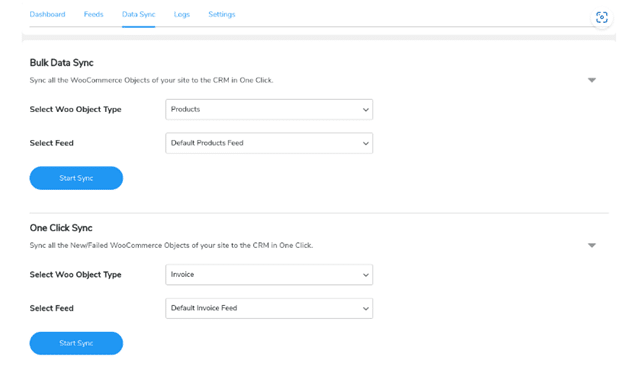 You can sync the data from your current WooCommerce store on QuickBooks using the integration's historical data sync capability. The syncing of historical data can be done in two different ways.
One-click Syncing: Sync newly added data or previously failed to sync data
Mass Data Sync: Sync the WooCommerce object's entire data set.
8. Log Archiving
Enable Logging is a function of this plug-in that can be found under the Settings tab. You can keep your log data if you enable this toggle. Additionally, you can specify how many days you wish to keep the logs. After a predetermined amount of days that you choose, the logs will automatically disappear.

9. Sync Immediately
You can rapidly sync your WooCommerce data to QuickBooks by connecting WooCommerce to the latter. The data synchronization in the instant sync feature is dependent on an event. When a new product is generated, for instance, your data will sync over to QuickBooks if you use the "Product Created" event. You will need to manually sync your store's data using the One-click or Bulk data sync functionality if you disable Instant sync.

Hopefully, the above-detailed information gives you clear awareness and the setup process helps you for WooCommerce QuickBooks Integration with much ease. Perform the integration process and enjoy the fully automated- featured and real-time synchronization between QuickBooks and WooCommerce. With this QuickBooks Integration, you can easily create customers, invoice, or any other QuickBooks objects when you place an order through WooCommerce.
Accounting Professionals, CPA, Enterprises, Owners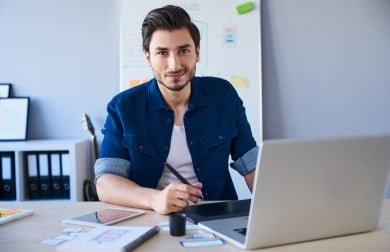 Looking for a professional expert to get the right assistance for your problems? Here, we have a team of professional and experienced team members to fix your technical, functional, data transfer, installation, update, upgrade, or data migrations errors. We are here at Dancing Numbers available to assist you with all your queries. To fix these queries you can get in touch with us via a toll-free number
+1-800-596-0806 or chat with experts.
---
---
Frequently Asked Questions
What Are the Different Ways to Integrate WooCommerce and QuickBooks?
The integration of WooCommerce with QuickBooks online can be done primarily in 2 ways.
Integration in One Direction
The first kind of integration is straightforward and practical for small enterprises and recurrent tasks. Data is moved from one system to another in this manner. A customer's order placed on WooCommerce, for instance, will be noted or forwarded as a sales receipt to QuickBooks. When you want to keep track of all of your receipts and transactions in one location, this is helpful.
Integration on Two Fronts
You can move different kinds of files and transactions from WooCommerce to QuickBooks via a two-way interface. For instance, adjustments to inventory levels, sales receipts, orders, clients, personnel, costs, and much more. QuickBooks and WooCommerce will both be updated with any modifications made. Although more expensive than one-way integration, this kind of integration is appropriate for expanding businesses.
Why Has WooCommerce Been So Successful?
WooCommerce's affiliation with WordPress is the primary factor in its widespread use. It also offers tens of thousands of plug-ins and premium and free templates that you may add to your store. Other factors for the popularity of WooCommerce as a platform for creating online stores include the following:
• WordPress and WooCommerce are both free.
• WooCommerce is open-source, so any programmer can examine, alter, or expand the code.
• WooCommerce is user-friendly for beginners, thus building a store doesn't require you to be a skilled developer.
• WooCommerce is adaptable because a variety of functions may be added through plug-ins. There is no Coding knowledge needed for the same.
• WooCommerce is versatile and functional across all platforms.
• WooCommerce is protected.
How is the Sync Implemented? Will all of my Previous Info Sync Right away?
We won't begin automatically syncing any data other than NEW data until you've finished configuring our sync. You can choose which new data you'd like to automatically sync by individually enabling or disabling this automatic sync for various data kinds, including customers, orders, goods, inventories, and more. Old (historic) data can be pushed to QuickBooks by going to MyWorks Sync > Push, but it won't be synced automatically.