By integrating Ebay and QuickBooks, you can automate your accounting. Never again enter invoices, clients, or products manually.
While registering their sales transactions in QuickBooks, many Ebay vendors have difficulties. When you sell something on Ebay, several different kinds of transactions happen, and each one needs to be correctly recorded.
Save Time, Reduce Errors, and Improve Accuracy
Dancing Numbers helps small businesses, entrepreneurs, and CPAs to do smart transferring of data to and from QuickBooks Desktop. Utilize import, export, and delete services of Dancing Numbers software.
Ebay sellers receive more transactions to report as the site's sales rise. However, one of the most challenging and time-consuming aspects of operating a business on Ebay continues to be bookkeeping.
Currently, an Ebay seller may take significant time and effort out of the process by connecting QuickBooks, an Intuit accounting solution, with Ebay.
You will gain a thorough understanding of how to easily set up your Ebay QuickBooks Integration using these simple steps after reading this post. It will also assist you in developing a comprehensive understanding of what QuickBooks and Ebay are all about, as well as some of its most important features! Continue reading to learn more and start using the Ebay QuickBooks Integration.
About Ebay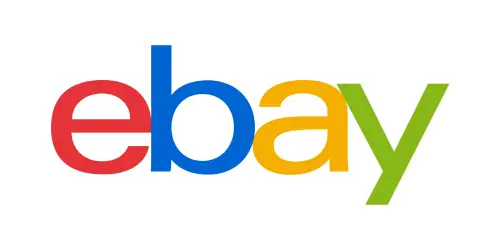 One of the main forerunners of the e-commerce revolution is seen as being Ebay. The platform, which was established in 1995, is a major pillar in the internet commerce industry. Perhaps as a result, despite an increase in rival websites, the website still draws a sizable user base today. Users can sell both brand-new and pre-owned goods on Ebay. The site had a long history of using an auction system where buyers would list the price they were willing to pay for a certain item. But later, in order to save the time of both buyers and sellers, they implemented a fixed price function.
The very useful features of Ebay are its auctions and direct-to-consumer sales. There are numerous nations where you can use Ebay. Ebay had a feature that by entering the zip code of your state, you can search for products that are offered in your neighborhood. Alternately, you might look for goods that are sold locally or abroad.
A free Ebay account can be created by anyone. You have the option of buying and selling goods. There are charges connected to having a seller account, like listing fees. The prices depend on how much you charge for your goods as well as how long you advertise them for sale.
A free Ebay account can be created by anyone. You have the option of buying and selling goods. There are charges connected to having a seller account, like listing fees. The prices depend on how much you charge for your goods as well as how long you advertise them for sale.
The reason for this is that almost anything can be bought or sold here, and there are millions of transactions every day. The site's blatantly capitalist philosophy is what really attracts consumers and sellers to Ebay. What someone is willing to spend for an item on Ebay determines its value.
As a result, sellers of highly sought-after goods, such as collectibles, out-of-production goods, vintage goods, odd goods, or anything in short supply, may be able to demand very high prices. Because they may find items they wouldn't otherwise find locally, this has made Ebay the preferred location for collectors.
Collectors have attracted to Ebay because of the vast variety of objects, sophisticated search engines, alert systems, user-friendly website, and capacity to prevent fraudulent transactions thanks to its anti-fraud measures. Some collectors spend hours every day collecting and selling collectibles on Ebay to support their lifestyle.
About QuickBooks Desktop and Online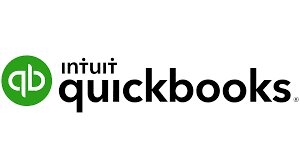 Accounting software called QuickBooks is available to every small and medium-sized company which makes good use of it. They are better able to control their income, expenses, and the financial condition of their business. It can manage invoices, pay bills, produce reports, monitor financial flows, and prepare taxes. You can use this to manage your funds, inventory, clients, vendors, and customers. You may also monitor the sales, revenue, expenses, and overall growth of your business using the Report Centre.
Intuit, a California-based corporation, introduced QuickBooks in 1998. Small business owners wanted a flexible, user-friendly software solution; therefore QuickBooks was developed for them. It further ensures the organization and compliance required to run a successful firm.
QuickBooks Desktop
QuickBooks Desktop is useful for a cash flow. You can now instantly customize payment receipts with QuickBooks to speed up payment processing. The payment receipt can be personalized with business's logo, color scheme and other specifics to have your customer interactions.
One of the first programs to offer automatic bank feeds was QuickBooks Desktop, which decreased the time needed to manually record business transactions and sped up the bank reconciliation process. The standard method and the Express mode, which tries to match downloaded bank transactions with those already entered, are the two different banks feed choices offered in QuickBooks Desktop.
QuickBooks Online
QuickBooks Online is user-friendly software for any sized business. You can easily access accounting and tax information with the help of the QuickBooks Online program.
You can manage and examine every aspect of your business with it. It's simple to keep track of wages, costs and labor costs. Simple dashboards and reports can be used to keep a check on project's profitability. Your tax liability can be calculated automatically.
You can work more quickly and accomplish more because QuickBooks integrates with many external programs. It offers editing of accounting reports so that you can easily share them with customers and assess the performance of your business.
Need of Ebay Integration with QuickBooks
One common misperception is that all you need to know about your company's performance is an Excel spreadsheet. However, while manually keeping track of Ebay sales now works for you, it'll probably be a headache after your company has expanded to hundreds of daily transactions. The e-commerce accounting procedure should therefore be optimized for every Ebay seller who processes more than one transaction each day.
In an effort to finish their accounting in QuickBooks Online with the click of a button and forget about the dreads of bookkeeping, many Ebay merchants do so. But those who understand how to leverage the QuickBooks and Ebay interface to its fullest potential can perform miracles.
For active Ebay merchants, such integration might completely alter the playing field. Think about a planned activity where QuickBooks automatically records Ebay transactions with great precision and in-depth information. For instance, you won't ever be annoyed by the prospect of going through your products and things for a product SKU field to add to QuickBooks and finding it empty.
The combination of Ebay and QuickBooks Online may also benefit sellers in other ways. QuickBooks online, as you are aware, generates financial statements that accountants can review and recommend to business owners. By integrating Ebay and QBO, reports will be based on the most precise financial data, improving accountants' productivity and providing sellers with a more thorough picture of their financial situation.
In this approach, if a company considers integrating QuickBooks Online and Ebay to handle their financial records, they may gain solutions for improved accounting administration. They will be able to obtain precise information on Ebay sales, set up useful categorization procedures, and start the quick reconciliation between the business bank account and QuickBooks Online.
Advantages of Ebay and QuickBooks Integration
Some advantages of Ebay QuickBooks Integration include the ones listed below:
By enabling automatic data sharing and synchronization between the two platforms, you can save time.
You may access a number of features in one location when you sync Ebay and QuickBooks. To access these capabilities, you don't need to buy two platforms. It is helpful in saving your money.
Through Ebay, you may connect QuickBooks to a number of other sales channels. These channels increase your sales and profits while assisting in maintaining current stock levels. By establishing connections with more than 700 integrations, QuickBooks makes sure that all Processes and Workflow are connected, simplifying business operations.
There is no need to do data entry by hand anymore which will help in eliminating human error. It will keep all of your data in one location where it can be easily accessed as needed. Since the accountant would have access to all transactional data and bank records, tax filing will be quick and accurate. QuickBooks automates processes so you can cut back on time spent on bookkeeping and paperwork.
These two marketing techniques are among the most effective on the platform. One advantage of Ebay Bucks is that it offers devoted customers rewards on purchases. The Bill Me Later program is an illustration of an in-store credit card that offers significant advantages to consumers who like this mode of payment.
To see the products you desire, you can alter your Ebay product feed. Three buttons entitled "Like," "Want," and "Own" are located at the top of each Ebay item. Ebay utilizes this data to personalize your feed once you make a choice. In short, integrating with QuickBooks it is flexible and able to be adapted to a variety of enterprises since it can be customized to the user's needs and preferences.
Ebay makes it incredibly simple to find a desired item using sophisticated keyword search parameters. There are price filters available here.
Working of Ebay with QuickBooks
A step-by-step tutorial is provided below, along with helpful key notes for each stage of the procedure.
Connect your applications to QuickBooks Connector first. If you haven't already connected your apps, you can connect QuickBooks and Ebay by using our guides.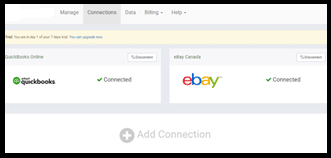 You can choose the precise settings for your Ebay and QuickBooks integration by using the configuration method below. Please be advised that in order to ensure that the integration settings are customized to your company's needs and accounting procedures, we do require that you possess some basic accounting expertise.
Prior to setting up your synchronization options, you must first configure your workflows. The following needs are to be set up in same sequence order:

Timezone for account
Starting date of Integration
Options for Email Sync

Workflows that are all optional will be given to you. These workflows will be used in this walkthrough to show off the setup procedure's full functionality.

QuickBooks Online will get invoices for Ebay sales.
Stock level updates from QuickBooks Online will be delivered to Ebay.
Products developed from Ebay in the accounting software.

Invoice Creation Workflow
When you check the box for the process that says, "When an Order is created in Ebay, Create a Sale in QuickBooks Online," you will be prompted to:
To choose which orders will be obtained from Ebay, configure the filters. Based on the Order Status, you must configure the filters.
Additionally, you can decide if you want to create a Sales Invoice or Sales Receipt in QuickBooks Online.

Payouts Creation Workflow
By turning on the Payouts Workflow, you're giving QuickBooks Connector permission to instantly create deposits in QuickBooks Online for any payouts Ebay sends to your account.
You must complete the Into Bank Account box. We'll record your Ebay payouts as a bank transaction here. Both a "Bank" account and a "Other Current Asset" account must be utilized.
If you want the unmapped payment methods to be switched over to the choosen account in the Create a Deposit section, you must pick a default payment method.

Use the Income Accounts Section: In this section, you can choose the income accounts that will be used to map the various Payment Methods to particular clearing accounts.
Use Expense Accounts Section: In this section, the expense accounts that will be used to map the Fees, Charges, and Taxes portion of the Payout should be chosen.
To preserve your progress, don't forget to click the Save option.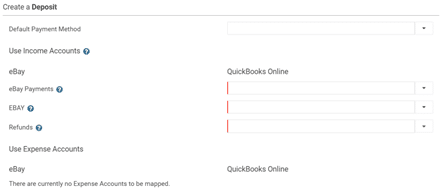 Product Creation Workflow
Simply check the box next to the workflow that says, "When a Product is created on Ebay, Create New Items in QuickBooks Online," and all of your new products from Ebay will be created in QuickBooks Online. The income and expense accounts to be used for your inventoried and non-inventory items must be chosen. The integration of things is covered in further detail here.
To preserve your progress, don't forget to click the Save option.
Stock Update Workflow
When Stock Levels are updated in QuickBooks then the checkbox for update stock levels in Ebay workflow is selected, you can choose to match products to QuickBooks items by name or SKU before clicking Save.

Now that your account is set up, all of your apps may sync data! When auto-sync is enabled, your account should sync every hour, but you may always initiate manual sync. Now select Sync Now button from the Synchronization Options menu which is at the top of the Manage tab.

Steps For QuickBooks Ebay Integration
As a QuickBooks Commerce user, you may want to think about using the native Ebay application for the Ebay QuickBooks Integration. Utilizing the Browse Apps option offered by the accounting program will allow you to download this application. Checking your SKUs for your products on Ebay is necessary before you start linking your QuickBooks account with Ebay.
A unique SKU should be assigned to each of your Ebay products. It is helpful for QuickBooks app in mapping the inventory status across both platforms for easy order tracking.
Following this, you can begin by taking the following actions:
Step 1: Login to Your QuickBooks Commerce Account
You must first log into your QuickBooks Commerce account before continuing with the Ebay QuickBooks Integration. You can now start looking for the Ebay app after logging in.
Step 2: Look for the Ebay App in QuickBooks and Install it
Simply select the Browse Apps option and then type in the application's name. This will be located in the top navigation bar.
Select "ecommerce" from the list of choices that now appears on your screen by searching for it. You can now see a wide variety of ecommerce-based applications. The "Ebay Built by QuickBooks Commerce" connector can be found here if you look for it.
When you've located it, select "Install App" from the drop-down menu. You'll see the "Connect Your Ebay Store" option on your screen after your app is loaded and ready to use. The nation in which you do business must now be chosen. The desired "Country" can be chosen using the drop-down menu.
Step 3: Now You can Log in to Your Ebay Account
You need to sign into your Ebay account as the last step in the Ebay QuickBooks Integration. Your screen will now load with the Ebay login page.
To access your account, Log in here. You can do this by adding your login information or logging in with your Google account.
On your screen, the following will now appear. Here, in order for QuickBooks to begin syncing data, you must grant access to your Ebay account.
Activate your Ebay QuickBooks Integration by selecting "I Agree" and granting permission. After giving permission, you'll be taken to the QuickBooks Commerce page. The configuration of your product SKUs and pricing list is now required.
Now, Ebay and QuickBooks integration is finished.
In conclusion, the Ebay QuickBooks Integration was thoroughly discussed in this article. Along with your business and financial tools like QuickBooks, using third-party program can have a huge number of advantages. However, choosing the appropriate platform requires constant caution. The advantages of these two products can now be combined to help you grow your company. Your online business's sales will increase due to the Ebay QuickBooks Integration's flawless user experience.
Extraction of sophisticated data from a wide range of data sources, including QuickBooks, CRMs, project management tools, streaming services, and marketing platforms, can be difficult. Our specialist can help you out in this situation.
Accounting Professionals, CPA, Enterprises, Owners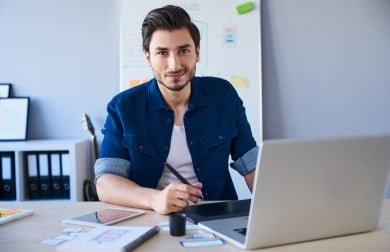 Looking for a professional expert to get the right assistance for your problems? Here, we have a team of professional and experienced team members to fix your technical, functional, data transfer, installation, update, upgrade, or data migrations errors. We are here at Dancing Numbers available to assist you with all your queries. To fix these queries you can get in touch with us via a toll-free number
+1-800-596-0806 or chat with experts.
---
Frequently Asked Questions
Does Ebay can Integrate with QuickBooks Desktop?
The answer is yes; you may daily import your Ebay sales transactions and payment data into QuickBooks using the Ebay Managed Payments app.
Does QuickBooks Integrate with Ecommerce?
Shopify and QuickBooks Online can be synced to enable retailers to automatically enter product, payment, tax, and customer data into the appropriate accounts and ledgers, saving hours of weekly manual data entry.
What Platform is Ebay Built on?
The majority of Ebay's technology stack is based on Java. Java and the JVM are the foundation of our entire process. Using a tried-and-true technology was a no-brainer when you consider the volume of traffic and stability needed for a site like Ebay.com.
Is Ebay an Online Platform?
Yes, It is an online marketplace where Ebay connects buyers and sellers. Every transaction performed by sellers is subject to a fee of 12–15%. Since its beginning, the e-commerce store has attracted customers from all around the world and increased sales. It was one of the early adopters of e-commerce.