Numerous BI (Business Intelligence) solutions assist organizations in making successful data-driven decisions and gleaning insightful information from their data. One such BI tool is Tableau, which assists businesses in utilizing their data and visualizing it through the creation of eye-catching reports and dashboards. This technology facilitates the integration of data from various sources and speeds up the process of extracting insights from that data.
Save Time, Reduce Errors, and Improve Accuracy
Dancing Numbers helps small businesses, entrepreneurs, and CPAs to do smart transferring of data to and from QuickBooks Online. Utilize import, export, and delete services of Dancing Numbers software.
The accounting industry is also well-known for its use of QuickBooks Online. QuickBooks Online is accounting software that assists companies in effectively managing their resources and finances. Using a new method called QuickBooks Tableau Integration; Tableau can import data from QuickBooks. The benefits and features of both technologies can be effectively utilized by organizations. You can frequently visualize the entire customer and financial transactions using QuickBooks Tableau Integration and you may draw strategic conclusions from them.
For a better understanding of Tableau and QuickBooks Online as a whole, you will also receive an overview. Learn how to link QuickBooks and Tableau for your company by reading on.
Introduction to Tableau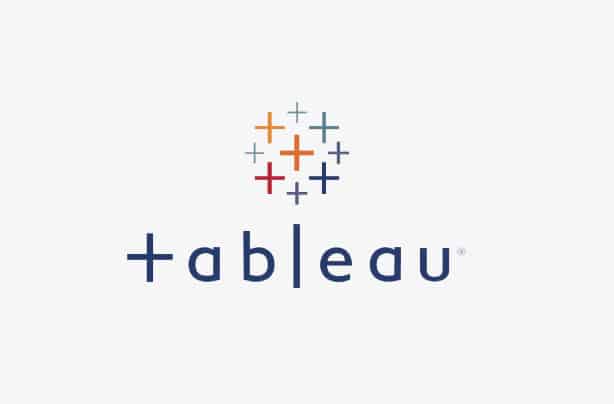 Christian Chabot, Pat Hanrahan, and Chris Stolte established the BI and Data Visualization platform Tableau in 2003. As every organization sought to collaborate with its employees while also gleaning insightful information from a variety of data sources, it quickly gained enormous popularity. Tableau analyses a tone of data through visualization, which is a fantastic method for doing so.
Leading companies in a variety of industries have benefited from Tableau's assistance in reducing processing times and moving their operations towards a data-driven model while maintaining the flexibility, security, and dependability of all of their processes. Tableau offers a variety of capabilities that set it apart from other BI solutions. There is much different integration available for it. There is a unique drag and drop function in Tableau. It enables the creation of interactive dashboards and their dissemination to people outside the company. It turns the inquiries or questions you ask into visualizations. Any platform, including desktop, mobile, and the web, can use Tableau. It encourages the development of a broad range of visualizations that might help you explore your data. You can continuously monitor your data using the versatile features of Tableau and the financial and accounting capabilities of QuickBooks Online integration.
Introduction to QuickBooks Online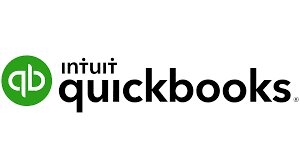 Accounting software called QuickBooks Online is created and updated by Intuit. It was first made available as a beta version in 1983 and was formally launched on Windows platforms in 2019. With its On-premise and Cloud-based accounting systems, QuickBooks Online primarily targets small and medium-sized businesses. Accepting business payments, managing and paying bills and payroll functionality are just a few of the features available with QuickBooks Online.
With flexibility, security, and dependability built into every step of the process, QuickBooks Online has helped businesses manage their finances, keep tabs on their budgets, and become more data-driven. When compared to other accounting software, QuickBooks Online is a better option because it has a wide range of functions. A limitless amount of customers and suppliers' information is stored in QuickBooks Online. It keeps track of all your sales and expenses, enabling you to see how your business is doing and make informed decisions.
It makes it easier to produce and design expert invoices that can be printed or sent via email. Additionally, it aids in keeping track of who owes you money and whether you have been compensated. It assists you in calculating Service Tax and VAT (Value Added Tax), and it is specifically created for Indian businesses. It also allows you to make quotes and proposals for your clients that seem professional and is currency-compatible with all major currencies.
With the help of QuickBooks Tableau Integration, you can combine the customizable accounting options of QuickBooks with the dependability, security, and visualization capabilities of Tableau.
Need of QuickBooks Tableau Integration
Integrating QuickBooks with Tableau can offer several benefits to businesses. Here are some reasons why organizations might require QuickBooks-Tableau integration:
Data Visualization
Tableau is a powerful data visualization tool that allows users to create interactive dashboards, reports, and charts. By integrating QuickBooks with Tableau, businesses can gain visual insights into their financial data, such as revenue, expenses, profit margins, and cash flow. These visualizations can help stakeholders understand financial trends, identify patterns, and make data-driven decisions.
Comprehensive Reporting
QuickBooks provides standard financial reports, but Tableau allows for more flexibility and customization. By integrating the two platforms, businesses can generate comprehensive financial reports that combine QuickBooks data with data from other sources. This integration enables the creation of custom reports and visualizations tailored to specific business needs, providing a more holistic view of the organization's financial performance.
Real-time Data Analysis
The combination of QuickBooks and Tableau can help with real-time data analysis. Businesses may obtain current financial information without manual data entry or exporting/importing by linking QuickBooks data to Tableau. Businesses may uncover new patterns, spot anomalies, and swiftly take corrective action thanks to real-time analysis, which enables proactive decision-making.
Data Consolidation
To handle various elements of their operations, many organizations utilize a variety of platforms and technologies. Although the main accounting software may be QuickBooks, other data sources like CRM systems, sales databases, or marketing analytics tools may also be used. Businesses may combine data from numerous sources, giving them a unified view of their organization's financial and operational data in one location, by integrating QuickBooks with Tableau.
Enhanced Data Accuracy
Manual data entry mistakes and inconsistent data transfer between systems might occur. By integrating QuickBooks and Tableau, less human work is required, lowering the possibility of data entry errors. It guarantees the accuracy, dependability, and consistency of the financial data displayed in Tableau dashboards and reports with the data in QuickBooks.
Streamlined Workflow
By automating the procedures of data extraction, transformation, and loading, QuickBooks-Tableau interface streamlines the workflow. It is away with the requirement for manual Tableau data manipulation and manual data extraction from QuickBooks. Users are able to concentrate more on data analysis and insight extraction because to this optimized workflow's time savings and increased efficiency.
Benefits of QuickBooks Tableau Integration
Numerous advantages of the QuickBooks and Tableau integration can improve financial analysis, reporting, and decision-making procedures. The following are some major benefits of connecting QuickBooks and Tableau:
Real-Time Reporting
The integration enables real-time reporting by allowing you to link QuickBooks and Tableau directly. This implies that your Tableau dashboards may automatically update and reflect new financial data as it is entered into QuickBooks. Making timely and well-informed judgments is made possible by real-time reporting, which offers the most recent insights.
Customizable Dashboards
Tableau enables you to modify reports and dashboards to meet your individual requirements. You can construct customized dashboards that provide you a thorough picture of your financial data by choosing the pertinent financial indicators, KPIs, and dimensions that are crucial to your organization. You may concentrate on the important aspects of your business and acquire useful insights thanks to this flexibility.
Advanced Analytics
Trend analysis, forecasting, and predictive modeling are just a few of Tableau's advanced analytics features. You may take use of these capabilities and learn more about your financial information by integrating QuickBooks data. To comprehend the potential effects of various business decisions, you can, for instance, examine sales patterns, anticipate future income, or run what-if scenarios.
Collaboration and Sharing
You can collaborate with colleagues inside your organization by sharing interactive dashboards and reports using Tableau. You may communicate financial insights with important parties, including managers, team members, or executives, by integrating with QuickBooks. This encourages teamwork, improves openness, and makes sure that everyone has access to the most recent financial data.
Improved Efficiency
You can save time and increase efficiency by automating the process of moving and visualizing data from QuickBooks to Tableau. The integration streamlines the workflow so you can concentrate on data analysis and decision-making rather than manually exporting data and producing reports.
Working of QuickBooks Tableau Integration
Here is a brief overview of different approaches you may use to integrate QuickBooks data with Tableau.
Data Exporting
Data exporting from QuickBooks is possible in a number of different formats, including Excel, CSV, and XML. The pertinent data from QuickBooks can be exported if you wish to analyze it in Tableau.
Data Preparation
After exporting the data from QuickBooks, you might need to clean it up and get it ready for Tableau analysis. This may require actions like eliminate duplicates, formatting columns, and guaranteeing data consistency.
Data Import into Tableau
Once the data has been prepared, you can import it into Tableau. Excel and CSV files are only two of the many data sources that Tableau accepts. To import the QuickBooks data into your Tableau workbook, use the data connection settings in Tableau.
Data Blending and Joins
If you want to mix data from other sources in Tableau, you can use data blending or join operations to do so. These operations can be used to combine QuickBooks data with data from other sources. This enables you to produce detailed reports and visualizations that incorporate data from several platforms.
Building Visualizations
After importing the data into Tableau, you can begin building visualizations and reports according to your needs. Drag-and-drop feature is available in Tableau's user-friendly interface for building charts, dashboards and graphs.
Refreshing Data
To keep your visualizations current, you may wish to frequently refresh the data in Tableau, depending on your needs. By re-exporting from QuickBooks and re-importing the data into Tableau, you can manually update the data. Alternatively, you can look into possibilities for automating the data refresh process utilizing Tableau's data integration features or third-party applications.
Methods to Set up QuickBooks Tableau Integration
Following are the two methods that you can use to set up QuickBooks Tableau Integration:
Method 1: Manual QuickBooks Tableau Integration
In order to utilize Tableau to visualize the data, you will connect to the QuickBooks data using Tableau Desktop, create a data source, and extract the tables. As of right now, the beta version of Tableau 10 includes this capability.
A QuickBooks Online account, username, and password are required for this. Having done that, you must then take the following actions:
Step 1: Connect with QuickBooks Online from Tableau
First you have to open Tableau on your system.
Navigate to the connect tab and then select Intuit QuickBooks online from it.
Note: If you desire to see other connectors then go to the server section and select more button from it.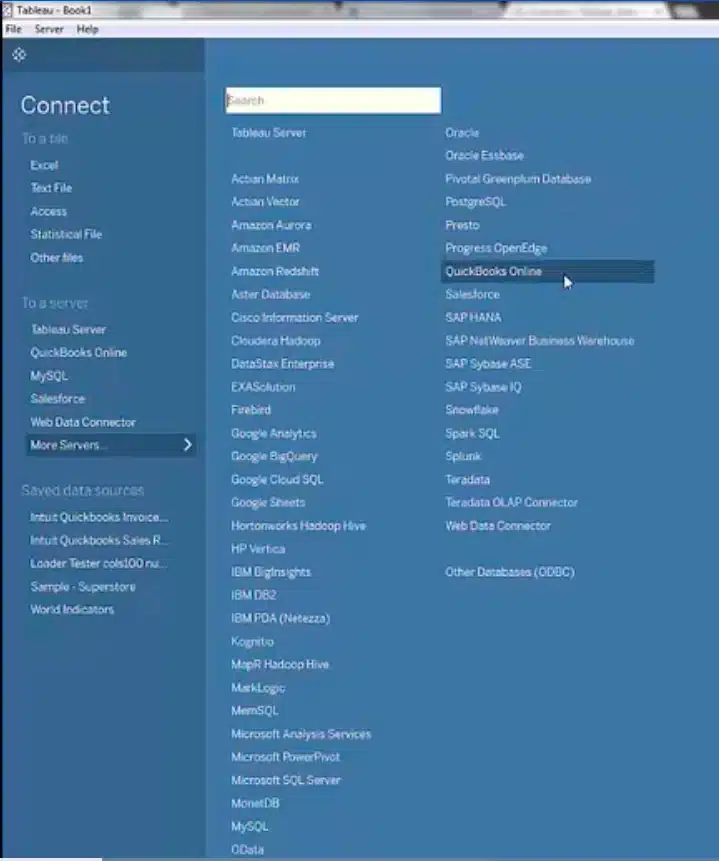 Now, you have to sign in to your QuickBooks admin account as QuickBooks online authentication window will appear on your system screen.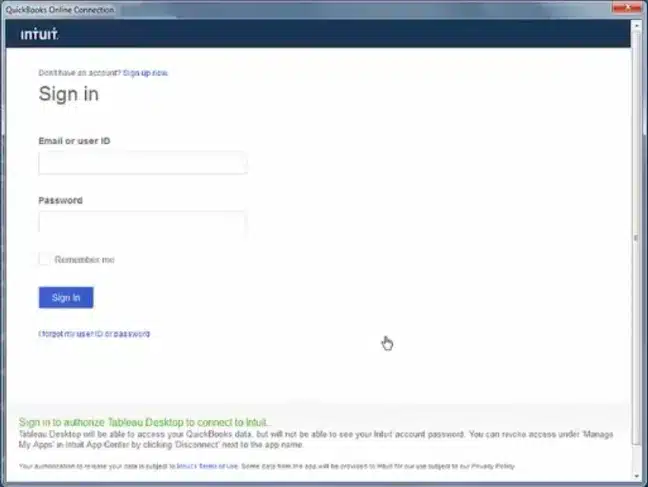 Step 2: Authorize the Connection between QuickBooks and Tableau
First you have to select the authorize option for authorizing QuickBooks.
Once above step is done so, now you can share your data with Tableau.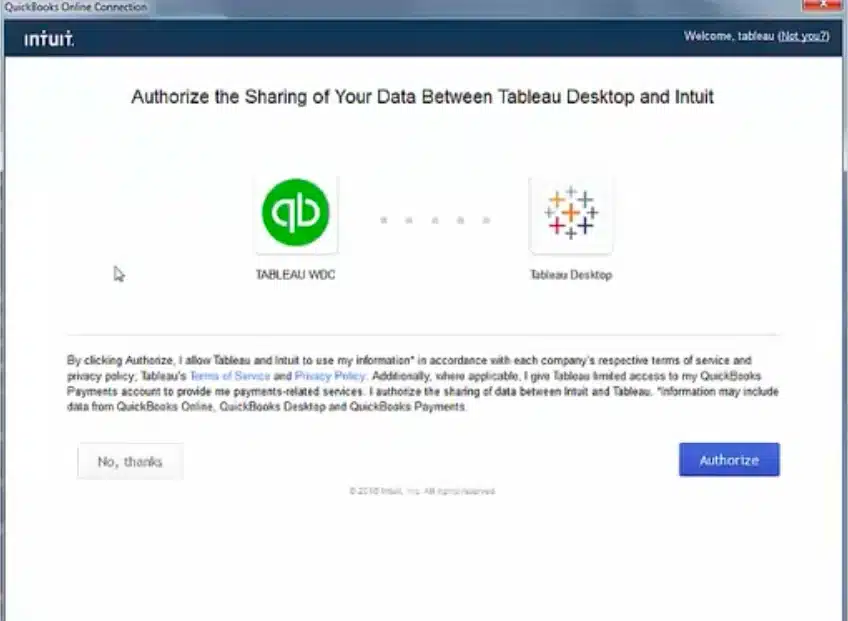 Note: In case the connection is not built between Tableau and QuickBooks the follow the following:
Check your credentials which you entre is they are correct.
If above is correct then you can contact your network or database administer as your system have trouble in locating
Step 3: Select Tables to Extract from the Data Source
Once the above steps are done successfully, now you have to navigate to the table section.
Select the table and then drag – drop it to the canvas.
Now hit the sheet 1 tab in order to start your analysis.
Once you are done with above step your tableau will start importing the data.
Tableau automatically create extract button, whenever the data is require to update hit the extract button.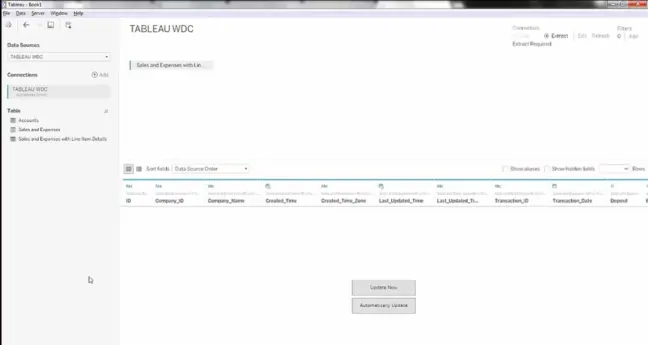 Note: Accounting reports including balance sheets and profit and loss (P&L) statements can be created using the Sales & Expenses Line Item tables. To make this information easier to understand, QuickBooks Online groups this information into sub-transactions.
Note: All images references from help.tableau.com
Method 2: Use of Some Data Platform for Setting QuickBooks Tableau Integration
Extract
By just logging in with your login information, you may connect your desire data platform to QuickBooks Online and a number of other data sources and extract data without any issues.
Integrate
Gather your data from various sources into Data Platform to Manage Data Warehouse Platform, where it will be automatically transformed into a form that is suitable for analysis.
Visualize
Integrate your data platform with your preferred BI tool, such as Tableau, to quickly visualize your data and get more insightful results.
You were given a step-by-step tutorial in this post on how to set up QuickBooks Tableau Integration. The overview of Tableau and QuickBooks Online functionality was also provided. In general, any data platform can be used to set up QuickBooks Tableau Integration, as well as the manual technique.
We can assist with a seamless setup of QuickBooks Tableau Integration. If you want to smoothly integrate data from data sources like QuickBooks into the database or destination of your choice, and then visualize it in a BI tool of your choice, like Tableau, then we can help you with the ETL and management process of both the data sources and destinations.
Accounting Professionals, CPA, Enterprises, Owners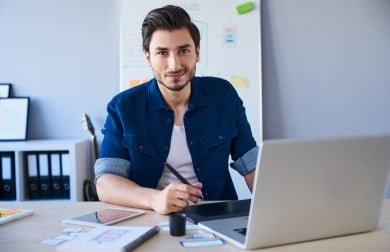 Looking for a professional expert to get the right assistance for your problems? Here, we have a team of professional and experienced team members to fix your technical, functional, data transfer, installation, update, upgrade, or data migrations errors. We are here at Dancing Numbers available to assist you with all your queries. To fix these queries you can get in touch with us via a toll-free number
+1-800-596-0806 or chat with experts.
---
Frequently Asked Questions
QuickBooks can Integrate with Tableau?
You must be a Company Administrator on the QuickBooks Online then company in order to connect Tableau to the data in that system. Tableau and QuickBooks Online can only be connected by one administrator at your firm. The inventory adjustment transactions cannot be retrieved using QuickBooks Online.
Is Tableau an ERP System?
The business suite SAP ERP consists of Financials (A/P, A/R, accounting, reporting, risk management, etc.), Human Capital Management (HR and Payroll), and Operations (procurement, manufacturing, sales & service).
You can use Tableau CRM to analyze data in potent, relevant ways: Directly execute on insights in Chatter by connecting to your CRM data. Use Einstein Discovery to obtain predictive analytics by automatically analyzing millions of rows of data. Utilize ready-made apps to swiftly explore data and automate processes.
Which are the Tools for Tableau?
Tableau Server, Tableau Online, and Tableau Reader are examples of Tableau tools.
What is the New Name of Tableau?
The new name of Tableau is Einstein Analytics.