Don't you just savour and enjoy that one day of every month – the Payday! However, variable ways of being paid like taking the checks to the bank or asking the teller for direct deposits might kill the vibe.
Now, on QuickBooks, employers, and employees get the benefit of the Direct Deposit option which helps you to have the access to your money with the help of electronic funds transfer medium that walks in straight into your respective bank account.
Save Time, Reduce Errors, and Improve Accuracy
Dancing Numbers helps small businesses, entrepreneurs, and CPAs to do smart transferring of data to and from QuickBooks Desktop. Utilize import, export, and delete services of Dancing Numbers software.
This article takes you on a detailed guiding journey that would help you to understand how to set up direct deposit in QuickBooks.
What is the Setting up of Direct Deposit in QuickBooks?
Before you straight away walk up to knowing how to set up direct deposit in QuickBooks, let's just brush up a little on understanding what is a direct deposit.
Instead of taking your paycheck to the bank, the direct deposit would be transferring the respective amount in your bank account with the help of an electronic fund transfer. Using an electric network which is terms as an automated clearing house (ACH), direct deposits help in facilitating digital deposits between banks.
Because of a high dependency growing on digital mediums, almost more than a billion electronic payments are being recorded annually around the world.
Keep scrolling to understand the intrinsic value of setting up direct deposit in QuickBooks in the next section.
Why do you need to Set up Direct Deposit in QuickBooks?
Standing out to be one of the popular modern payment techniques, direct deposits come with a widely spread buffet of benefits. To start with, direct deposits in QuickBooks, you find a convenient way to welcome your tax refunds, unemployment pat, social security, and stimulus checks.
Seeing it from an employee perspective, direct deposit is an extremely helpful method to get your money in your bank account without facing the hassle of walking into a ban for the same. Due to a digitized process being in place, there is negligible or absolutely no paper/documentation required to set up direct deposits.
While, employers too, reap a lot of benefits from setting up direct deposits in QuickBooks. One of the primary benefits that can be highlighted in this discussion is that direct deposits help to avoid printing, writing, mailing, or reissuing paychecks to their employers, which incurs unnecessary costs.
It also saves a lot of time, with the added advantage of keeping things secured and unified under one platform.
Now that you are absorbing the perks of setting up direct deposit in QuickBooks, the following division would help you with the steps involved in it.
How to Set up Direct Deposit in QuickBooks?
This section will help you to understand how to set up direct deposits in QuickBooks via detailed steps.
Step 1: Verify Your Company Information
The first step for this involves entering the company information. Start with verifying the company's information which includes the legal name of the business, industry to which it belongs, along with updating the owner's data too.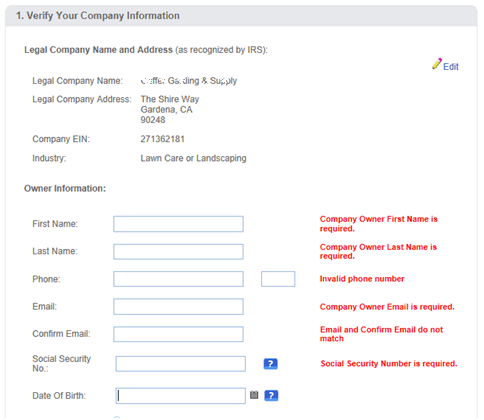 Step 2: Enter Your Bank Information
The next step is all about entering the bank information. Choose the bank account from where you wish to pay your employees. Make sure to highlight a few other bank account information such as type of account, legal name, account, and routing numbers, and agree to the terms and conditions mentioned below.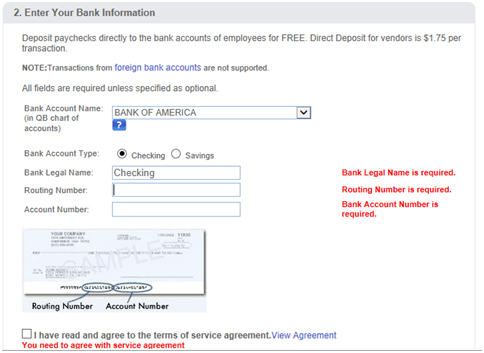 Step 3: Set the Security Limits
In the third step, set the security limits. Being an additional security measure, QuickBooks lets you input 3 security checks. From the drop-down below, choose the most fitting one for your business.
Step 4: Activate the Direct Deposit
Next, you would need to activate the direct deposit. For verifying the bank accounts, QuickBooks levies two small verification deductions. When you can see these deductions recorded on your bank statement, you can activate direct deposits in QuickBooks.
Step 5: Verify the Activated Direct Deposits in QuickBooks
Once you have activated direct deposits in QuickBooks, you need to verify it as well. To do so,
Visit Employee and click on My Payroll Service.
Enter the two deduction amounts and choose Next.
Step 6: Enter the Employee's Information for Direct Deposits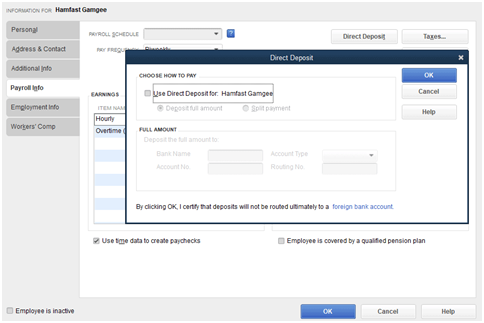 Now you need to enter the employee's information for direct deposits. To do so,
Visit Employee and tap Employee Center.
Choose the employee for which you are setting up the direct deposit.
Hit on Payroll Info and choose Direct Deposit.
Check the Use Direct Deposit for this employee box.
Enter the employee's bank account type, bank name, account, and routing numbers.
Hit OK to finish. Also, make sure to choose OK even on the employee screen to confirm information has been saved correctly.
Step 7: Running Payroll to use Direct Deposits
Following this, you would be running payroll to use direct deposits. Post to you reaching to run payroll, tap on Send Payroll to Intuit.
Step 8: Received Direct Deposit Pin
You will have a direct deposit pin, that would be required to enter for verifying the transaction at the time of dispatching the payment amounts.
Step 9: Use Print Pay Stubs When Pay Your Employees
When the payment to your employees to clear via direct deposits, make sure to print pay stubs. To do so,
Visit File.
Click on Print Forms and tap Pay Stubs.
Hopefully, this article has helped you in understanding the detailed steps on how to set up direct deposits in QuickBooks.
Accounting Professionals, CPA, Enterprises, Owners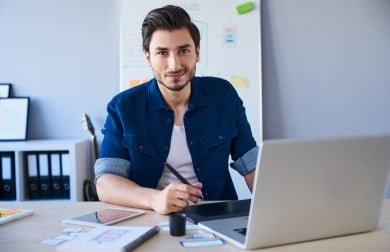 Looking for a professional expert to get the right assistance for your problems? Here, we have a team of professional and experienced team members to fix your technical, functional, data transfer, installation, update, upgrade, or data migrations errors. We are here at Dancing Numbers available to assist you with all your queries. To fix these queries you can get in touch with us via a toll-free number
+1-347-428-6831 or chat with experts.
---
What to do if I see a Delay in Receiving the Direct Deposit?
Most often, delayed direct deposits are because of system glitches or modifications done recently. If you do not receive direct deposits as per the timeline committed, kindly contact your bank, payment issuer, or your employer.
What types of information are needed from my Employees to set Direct Deposits in QuickBooks?
Types of information that are needed from your respective employees to set Direct Deposits in QuickBooks are mentioned as below:

Bank account number.


Bank's routing number.


Type of account-checking/savings account.


Bank name and address.