It is important to learn how to set up and use barcode scanning in QuickBooks Desktop. With the help of the barcode scanners, users get access to work with the QuickBooks accounting software.
In today's article, we will talk about and provide an overview of barcode scanning in QuickBooks Desktop for users.
Save Time, Reduce Errors, and Improve Accuracy
Dancing Numbers helps small businesses, entrepreneurs, and CPAs to do smart transferring of data to and from QuickBooks Desktop. Utilize import, export, and delete services of Dancing Numbers software.
But first, let us learn the importance of QuickBooks barcode.
Understanding the Importance of using QuickBooks Barcode Management
QuickBooks barcode management will enable you to deal with several aspects of your business. Not to mention, in some business domains, barcode management is quite mandatory, for instance, the sector of perishable inventories and food production.
With a barcode in place, it will enable you to cut down human errors, enhance inventory management decorum, and monitor products together with the supply chain with ease.
Here is a list of additional reasons why it is imperative to have a QuickBooks barcode inventory system, especially for the manufacturers:
Enhance Your Infrastructure
With the help of a QuickBooks barcode inventory system, managing inventory will become super easy. Not to mention, it will provide you with tools like Barcode printing functionalities, QuickBooks barcode generator, etc.
Do Audits with Ease
Everyone dislikes doing audits, however, they must be done. They cannot be avoided. Or else the inventory management will be hampered and the business will start losing money.
Find Problems Hidden in Supply Chain
Due to the QuickBooks barcode management system, you will be able to locate areas together with your manufacturing route that impacts your business such as logjam accumulating along the production lines.
Differentiate Your Products
With a barcode in place, you can store too much information in the barcode as per your requirement. It enables you to distinguish your product and easily locate it. This is ideal for manufacturers who sell several variants of numerous products.
Print Your Inventory and then Label it
Finally, when the QuickBooks barcode inventory system is configured, you can move ahead and then print the barcodes and then commence with labeling.
What are the Things one must Know Prior to using QuickBooks Barcode Inventory Scanner?
Prior to using the QuickBooks POS inventory scanner, it is crucial that you adhere to the points mentioned below:
You will not be able to access the QR codes since they are not supported now
On a purchase or sales form, make sure the QuickBooks Inventory scanner is not used to one item two times
The barcode is placed as a column in the Products and Services list in QuickBooks
For inventory items only, the barcode is available
Importing of services and products does not comprise barcodes
For every item, a unique barcode is present. In case the barcode is already present in the system, an error message appears on the screen. The error message says, Looks like the barcode is already present. Try using a different one.
You cannot look for a particular item in the Product and Services list just by accessing barcodes. However, this search option is functional with the transaction form.
How to Set up and Use Barcode Scanning in QuickBooks Desktop?
With the help of Advanced Inventory, you can utilize barcodes to make entry of data quicker and smoother in QuickBooks Desktop. Once you assign barcodes to items, it is possible to scan the barcodes when you either sell or buy those particular items. It is also possible to scan the barcodes to edit the item quantity in hand.
But before all that, you need to check whether the scanner you are having is compatible or not.
How to Check if the Scanner is Compatible or Not?
Here is how you can ensure that your scanner will function with QuickBooks software or not. Ensure that:
The scanner support Code-128 and EAN-13 (International Article Number) barcodes.
At the end of the particular barcode, your scanner offers a single carriage return
Notes:
The sales order worksheet and the Warehouse Manager app need a different kind of scanner
The ES barcode feature is not in sync with the serial port scanners
How to Set up the USB Barcode Scanner?
Once the scanner is plugged in, you can begin setting the USB barcode scanner:
Step 1: In your QuickBooks Desktop, navigate to the Edit menu and choose Preferences.
Step 2: Choose the option, Items and Inventory, and then choose the tab Company Preferences.
Step 3: Choose Advanced Inventory Settings and then choose the Barcodes tab.
Step 4: Choose Enable Barcode and then choose Open Barcode Wizard.
Step 5: In the particular Barcode Scanning Setup wizard, choose which item field you wish to use for barcode tracking. In case you are not aware of what to use, select a field that will be perfect for every item like the Part Number or Item Name. Then choose Next.
Step 6: Choose the types of products you wish to issue the barcodes for.
Step 7: Choose Next and then click Finish.
How to Test the Particular Barcode Scanner in Your given QuickBooks Desktop?
To test the scanner, Barcode Scanner Tester is the ideal app to be used for testing. Also, it is important to check whether QuickBooks Desktop identifies the USB scanner or not.
Step 1: Download the barcode Scanner Tester and run it.
Step 2: The user needs to be certain to be in the application and finish it before shifting to another window.
Step 3: Now, you need to write the sentence that is provided in the tester in the first field that is empty.
Step 4: Now navigate to the second text field and then run the particular scanner and then scan the barcode. It is not compulsory that it has to be a barcode identification from QuickBooks.
Step 5: Press on the option Test in case your app is able to detect the scanner and press Next. Now press the button for Next.
Step 6: Post that, a new text box will be shown on the screen. Press on it and then you can enter any barcode.
Step 7: Finally, select the option, Test after your scanner is found compatible with QuickBooks successfully.
How to Start using Your Particular Scanner?
Now when you have tested your particular scanner, you can use it with the following steps:
Step 1: Open a transaction in your QuickBooks Desktop
Step 2: Choose an item with your particular barcode scanner linked to your computer. The item will show on the transaction as a new line item
Step 3: You will be able to scan barcodes to complete any of the transactions provided below:
Sales Orders
Sales Receipts
Purchase Orders
Bills
Inventory transfers
Estimates
Invoices
Refunds & Credits
Item Receipts
Write Checks
How to Successfully Import Barcodes in QuickBooks?
In a few cases, you may have a list of the barcodes that you have used. Here are the steps to import them into QuickBooks:
Step 1: Prepare a Custom Field
Prepare a custom field if you wish to monitor additional items:
Importing into QuickBooks needs you to be only in single-user mode. It is possible to switch modes by:
Navigate to Lists.
Now choose Item List and click on any item twice and then choose Custom Fields.
Choose Define Fields. Enter a label name on a new line.
In the provided label field, choose Use and then press OK.
Note: It is Possible to have at least 12 custom fields.
Step 2: Export the Product List to Excel
Choose Lists and then click Item List that is at the bottom.
Now choose the Excel menu. Now choose Export All Items.
Choose the option, Create New Worksheet and then click in New Workbook.
Choose Export. A full list of item reports will be opened in Excel.
Step 3: Change the Excel Sheet
The following steps should be used to edit items:
Add the barcodes you wish to use for every product or item.
Save the particular file and then close it.
Step 4: Import the Particular List with the Barcodes from Excel
In QuickBooks, navigate to the File menu and choose Utilities.
Choose Import Excel Files. Choose No when Add/Edit Multiple List Entries are prompted.
Select Advanced Import.
Go to the Excel file that you have saved and choose Sheet 1 where your data will be visible.
In the drop-down menu Choose a mapping, and choose Add New. Then a mapping screen will appear.
In the given Import Type drop-down menu, choose Item.
In the QuickBooks column, locate the Type line. On the very same line in the particular Import Data column, choose Type to ensure they match.
Go down one line to the particular Name field. In the particular Import Data column, choose Item.
Go down to locate the Barcode2 line and then fix its Import Data field. You may leave all the remaining fields empty.
Choose the option to replace the present data with the data that is imported, while ignoring the blank fields.
Step 5: Fix QuickBooks to Monitor Your imported Barcodes
Navigate to Edit and choose Preferences.
Choose Items and Inventory.
On the tab for Company Preferences, press the button for Advanced Inventory Settings.
On the particular Barcodes tab, open the given Barcode Wizard.
In the given drop-down arrow, select Copy barcodes from the custom field.
Keep going as per the wizard and choose Finish.
Press OK two times.
You will see a screen that tells you the number of barcodes that have been created. Get back to the item list and press on one of the items two times to see the particular Barcode Number field with the specific barcode imported.
Hope this article has cleared all your doubts concerning how to set up and use barcode scanning in QuickBooks Desktop. We have added all the details regarding the use of a scanner in the QuickBooks Desktop.
Still, for some this may seem a little confusing or too much. For those individuals, we recommend getting in touch with a Dancing Numbers qualified QuickBooks professional.
Accounting Professionals, CPA, Enterprises, Owners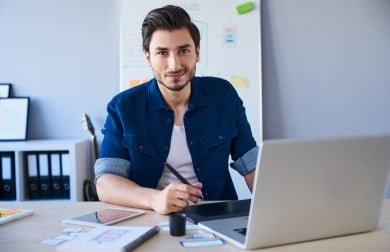 Looking for a professional expert to get the right assistance for your problems? Here, we have a team of professional and experienced team members to fix your technical, functional, data transfer, installation, update, upgrade, or data migrations errors. We are here at Dancing Numbers available to assist you with all your queries. To fix these queries you can get in touch with us via a toll-free number
+1-800-596-0806 or chat with experts.
---
Frequently Asked Questions (Faqs)
How can I Connect the Barcode Scanner to the Database?
In order to connect the Barcode scanner to the Database, you need to follow the steps given below:
Step 1: You need to press on the QR code symbol to begin scanning.
Step 2: Wait till the scanning is not over. After that, the content will be displayed in the QR field.
Step 3: You can use the Send symbol to show the record.
Step 4: Now the solicitation will be sent to the information base and another record that has the QR code will be visible in the Search Request table.
How can I Empower the Barcode Scanning in QuickBooks?
Here are the steps to empower the Barcode scanning in QuickBooks:
Step 1: Press on the Gear symbol and then select the Company Settings.
Step 2: Press the Sales tab that is on the left route board and choose the Barcode.
Step 3: Scan the check box in the particular Product and administration category.
Step 4: Press save. Now the process is complete.
Can I Scan a Barcode on a Computer Screen?
The QR codes are usually shown on an OLED and LCD screen. Only a particular type of scanner called as 2D imaging barcode scanner can do it.
What is the Hardware Compatibility to Set up and use Barcode Scanning in QuickBooks Desktop?
Barcode scanner that has a Bluetooth or USB can be used. A barcode scanner that copies the input of a keyboard is usually considered compatible.