The most user-friendly all-in-one software for home service professionals to manage their business while on the go is called Housecall Pro. From your computer, tablet, or mobile device, manage your customer data and jobs, keep an eye on your staff, handle payments, and please your consumers.
Save Time, Reduce Errors, and Improve Accuracy
Dancing Numbers helps small businesses, entrepreneurs, and CPAs to do smart transferring of data to and from QuickBooks Desktop. Utilize import, export, and delete services of Dancing Numbers software.
Field service managers who are in charge of managing a group of experts while creating invoices and communicating with clients can utilize Housecall Pro, a simple but effective cloud-based software solution. Although the software solution is somewhat more expensive than other software options available in the market, It is simple to use and may assist the majority of field service organizations run more effectively.
No matter what industry you work in-plumbing, window cleaning, carpet cleaning, HVAC, or even carpentry-running a company that dispatches service technicians into the field is challenging. You have a lot of things to consider. You routinely create invoices that contain crucial information, and there are many factors in play that could go wrong and wreck your day or even your company's net profitability. The software Housecall Pro can help with this.
By giving them an easy way to keep an eye on their employees, this cloud-based system simplifies things for field service managers. Additionally, Housecall Pro automates a number of the tasks you would generally perform by hand, such contacting or alerting clients and creating invoices on the fly.
About QuickBooks Desktop and Online
QuickBooks Desktop
One of the first programs to offer automatic bank feeds was QuickBooks Desktop, which decreased the time needed to manually record business transactions and streamlined the bank reconciliation process. A brand-new bank feed option called Advanced Mode is accessible in QuickBooks 2022. QuickBooks Desktop offers two separate banks feed options: the conventional method and the Express mode, which attempts to match downloaded bank transactions with those already entered.
Whether you operate QuickBooks Desktop on a PC or Mac, it fulfils all of its promises. Even though it's essential for strong cash flow, nobody really enjoys checking up on past due accounts receivable balances for your sales orders. We no longer need you. At least not right away. The automated payment reminders feature in QuickBooks Desktop might assist you in achieving that.
QuickBooks Online
QuickBooks Online is a user-friendly piece of software for small businesses. It makes it simple for you to comply with requirements thanks to its built-in GST capabilities. You may rapidly access tax and accounting information with the aid of the QuickBooks Online application. Additionally, by selecting the relevant codes, you can add HSN/SAC codes to your products and services in QuickBooks.
Every aspect of your business may be managed and analyzed with the aid of QuickBooks Online Plus. Job costing makes it simple to keep track of wages, expenses, and labor costs. The profitability of a project can be seen utilising simple dashboards and reports. Even your supply and inventory are within your control. Your tax liability is automatically determined.
You can work more quickly and accomplish more because of QuickBooks' connectivity with so many third-party applications. It offers personalized accounting reports that you can rapidly share with clients to gauge the performance of your business. Additionally, compare your QuickBooks transactions with supplier invoices that have been posted to the GST portal to determine the appropriate ITC amount.
Need of Housecall Pro Integration with QuickBooks
Housecall Pro performs a fantastic job of designing a straightforward, user-friendly solution. It includes various useful features that make managing your labor and client connections quite straightforward. Housecall Pro has many features that make integration with it essential.
Customer Database
One of Housecall Pro's biggest features is its client database, which is simple to use on both a desktop computer and a mobile device. You can easily get in touch with any client to learn the full history of their job orders, as well as any unfinished business or outstanding debts. Additionally, you can utilize this feature of Housecall Pro to automatically or manually communicate with clients via notifications.
Additionally, If you conduct a lot of business with a certain client, you may make recurring automated invoices and include customer attachments, which is crucial for keeping any information associated with that client.
Mobile Application
A whopping 76% of field service application users said that adopting apps has significantly reduced their work operations. However, there are a number of well-known field service management apps in the market that are not worth buying. They are typically poorly integrated, have little functionality, and usually cause problems for consumers. That's not the case with the Housecall Pro Smartphone application, which is equally user-friendly and has essentially the same functionality as its PC counterpart. You receive a dashboard with navigation icons at the bottom, much like what you would see in a browser.
When you click on the client button on the Housecall Pro app, an image of the address assigned to a certain client is immediately pulled from Google Maps, which is another fantastic feature. When service technicians are out in the field trying to locate the client, this functionality can be helpful.
Scheduling
A scheduling calendar with day, week, and month views is available in the software. You may easily make and modify your schedule using a computer or Smartphone app. Moreover, you can alert your personnel by sending regular notifications to their phones. With Housecall Pro, scheduling is as easy as choosing a time slot, picking the task, estimate, or event area, choosing a client to associate it with, and adding any additional information or documents that are required. As the due date approaches, these specifics will start to show up on the Housecall Pro dashboard once they have been put to the calendar.
Producing Invoices
The ability to create invoices is among the main functions of the software Housecall Pro. There are a number of symbols at the top of Housecall Pro's job section that display the project's progress. When you select an invoice from among those icons, the software immediately fills up the invoice with all the necessary information. The next button, which opens an email with all the sections filled out with pertinent data, can be clicked after a fast inspection. Before hitting the submit button, you may then make any necessary changes to the details.
The software system also makes it easier for clients to handle payments by enabling them to pay right away from an invoice they've received, without having to go via a web portal or payment gateway. Additionally, Housecall Pro interacts with QuickBooks, greatly simplifying bookkeeping.
Customer Service
Although Housecall Pro offers exceptional customer service, there are a few shortcomings. Typically, customers are instructed to get in touch with support using the chat bubble that appears on the website. The Smartphone app does not offer a way to get in touch with customer care. You must be prepared to pay for more aid, if you need it. You can only obtain a one-on-one on boarding guide once you sign up for a more premium user model. However, you will need to spend a lot of money if you want a dedicated account manager and quick phone support.
Usability
The usefulness and accessibility of the Housecall Pro application make it exceptional. The software's user-friendly dashboard is divided into sections that display information about impending jobs, the status of the current job, open invoices, paid invoices, the sales leader board, and jobs by tags, open estimates, and custom reports. Moving components around to improve accessibility and adding or removing components as needed can change the configuration.
Key Benefits of Housecall Pro and QuickBooks Integration
You can make sure every dollar is being tracked with Housecall Pro's QuickBooks integration.
You can be sure that everything about your business is recorded, including invoices, customer data, and the services you offer.
Get your data where you need it when you need it with simple imports and quick syncs. QuickBooks Online and Desktop are seamlessly integrated with Housecall Pro.
Your customer's contact information and history are all kept in one place through Housecall Pro.
With the help of this integration, you can get real-time data that gives you the most recent information about your finances.
Also, Payments, line items, customers, and invoices will all be immediately pushed into QuickBooks.
Error handling built in helps avoid duplication. Instead of wasting time at the office, you can concentrate on getting the job done.
You are able to import your current QuickBooks data because of the robust connections with both QuickBooks Online and Desktop.
Working of Housecall Pro with QuickBooks
With Quickbooks Online, Housecall Pro provides completely integrated accounting services. All task histories, customer databases, and personalized price lists may be imported to the Housecall Pro platform with a single click.
From there, service providers can benefit from automatic bookkeeping that is seamless between Housecall Pro and QuickBooks. The double entry is over.
The Essentials, Plus, or Advanced QuickBooks Online plans can be integrated with Housecall Pro. This license must be purchased directly from QuickBooks Online.
Only customers, customer invoice history, and products/services can be imported into QuickBooks Online. Credit memos, sales receipts, estimates, job notes, employee tags, or invoices that are not related to a customer are NOT imported or pushed back. Housecall Pro only accommodates a single level of sub-clients.
HCP only communicates in one direction with QuickBooks Online. There are three occasions when HCP sends data to QuickBooks Online: once the invoice is designated as "Finished." when the customer has received the invoice and when the invoice bears the "Paid" designation.
You may now check the QuickBooks account details under the HCP Settings when you connect HCP to a QuickBooks account. You will be able to examine the invoice and customer totals linked between the two systems and verify the condition of your QuickBooks Online connected account.
Steps for Housecall Pro and QuickBooks Integration

Next, Select GO TO APP STORE.
To access QuickBooks Desktop, you need to scroll down and press Study More.
Switch the app's status from off to on. The setup tutorial will now be shown to you on the screen. This tutorial will show you how to link Housecall Pro with Quickbooks Desktop step-by-step.

Make a note of where on your computer the QWC authentication file is saved after downloading it.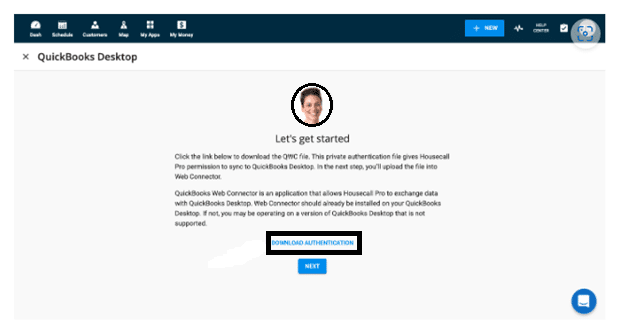 Open QuickBooks Desktop and select "Update Web Services" from the "File" menu. The following window will then appear: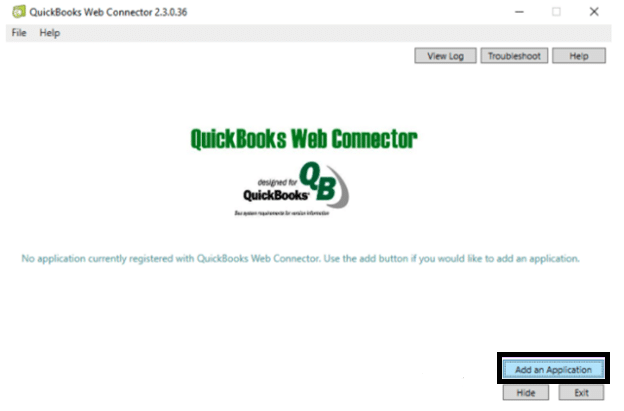 Choose "Add an Application"
Select the appropriate QWC file, and then click "Open" to upload the QWC authentication file.
Give Housecall Pro access to your Quickbooks information. Verify that the Security Certificate Information's name is housecall.io and the requesting application's name is HCPQBWebConnectorService. Next, click "OK."
The question of whether you wish to enable the application to read and edit this corporate file will then be presented to you. Choose "Yes, prompt each time".
You may now define what you mean by Housecall Pro and QuickBooks integration due to this post. The information on the page encourages users to integrate their QuickBooks and Housecall Pro accounts. Ask our IT professionals for assistance if you still require assistance. You will find it simpler to understand and use QuickBooks and Housecall Pro because of them. You may always count on the assistance of our experts.
Accounting Professionals, CPA, Enterprises, Owners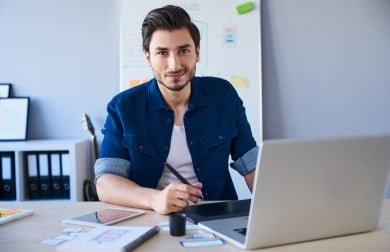 Looking for a professional expert to get the right assistance for your problems? Here, we have a team of professional and experienced team members to fix your technical, functional, data transfer, installation, update, upgrade, or data migrations errors. We are here at Dancing Numbers available to assist you with all your queries. To fix these queries you can get in touch with us via a toll-free number
+1-800-596-0806 or chat with experts.
---
Frequently Asked Questions
What are the Pricing Models of Housecall Pro?
Basic Price Structure: The monthly pricing plan for the Housecall Pro program is $65 per month for one user and starts at $49 per month if you sign up for a year.
Model for Essential Prices: Up to five persons may purchase it for $129 per month or $169 per month for a subscription. For both options, an extra user costs $30 per month.
MAX Pricing Strategy: You must subscribe to their MAX pricing model, which does not specify the pricing levels, if you have more than five members. Instead, the website directs you to get in touch with them for price information and emphasizes that the MAX pricing model is intended for developing or established organizations.
What are the Pros of Housecall Pro?
• Software for field service management that helps you saves over 10 hours each week. Drag-and-drop scheduling/dispatch, customer records (CRM), and automatic estimates + bills help you keep track of work and clients.
• Built to increase your number of 5-star ratings. With online booking, on-my-way SMS, sales proposal tools, integrated payments (credit card, finance, and instapay), recurring service plans, and review management, you may improve the customer experience.
• No manual is required. Join the 60,000 professionals and over 15,000 businesses that utilize software that is genuinely simple to use.
Which Data Won't Be Imported Into Housecall Pro?
• Sales receipts or credit memos
• Line items based in percent
• Items with nested price lists
• Different tiers of sub-customers
• Various tax codes
What Data Is Going to Be Imported Into Housecall Pro?
• Every customer, whether active and inactive, is placed on the "Deleted Customer List" by Housecalls.
• In Housecall Pro, only one level of sub-customers (parent/child) will be imported.
• Active and inactive price list items are both included. Inactive price list entries will be archived and hidden.
• All bills, both paid and unpaid
• Tax amounts
• Taxable and nontaxable codes
• Inventory things