Accessing your QuickBooks account is giving you problems. If so, you probably want to know if the program is down or if there are any other potential explanations for the problem. Understanding the cause of QuickBooks' malfunction is particularly crucial since it may guide your decision on the best course of action to take in order to rapidly fix the problem. In this article, we'll go through the many techniques to determine whether QuickBooks is down as well as whether it's appropriate to investigate other potential issues.
Save Time, Reduce Errors, and Improve Accuracy
Dancing Numbers helps small businesses, entrepreneurs, and CPAs to do smart transferring of data to and from QuickBooks Online. Utilize import, export, and delete services of Dancing Numbers software.
About QuickBooks or QuickBooks Online Down
Identifying whether or not the issue is isolated is the first step in troubleshooting any QuickBooks issue. The simplest method to accomplish this is to look for others who are experiencing the same problem online. It's probably not only a problem with your account or computer if other people are experiencing the same problem. There could be a bigger issue with the system itself.
If so, visiting the Intuit website's system status page is a good idea. If there are any known problems with the service at that time, this page will let you know about them. If there aren't any problems, It's most likely a problem with your computer or account rather than an issue with the service as a whole.
It's also conceivable that the issue is unique to you or your machine. To determine whether you can access QuickBooks there, try logging into a different device. This will assist you in figuring out whether the issue is actually with QuickBooks or your own device. If you're able to log in, the problem is probably with your initial device. If this is the situation, restart your computer and see if it solves the problem.
Reasons for QuickBooks or QuickBooks Online Down
Following are the list of some reasons which can be the cause of QuickBooks Down:
Overloading of the users
Issue with the hosting server
There may be bug or loop hole in the software
The system is not able to reach or work properly with QuickBooks due to the problem with the network.
Outage
Maintenance on the website while you are working on it.
Issue with your internet connection.
Your system needs to be restarted.
Overloading of Browser's cache and cookies, so clean all and then try working with QuickBooks.
Browser is not supporting the software which is used by QuickBooks, so give it a try with other Browsers.
Steps for Checking QuickBooks or QuickBooks Online Down Status
Follow the following steps which are mentioned below to see if QuickBooks is down and to verify its operational status: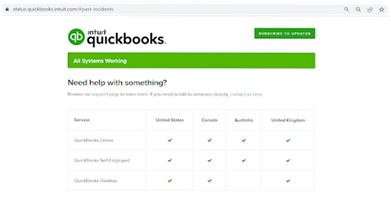 Second Step: Next you have to select the tab which is labeled as Subscribe to Updates in the upper right corner of your screen.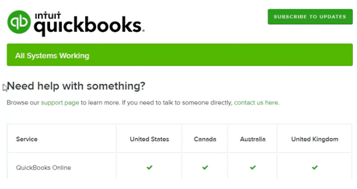 Third Step: Once you are done successfully with the above two steps, now you have to enter your Email Address in order to sign up for the updates by email.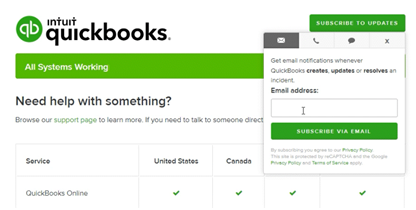 Fourth Step: Users also have the option of receiving all the updates by text message as well.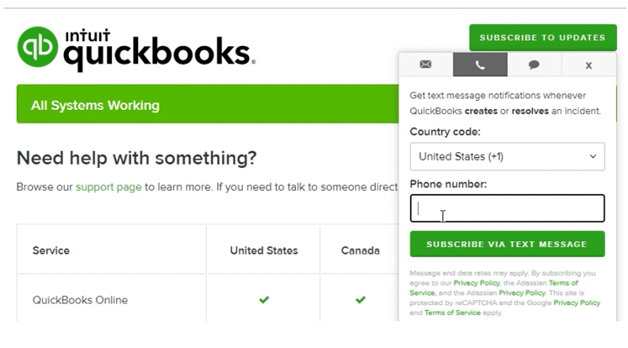 Intuit will send you real-time QuickBooks Updates if you subscribe to the updates on the status page.
Downtime
Schedules of Maintenance
Updates of Service Restoration
Troubleshooting for QuickBooks or QuickBooks Online Down
It's not just you if you're having issues logging into your QuickBooks account. Connection issues and data access issues are common among users. Everything you need to troubleshoot and fix the most frequent connection problems with QuickBooks will be provided.
Go and Check Your Status Page
Check whether there are any known outages or interruptions by going to the official QuickBooks status page first. All of them will be included, along with a projected time of resolution and an explanation of the problem. This will reveal if the issue is limited to your PC or affects QuickBooks as a whole.
Perform Checking for the Maintenance of the System
Check whether QuickBooks Won't Open to see if the system is now undergoing maintenance if you're wondering "Is QuickBooks Down Right Now." If so, this can result in a few brief service interruptions. By visiting the Intuit website or the company's social media channels, you may find out when maintenance is scheduled.
Perform Checking for Your Internet Connection
The next thing to do is to verify your internet connection if there isn't any regularly planned maintenance going on. Ensure that your modem and router are both correctly connected and that there are no ongoing outages in your neighborhood. A reboot of your modem or router may also be accomplished by disconnecting them for 30 seconds and then plugging them back in.
Open Tool Hub and Run the Quick Fix My Program option
If there isn't a worldwide disruption after checking the status page, it could be a problem on your end. In this situation, you can utilize the "Quick Fix my Program" function included in the QuickBooks Tool Hub. This tool is intended to identify and fix any problems with your QuickBooks installation, such as damaged files or wrong settings. Depending on what it discovers, it will either automatically solve the issue or give manual fix instructions.
Reinstalling and Updating of the Drivers
Drivers on your device that are out-of-date or missing are another frequent source of connectivity issues with QuickBooks. When trying to connect to external services like QuickBooks Online, outdated drivers might slow down connection speed and cause incompatibilities with other apps. Try upgrading or reinstalling the drivers for your device to resolve this problem.
Updating of Your Software
Check to see whether your program is up to date if there aren't any ongoing outages listed on Intuit's "Is QuickBooks Down" website. It's crucial to make sure that all of your apps are running the most recent version available as outdated software might lead to compatibility or performance issues. Open the app and check the menu for the Get upgrade option to upgrade your software. Alternatively, you may just wait for the update notification to occur in order to install the most recent version of QuickBooks if you have automatic QuickBooks desktop update enabled in your operating system settings.
Check after Restarting Your Computer
It's time to restart your computer if checking for updates doesn't cure your problem. By doing this, all currently running programs will be closed, and any temporary files that could be interfering with QuickBooks will be deleted. Click "Start" on a Windows computer or Command+Option+Eject on a Mac, then restart your computer by following the on-screen instructions. If QuickBooks still doesn't operate correctly after being restarted, try launching it again.
Contact Customer Care
Once you've looked for any system maintenance and confirmed your internet connection, you should get in touch with support. If you have any inquiries regarding why QuickBooks might be unavailable or how to resolve any connected problems, the Intuit support staff can assist. As an alternative, you might look for solutions on online forums like Quicken Community or Reddit from individuals who may have had such problems with their own accounts.
Potential Issue with the Troubleshooting
If your responses to "Is QuickBooks down" do not reveal any outages, the issue may not be with QuickBooks at all, but rather with your machine (such as browser settings) or network (such as firewalls).
Our help website, which includes a ton of in-depth articles on common issues and the best ways to resolve them, is a fantastic place to start if you want to figure things out. If more help is required, you may also get in touch with QuickBooks support directly or you can connect with Dancing Numbers team via LIVE CHAT.
Conclusion
Is QuickBooks down at the moment? Yes, it appears that QuickBooks can occasionally crash or have problems. But if you adhere to the guidelines in this blog post, you ought to be able to resolve the majority of the issues on your own. We hope that this article has been useful in illuminating what to do if QuickBooks is unavailable or has technical difficulties. The main lesson to be learned from this is that, despite how tempting they may appear, fast fixes aren't always the greatest choice since they run the risk of making an issue worse rather than bettering it.
Before even contemplating trying any "quick fixes" yourself, we advise following the measures we have provided above to prevent making a bad problem worse. Always feel free to get in touch with Intuit Support if you need further help with any technical problems with QuickBooks! Lucky you!
Accounting Professionals, CPA, Enterprises, Owners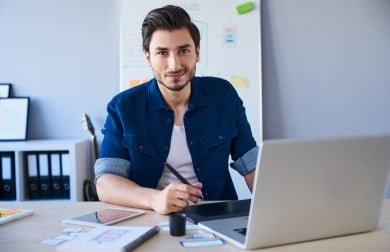 Looking for a professional expert to get the right assistance for your problems? Here, we have a team of professional and experienced team members to fix your technical, functional, data transfer, installation, update, upgrade, or data migrations errors. We are here at Dancing Numbers available to assist you with all your queries. To fix these queries you can get in touch with us via a toll-free number
+1-800-596-0806 or chat with experts.
---
Frequently Asked Questions
Why is QuickBooks Online Now not Functioning?
Several factors might be at play if your QuickBooks program isn't functioning right now. Technical hiccups, system failures, incorrectly adjusted settings, and out-of-date program versions are all common reasons for software interruptions. Any issues you may be facing can be resolved by taking a close look at what might be the root of the problem. To do a diagnostic check would be wise advice. It might be recommended to get in touch with QuickBooks customer support or a licensed QuickBooks professional for additional help if it doesn't resolve the issue.
Why is the QuickBooks Program Currently so Sluggish?
Due to the unusually large number of users today, it is probably caused by bandwidth or memory problems. Unfortunately, you might not be able to change it in the near future. The best course of action is to discover alternate methods of accomplishing your task while the issue is resolved.
What Can I do to Stop QuickBooks from Crashing?
You can try to fix the problem by following a few fast and simple actions. The application should be reinstalled, your drivers should be updated, and any temporary files should be deleted. If everything else fails, you might perhaps wish to speak with an IT expert.
Why Am I Unable to Log Into QuickBooks?
A corrupted user profile can be to blame if you are unable to access your account despite having the right username and password. If that doesn't work, try making a fresh user profile in Windows and trying to log in again from there. You might also get help from Intuit Support if you don't have access to an administrator account on your computer.
Is QuickBooks Online Now Unavailable to Give a Reason for it?
There could be something wrong with the server, or the platform might be undergoing ongoing maintenance. By visiting the Status page on Intuit's website and looking for changes under "QuickBooks Online Scheduled Maintenance," you may find out whether there is any planned maintenance. Contact customer care for additional help if there is no planned maintenance occurring but you are still having trouble logging into QuickBooks Online.