Are you also the one who is thinking of upgrading to a newer QuickBooks Desktop version? The QuickBooks error notice "This Company file needs to be updated" could appear. It is necessary to manually update the QuickBooks company file when upgrading your QuickBooks Desktop to a new version. However, if you switch to a different QuickBooks version (Pro, Premier, or Enterprise), you don't have to change your company file. In case you are getting the same QuickBooks warning: then the file needs to be updated. So read this blog all the way through to learn how to upgrade your QuickBooks company file to a newer version.
Save Time, Reduce Errors, and Improve Accuracy
Dancing Numbers helps small businesses, entrepreneurs, and CPAs to do smart transferring of data to and from QuickBooks Desktop. Utilize import, export, and delete services of Dancing Numbers software.
At times you may get the QuickBooks error "This QuickBooks company file needs to be updated". You can usually get this error when you recently upgrade your QuickBooks to latest version.
Don't worry, if you receive this error. Today, we are going to provide you with a complete guide on how you can resolve the QuickBooks Company File that needs to be updated.
In QuickBooks, How does the Update Company File Error Message Notification Emerge?
While opening the company file, you can receive some errors. Here are examples of the error messages that can appear on your QuickBooks screen while you try to open your company file.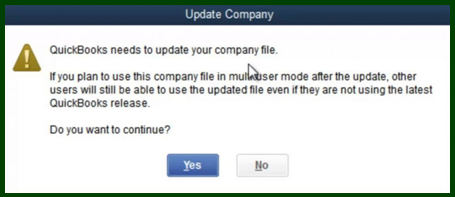 Explore These Factors before Upgrading Your QuickBooks Company File
Below are some of the essential points to keep in mind when upgrading your company file to the latest QuickBooks Desktop software to prevent receiving the error notice "The Company File Needs to Be Updated."
Factor 1: It's Possible that You Won't be Able to Access a QuickBooks File in an Older Version once it's been updated:
It is no longer possible to open a QuickBooks file in a previous version after an update. You must restore the automated backup of QuickBooks Data in the previous version of QuickBooks if you wish to utilize an older version of QuickBooks Desktop. You can restore the QuickBooks file to a newer version if you wish to convert it to a newer version.
Factor 2: Try not to Upgrade Your Company File on a Network:
Avoid updating your business file over the network if you get the notice "QuickBooks company file needs to be updated." If you wish to update a company from another computer, you must first move the file to that system and then update it there. Return it to its original system after it has been upgraded.
Factor 3: You Can't Upgrade from QuickBooks Desktop Enterprise to QuickBooks Desktop Pro or Premier:
Within QuickBooks, there is no way to switch from Enterprise to QuickBooks Pro 2022. You may, however, hire a QuickBooks Data Conversion service to accomplish it for you.
Factor 4: Without Admin Permissions, It is Impossible to Change a QuickBooks File:
While working in multi-user mode in QuickBooks, you may offer users varying degrees of Windows Access Permissions. You have signed in as Admin User by default if you haven't specified users and roles in QuickBooks Desktop. This error message may appear if you are not logged in as an Admin user:
"It's time to update the Company file." Request an update from your QuickBooks Desktop administrator."
You'll need to close the QuickBooks business file and reopen it with your Admin login credentials in this case.
Factor 5: If Updating Your Business File takes a Long Time, Don't Interrupt it:
You should anticipate that updating a QuickBooks company file will take some time. Choose to update the company file when a complete outage will not have a significant impact on your workflow. If you try to work with a file that is in the middle of an update, the update will be halted.
How to Update a Company File in QuickBooks Desktop – Follow Best Ways
Before proceeding with the procedures mentioned below just make sure no other users are logged in to your company business file.
Ways 1: Upgrade Information may be Found in Your Company File
First of all, with admin rights, open the most recent version of QuickBooks.
Once done now, go to the company file you wish to upgrade. Open the file for the company firm you wish to improve.
Finally, run the Data Rebuild Tool now.
Note: If the organization file is located on the internet, it is recommended that you first relocate the file to a local computer.
Ways 2: To Get the Latest Version of QuickBooks, Update Your Company File.
First, open the QuickBooks on your computer.
Now choose Open or Restore Company File from the File menu.
After that, select open a business file and then the Next tab.
Then, using the Browse option, locate and open the QuickBooks Company file.
After following the directions on the Move Company File and Update Company File screens, click Update Now.
Once done. Create a backup of the QuickBooks Company file and store it in a location that is easily accessible.
Finally, You will get a message when prompted to continue opening a company file in the new version, select Yes.
The QuickBooks error notice "This QuickBooks file needs to be updated" could appear. The QuickBooks company file sometimes doesn't update directly if you update your QuickBooks Desktop to the latest version then you must update it manually.

We hope now you have enough information about the QuickBooks Company File Needs to be Updated Error and hopefully, the above-mentioned steps will help you to fix the error.
Accounting Professionals, CPA, Enterprises, Owners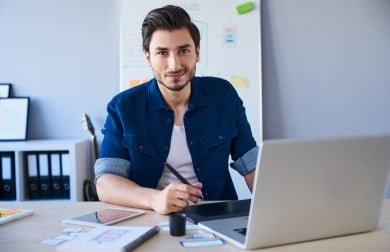 Looking for a professional expert to get the right assistance for your problems? Here, we have a team of professional and experienced team members to fix your technical, functional, data transfer, installation, update, upgrade, or data migrations errors. We are here at Dancing Numbers available to assist you with all your queries. To fix these queries you can get in touch with us via a toll-free number
+1-800-596-0806 or chat with experts.
---
Frequently Asked Questions (Faqs)
How can You Run the Data Rebuild Tool to Resolve QuickBooks Company File Needs to be Updated Error?
If QuickBooks verifies data and discovers a data problem in the company file, you must use the rebuild data software to fix it. The QuickBooks data verify and rebuild utility works in tandem with one another.
Follow the procedures below to utilize the QuickBooks rebuild tool:
• First, go to the File menu.
• On the File menu, select Utilities.
• After that, select Rebuild Data.
• Now If QuickBooks will ask you to generate a backup of your company file, select Yes. (You can prevent your data from losing or getting corrupted if you have a backup for your company file).
• Then click OK after selecting an appropriate location to save the backup of your company file.
• Once when the backup is complete, the QuickBooks rebuild program begins searching for the damaged data. Corruption.
• Finally, you will get a message notification When the notice "Rebuild has completed"
• Appears, click OK.
• Once you receive the message, click OK.
How can I go Back to an Older Version of QuickBooks after Your Company File is Updated?
There are a number of scenarios in which you may be in danger of losing your data. In such situations, it is recommended that you generate a firm file backup before you lose all of your private information. This is how you may make a backup of your data and keep it for future use:
Make a Backup of Your Company's Files.
• First, QuickBooks Desktop should now be open.
• Then, navigate to the File tab.
• Select "Switch to Single-user Mode" from the drop-down menu.
• Now, return to the File menu.
• Make a beeline for the Backup Company choice.
• Select the option to create a local backup.
• Select Local Backup from the next prompt.
• Once done, Then press the Next button.
• You should now be in the section under "Local Backup Only."
• Select Browse.
• Choose where you want the backup of your company file to be saved. This should be an easy-to-find and recall place.
• Select the number of Choose how many backup files you wish to make.
• The application will examine your company file on a regular basis to ensure that everything is in order.
• Then press the OK button.
• Once done, save the file. Save it now by pressing the button.
• After you save the file, click next. should be tapped.
• Finally, The application will display a confirmation text after the backup files have been made.
How to Revert to an Older Version of QuickBooks Desktop after Updating the QuickBooks Company File?
If you utilize the QuickBooks License Manager, converting QuickBooks Computer to an older version is a breeze. To do so, follow the instructions below:
• Acquire the version you want to downgrade to from Intuit's official site.
• After that, launch QuickBooks.
• Select the Help option from the drop-down menu.
• Select the Manage My License option.
• Select the year version of QuickBooks from the "Switch to" menu.
• To authorize this operation, you must now provide your accurate License Number and Product Number in the fields provided.
• Then press the OK button.
• QuickBooks will go through a conversion procedure, as you can see.
• Finally, open the most recent version of QuickBooks.