If you are having trouble getting Bill.com to sync, you might need to allow the application access to your QuickBooks company file. If you have previously attempted to connect to your company file, you might see a message that reads, The QuickBooks file is inaccessible.
Save Time, Reduce Errors, and Improve Accuracy
Dancing Numbers helps small businesses, entrepreneurs, and CPAs to do smart transferring of data to and from QuickBooks Desktop. Utilize import, export, and delete services of Dancing Numbers software.
This article will help you in working with QuickBooks and Bil.com integration.
QuickBooks Desktop Synchronization
To transmit data between Bill.com and QuickBooks Desktop, Bill.com uses the Bill.com Sync Dashboard.
Accounts Display without Enabling Two-way Synchronization is: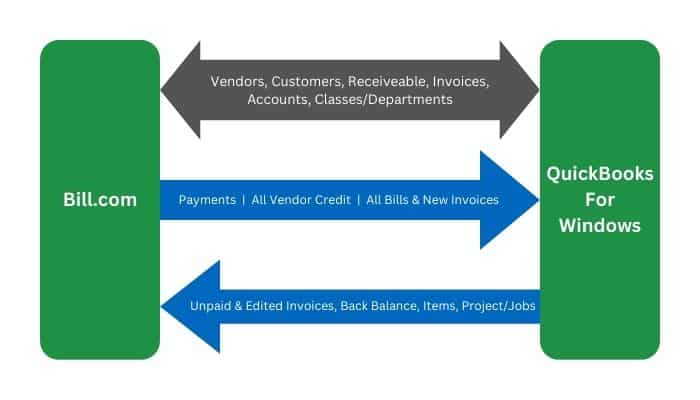 Accounts Display after Enabling Two-way Synchronization is: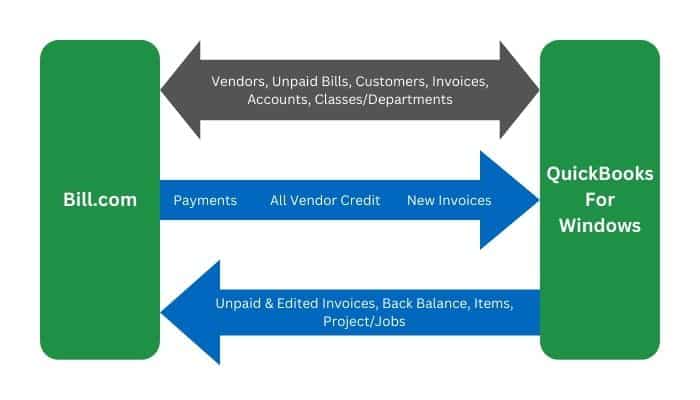 Each time there is a sync, Bill.com updates any changes made in QuickBooks to:
Accounts
Departments (called Classes in QuickBooks)
Vendors
Bills in case if 2-way bill sync is enabled
Jobs (called "Customer: Jobs" in QuickBooks)
Bank Balance Which is shown while Paying Bills
Customers
Invoices (New and Edited Invoices)
Items
Every modification performed in Bill.com is transferred to QuickBooks to:
Accounts
Departments (called Classes in QuickBooks)
Vendors
Bills
Billable Expenses
Bill Payments
Vendor Credits
Funds Transfers
Customers
New Invoices
Invoice Payments
Things to Remember
Information on Receivables without 2-way bill synchronization:
Bill.com is where all invoices, vendor credits, approvals, and payments should be created.
Bill.com won't sync changes made to bills, vendor credits, approvals, or payments in QuickBooks.
Payables that Support 2-way Bill Syncing:
Bill.com will be updated when bills are created and modified in QuickBooks Desktop. Bill.com creation and modification of bills will be synced with QuickBooks Desktop.
Creating all vendor credits, approvals, and payments on Bill.com is advised.
Bill.com won't sync changes made to vendor credits, approvals, and payments in QuickBooks.
Receivables
Bill.com and QuickBooks Desktop will sync the status and amount owed on invoices for accounts created prior to June 5, 2020. To disable it, kindly get in touch with customer support.
Either Bill.com or QuickBooks both support the creation of invoices.
Up to the time the invoice syncs with QuickBooks, invoices made directly in Bill.com can be updated.

Only editing of invoices is possible in QuickBooks following the sync.

To be emailed should be chosen for each invoice when creating them in QuickBooks. Following that, you may choose these bills to email from Bill.com.
Apply credit memos after applying partial payments to an invoice.
Bill.com payments received through Bill.com are synced with QuickBooks. Any updates to customers and invoices in QuickBooks are transferred to Bill.com.
For AR invoices, the sync start date is the day it is first connected. No matter the creation date, if your sync was established on April 1, 2019, only AR invoices with invoice dates of April 1, 2019, or later, will sync into Bill.com.

Customer Support cannot force any invoices with a date of before April 1, 2019, to sync from QuickBooks to Bill.com.
These invoices will attempt to sync to QuickBooks if they are manually created in Bill.com, but if the invoice already exists in QuickBooks, a duplicate error will be displayed. Delete the invoice from QuickBooks, then allow Bill.com to produce a fresh invoice, allowing it to sync with QuickBooks.
Setup for QuickBooks Desktop Sync
Requirements for Pre-Setup
Ensure that everyone with access to the QuickBooks file that is going to be synchronized is logged out.
The single-user version of QuickBooks is required.
If the option to Switch to Multi-user Mode appears when selecting a file, the file is already in single-user mode.
Shut down QuickBooks
Credentials for the QuickBooks Admin account are needed to connect the sync.
BILL user in an administrator, Accountant, or other function with the ability to sync
Administrator privileges to install programs on a server or PC
Installing of Sync Dashboard
For BILL and QuickBooks Desktop to sync, the sync dashboard needs to be downloaded and installed in the same folder or drive as QuickBooks.
The QuickBooks company file doesn't have to be in the same place for the sync to work.
Important Points:
For the sync dashboard to function properly, Microsoft .NET framework 4.6 must be enabled. 4.6 can still require manual activation if running .NET framework version 4.7 or later.
Although it has been confirmed that QuickBooks Desktop 2014 and beyond are compatible, earlier versions may still be compatible with the sync dashboard.
Installing of QuickBooks Program on Local Computer
Download the Sync dashboard for QuickBooks Desktop (988 KB).
Launch the.exe file.
Click "Next"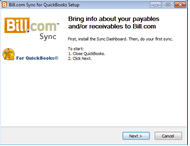 Choose the drive where the QuickBooks application is installed.
Pick Install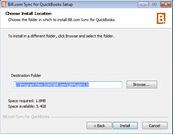 To confirm that the Installation is complete, click Next.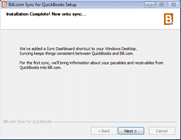 On your desktop, a shortcut will be produced.
Installing of QuickBooks Program on Server or a Hosted Server
You will need to give your hosting company administrator or I.T. administrator instructions on how to install the sync dashboard so that they can do it on your behalf.
Attach the Sync.
Using the desktop shortcut, Access the BILL sync dashboard.
To Access the Company File, Launch QuickBooks and log in as the admin user in single user mode.
Select Next in the editor for the profile.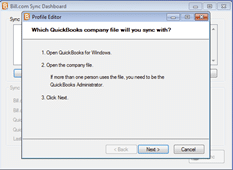 The QuickBooks company file that is open will be automatically detected by Sync Dashboard; click Next.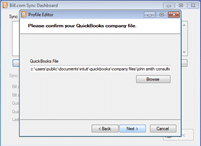 Allow access even when QuickBooks isn't running by selecting Yes, always on the Application Certificate in QuickBooks.
If there are many users on the company file, type the following after Login as: pick Admin.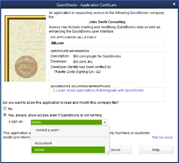 Pick "Continue".
To confirm access, click Done.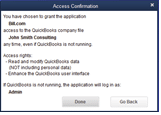 BILL login information or a sync token.
The sync token is necessary to connect the sync feature when using a BILL-powered service through a bank or financial institution.

Select settings from BILL.
Under Sync, Choose Tokens.
Go to New.

Now the name will automatically Populate.
The token will be created and will only have one use.

Before leaving this page, make a note of the username and token because they are only shared once. Alternatively, copy them into a new window.
The Sync Dashboard displays:

Email = Token Name
Key = Passphrase

Decide which BILL Organization to sync with.
Choose the profile to sync from the list of synced profiles.
Pick Sync.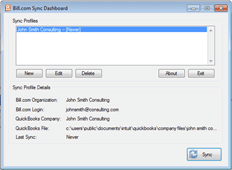 The sync is currently linked.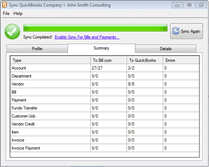 Accounts, vendors, customers, items, departments (classes), jobs (customer: jobs), and your book balance are all imported from QuickBooks into BILL as part of the sync.
Depending on the size of your QuickBooks company file, the first sync may take some time. The QuickBooks company file won't need to be open, and future syncs will be substantially faster.
Preferences of Sync
Fill up the sync preferences form following the completion of the first sync. Pre-filled information will be present in some fields; review to confirm that the right accounts have been chosen.
Select Ok or the X to close the box under One final thing.

An automatic browser window should be closed.
Preferences can be found under Sync in Settings.
The option to transfer transactions to QuickBooks Pro/Premier can be chosen on the sync options page.
For the next settings, select the QuickBooks accounts to utilize (your QuickBooks Chart of Accounts were added to the list during the initial sync).

Receivable Accounts
Unassigned Costs
Accounting software's default bank account for any accounts that have previously been added to a BILL

Click on Save.
The sync configuration has been finished.
Enabling User with Sync with Accounting System
Our interface with QuickBooks Desktop only permits bill creation and modifications in BILL, which sync with QuickBooks Desktop by default. You must activate 2-way bill sync if you want the generation and modifications of bills in QuickBooks Desktop to also sync to BILL.
Note: After being enabled, this setting cannot be changed.
Users who have the permission "Sync with Accounting System" will:
Pick Settings
Choose Preferences from Sync.
Pick Edit.
The option to synchronize bills from QuickBooks desktop to BDC must be checked.
Select Save after choosing Yes to confirm.
Preferences for Accounting
Additional reporting and tracking preferences can be specified as follows:
Pick Settings
Select Preferences under Accounting.
Decide on Edit Set preferences.
Departments in BILL are what QuickBooks refers to as classes.
Places don't sync with QuickBooks Desktop Click Save.
Advantages of Bill.com Account
Connect your books to Bill.com, the industry-leading online accounts payable system, to manage your payables procedures. With Bill.com, millions of people pay and get paid.
Bill.com automatically enters invoice information for your inspection as part of accounts payable automation. For quicker, simpler approvals while travelling, set up procedures and rules.
Audit trails and simple document storage Quickly retrieve any document, vendor information, or payment evidence, and view time-stamped audit trails for each transaction.
Flexible payment methods: You can schedule and transmit payments via cheque, ACH, wire transfer, or Vendor Direct virtual card.
Get more control over your finances. Create processes and routing rules to facilitate quick and simple approvals from any device. Pay and monitor local and foreign bills with expected delivery times and a send-to-received audit trail for peace of mind.
Work together with your group. Add more users while preserving a distinct separation of responsibilities. Select positions such as approvers, data entry clerks, payers, and auditors, each with their own unique policies.
Minimize manual data entry. IVA, your intelligent virtual assistant, can automate your payment process while utilizing AI to cut down on time spent on human labor and duplicating data entry. Upload, check, and submit only!
Advantages of QuickBooks Online Advance
Smarter Work: Save time with batch transactions and get reports with better insights.
Defended and Private: Security is a priority for us. Enjoy peace of mind with automatic data backup.
Simple to Use: It's simple to use QuickBooks. With training, advanced makes it simpler.
Grow Your Company: Any QuickBooks Online package with more users and controls.
How Bill.com works with QuickBooks
All of your activity, including adding a new bill and sending out payments, seamlessly syncs with QuickBooks thanks to BILL's direct integration. Your books are accurate and current, which saves you time from double-entry and typo-checking.
BILL offers all the tools you need to streamline your bill-paying procedures, including automated approval workflows, paperless document management, domestic and international payment alternatives, and easy QuickBooks software integration.
By utilizing artificial intelligence, BILL can reduce manual chores and help you scale and streamline your payment process. With mobile access via our iOS or Android app, you can even manage all of your bills while you're on the road. This way, you'll always be aware of when a bill requires your attention. For complete financial control, BILL lets you save time and work more efficiently.
Steps for Syncing Company File with QuickBooks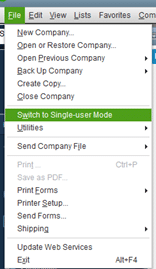 Once you've logged into your company file, go to the Edit menu and select Preferences.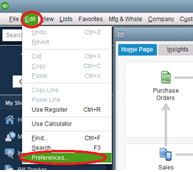 On the choices box's left side, click Integrated Applications.
Then click Remove after finding "Bill.com" under the Company Preferences page.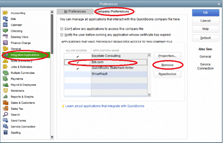 Open the Bill Dashboard program after that. Click Next when QuickBooks displays the application certificate window after you have followed the steps.
Decide on the option to Absolutely, always grant access. You will be able to sync with Bill.com one more after clicking Continue and Done.
So, We hope that the above data will be helpful to you in understanding the detail about the QuickBooks and Bill.com integration but still if you face any issue then contact us our team will help you in resolving your issue.
Accounting Professionals, CPA, Enterprises, Owners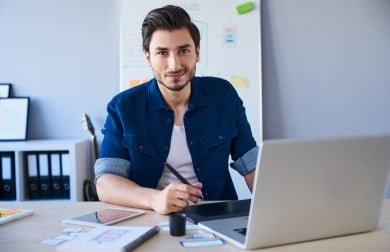 Looking for a professional expert to get the right assistance for your problems? Here, we have a team of professional and experienced team members to fix your technical, functional, data transfer, installation, update, upgrade, or data migrations errors. We are here at Dancing Numbers available to assist you with all your queries. To fix these queries you can get in touch with us via a toll-free number
+1-800-596-0806 or chat with experts.
---
Frequently Asked Questions
In What Ways Bill.com and QuickBooks Online Advanced Collaborating?
Together, QuickBooks Online Advanced and Bill.com are able to give you even more bill payment alternatives that are tailored to your company's needs. Now that you have Bill.com and Advanced, you have total control over the accounts payable procedure.
What is the Bill.com/QuickBooks Integration like?
In order to speed up payments and receivables, Bill.com, a paperless payment solution, connects to your bank and syncs with QuickBooks without any issues. When you pay invoices or receive payments using Bill.com, there is no need for double entry because Bill.com interfaces with both QuickBooks Desktop and QuickBooks Online. Both systems will effortlessly adapt to changes made in one.
Why Should You use Bill.com and QuickBooks Online Advanced over other QuickBooks Products?
All QuickBooks Online software is compatible with Bill.com. Users keep their integrated bill payment solution when Advanced is used in combination with them, and they also have the option to completely control how their company pays its bills. When Bill.com and Advanced team up, you can automate your accounts payable procedures and always be prepared for audits.