QuickBooks Online Advanced is a comprehensive corporate management and assessment software solution in which users may coordinate their whole financial portfolio. Through a single mobile-friendly dashboard, users can handle payroll, examine all inbound and outbound sales, track inventory, process tax payments, and plan distribution. Users can get help from on-call QuickBooks team members for initial setup and continuing issues as well as via online support and video lessons. Here you can learn about best nonprofit integration with QuickBooks Online Advanced.
Save Time, Reduce Errors, and Improve Accuracy
Dancing Numbers helps small businesses, entrepreneurs, and CPAs to do smart transferring of data to and from QuickBooks Online. Utilize import, export, and delete services of Dancing Numbers software.
The advanced version of QuickBooks Online enables users to operate on many devices and from any location. The user can create access credentials so that coworkers or accountants can log in and work with their data online. Users can access and manage their books whenever they want from a computer, laptop, tablet, or smartphone. Any device can be used by users to produce and deliver personalized online invoices. Custom reporting, KPI tracking, expense tracking, accounting reports, and cash flow management are a few of QuickBooks Online Advanced's additional key features. Additionally, data security and automatic backups are supported by QuickBooks Online Advanced.
Non-Profit Software
The nonprofit sector is always been difficult to accomplish more with fewer resources. Because of this, they have few resources, capacities, manpower, and financial resources, but they are still making wonderful contributions to the community and are turning to technology to do so.
One of the trends in the nonprofit industry over the past few years is that more organizations are beginning to invest in software solutions rather than hardware because industries understand the need to boost productivity in order to get more money.
QuickBooks nonprofit service is one of the products that make all simple for a company to carry out its duties and return in order to impact what it cares about.
Importance of QuickBooks for Nonprofit
QuickBooks is the accounting software that can make it very simple for you to handle the finances of your nonprofit. It offers features that are created for both profit and nonprofit enterprises.
It records all sources of income for your charity, including membership dues, grants, pledges, endowments, cash and in-kind donations, and pledges.
You can record your operations and program costs, salaries, payments to vendors, and other expenses in order to keep track of what you're spending.
Continually monitor programs with specific budgets- it can compare each program's finances to those from prior years and the predicted revenue to the actual income.
You can keep your donor records up to date by limiting access to specific people, donors can be grouped based on characteristics to customize communications and protect donors' data.
Donation receipts should be issued; personalize them with your organization's branding.
Microsoft Word templates are utilized for pre-made things which will populate them with donor information.
It is pulling off the reports by professionals to organizations that can either utilize one of the nine reports by creating reports just for nonprofits or make your own bespoke reports.
Maintain an account for the chart and gain a 360-degree perspective of your finances by viewing all of your accounts in one location.
Automate calculations and other laborious, repetitive operations.
Also Read: How to Setup QuickBooks for Nonprofit
QuickBooks Integrate with Nonprofit Software
There are hundreds of well-known apps and software tools that QuickBooks integrates with, which include nonprofit software. In case your nonprofit software uses membership or donor management software, you can easily import the data from QuickBooks and manage your finances in one location.
Among the non-profit software which integrates with QuickBooks to use WildApricot (or are considering using it), you can know that you can quickly import your data into QuickBooks.
Now, you can choose to export your financial information from WildApricot as a QuickBooks file, which you can then import into QuickBooks Desktop. This data may include member dues, event fees, donations, and so on.
Use of Nonprofits QuickBooks Online
In one way or another, every nonprofit and philanthropic organization manages its accounting. It's critical to complete these operations quickly and accurately while storing data. One reason for all is QuickBooks looks to be a good fit for nonprofits. As a result of this, Intuit has taken the time to make sure that it does not fit into the nonprofit sector poorly.
Fitting technology in your work is mean that you are attempting to complete one of the least effective uses of technology. This is why NGOs are not a good fit for CRM systems that are sales-oriented. They appear to fit well on the surface, but there are many problems because the tool was not specifically designed for the industry. So organizations can benefit greatly from using QuickBooks.
Nonprofit Accounting: You may keep track of the costs associated with various funding and initiatives as a nonprofit. This is something that QuickBooks is aware of, and it includes a feature to automate this kind of accounting. It makes it simple to separate such accounts from spending. This keeps the team on schedule and within the budget.
Tracking of Donations and Grants: The work of a nonprofit depends heavily on donations. QuickBooks provides a feature that enables the organization to do it quickly, whether it's fundraising or allocating contributors into cash. In order to automatically sync those funds, the application also integrates well with well-known fundraising platforms.
Reporting: Nonprofits must provide reports to a variety of audiences, including boards, employees, donors, and the general public. The organization's impact must always be communicated to a specific audience, and by utilizing QuickBooks, staff can quickly and easily pull financial data, saving time and effort.
Integration Tools: The ease with which QuickBooks integrates with other technologies is just another fantastic advantage for organizations. Although accounting software can be powerful, it can only complete specific tasks. More than just accepting and accounting for donations is required for a nonprofit organization. Building solid, long-lasting connections is one of the largest tasks a nonprofit has to complete. To do this, you require the employ events, phone calls, emails, and other stewardship methods. To effectively strengthen relationships lasting years, it's crucial to maintain track of these exchanges. Because of this, nonprofits must have a CRM. The information which is readily transmitted across the systems and QuickBooks depends on other software used by nonprofits. So, when a donation is made, it may be tracked on a CRM tailored to NGOs and accurately recorded in QuickBooks.
Cloud-Based: Nonprofit organizations are growing more and more decentralized. Accordingly, a lot of work is completed outside of the office by remote workers, as well as by volunteers and contractors. Regardless of the situation, NGOs are relying on cloud-based technology to enable their staff to access information from any location. QuickBooks also provides cloud-based services. This indicates that you can access data from anywhere at any time wherever internet connectivity is available. This makes it simpler for everyone to work, collaborate, and make a difference from anywhere in the world.
Automation: Technology constantly needs to consider automation. People are more productive when boring activities are mechanized. They have more time to work on the tasks that are most important to them. When conducting accounting on paper and pencil, a significant portion of the manual entry is automated by QuickBooks. There is less messing with outdated paperwork because receipts are digital.
QuickBooks Best for Nonprofit
QuickBooks is an excellent accounting program for charities, associations, clubs, societies, churches, and membership groups.
QuickBooks provides several pricing tiers and numerous software versions. There is an appropriate version for every business; the version which is optimal for yours depend on the size and type of your firm.
The Type of QuickBooks is best for Non-Profit
There are two types of tools in which QuickBooks tools fall Online advanced and plus.
QuickBooks Online:
QuickBooks Online is a cloud-based program, an Internet browser is used to access it. This indicates that while you are using it at that time there is nothing to download, it uses and requires only access to the Internet. You should follow the below tips if you want to select QuickBooks Online:
You must be ready to subscribe for a monthly fee.
More automation.
Use different devices to access QuickBooks
You must desire user-friendly, simple-to-understand software.
The number of users, features, and prices of the various tiers of QuickBooks Online can be differentiated. Plus and Advanced are the two tiers that are best for nonprofits.
Plus:
Pricing for the first three months is presently 50% and discounted at $80/month.
The maximum number of users is five.
Small nonprofits that also offer goods, services, or memberships are ideal.
Advance:
Pricing is $180/month, with the first three months and presently discounted by 50%.
The maximum number of users is Twenty Five.
It is excellent for well-established and expanding organizations that might use enhanced analytics and speedier and more automated workflow.
Types of Non-Profits Support QuickBooks Online
QuickBooks Online is used by a different range of nonprofits, which includes the following:
Association for Fraternal
Charities
Social Clubs
Religious and Churches Institutions
Business Leagues and the Organizations
Organizations for School and Education
Association for employee and labor
Trade Association
Foundations
Small to medium-sized businesses are the greatest candidates for QuickBooks Online. The most expensive plan only supports up to 25 users, so always keep in mind that in some cases the program might be suitable for certain larger enterprises. In addition, some functions are restricted to more expensive subscriptions. Whenever you take into account add-ons like payroll and fees for particular integrations, the software can end up being too expensive for very tiny NGOs with limited resources.
Top 5 Best QuickBooks Online Nonprofit Integrations
With integrations, nonprofits may use QuickBooks Online to its full potential. Performing functions like gift tracking, event registration, membership management, customized nonprofit reporting, and others are what good integrations do. Sumac, Kindful, Breeze, NeonCRM, and Method: Donor sync seamlessly with QuickBooks Online, helping nonprofits in achieving their objectives with a single handy package.
Sumac includes pledges, course registration, auditions and submissions, rudimentary customer relationship management (CRM), and more. The biggest feature of Sumac is how easily it can be customized to meet the unique requirements of your organization. Sumac contains an incredible amount of features that are comparatively simple to use. Sumac's locally installed version has a less attractive design than the other nonprofit software solutions in this post, but it is still simple to use if you can get past the outdated UI. It has amazing features that are easy to use. The biggest feature of Sumac is how easily it can be customized to meet the unique requirements of your organization.
Pricing- The basic CRM from Sumac is $35 to $250 per month. The more expensive options come with extra users, cloud storage, and recordings. Also offered is a personalized plan. Sumac add-ons might help you make the most of the program. Monthly add-ons begin at $60. If you are unable to construct the plan you require by registering on the Sumac website, you can get in touch with the business to find out more about customized solutions for your nonprofit.
Features- The software starts off with basic CRM functions, including time tracking, invoicing, contact management, reporting, email marketing, donation management, and event administration. Every plan has these features. To Sumac you can add these additional modules.
Volunteers
Pledges
Ticketing
Memberships
Grant management
Reminders
Forms
Course Registration
Job search
Tour booking
Awarding grants
Collection management
Auditions and submissions
Proposals/prospecting
Auctions
Sales
| Pros | Cons |
| --- | --- |
| It has numerous features and is easy to use. | It has an Outdated UI. |
| It is easy to customize. | |
Organizations like the Boys & Girls Clubs of America, Habitat for Humanity, and the Special Olympics use the fully-featured, cloud-based nonprofit software called Kindful. The interface for Kindful is attractive and simple to use. Although Kindful doesn't have as many unique features as Sumac has, the ones it does have are effectively executed. With Kindful, you can manage contacts, donations, events, pledges, letters, and more.
Pricing- The monthly cost of Kindful for NGOs with up to 1,000 contacts is $100. Your plan costs increase as you add more contacts. Nonprofits having up to 15,000 contacts, for instance, will pay $200 per month, while those with 70,000 contacts will pay $700 per month. Unlimited users, unrestricted donation and crowdfunding pages, and free customer support are all included in all subscriptions. Over 40 apps and integrations can be connected for free, although there may be additional subscription costs. Additionally, Kindful can help you set up your account and teach your staff about the software. $199 is the one-time price for this service.
Features- Real nonprofit organizations can easily meet their needs with the help of Kindful. You may take online donations, set up recurring donations, enter presents, make contact groups, and automatically email receipts. A donor's individual Kindful login allows them to view and manage their pledges and donations, and there are an unlimited number of customer donation sites available.
Other great features of Kindful are:
Donor analytics
Donation campaigns
Activity trail
Activities
Tax receipts
| Pros | Cons |
| --- | --- |
| With this, you can do multiple integrations | It can be expensive |
| It has numerous features and is easy to use | |
Churches could use any number of existing nonprofit programs, but Breeze wanted to develop software that was developed with churches in mind. For small to midsize churches, this church management software is appropriate. The program is cloud-based, simple to use, and, most importantly, reasonably priced. Existing Breeze users praise the software for being so simple to use that anyone in their church, regardless of tech proficiency, can pick it up. Additionally, users praise the software's affordability and client service. Breeze's sole potential downside, in our opinion, is that larger churches might outgrow its functionality.
Pricing: Breeze has a single monthly fee of $50. Every Breeze feature, a limitless number of users, phone and email support, upgrades, and even data transfers are included.
Features- Breeze has a staggering number of features made especially for churches. You may manage your connections, tithes, events, online donations, and volunteers using it. The Breeze children's ministry check-in feature is among the features that users adore the most. Breeze lets you print name labels and allows parents to check their kids into Sunday school. To meet the requirements of your church, you can also design unique shapes. Members of the church receive their own Breeze login so they can view their statements and make online donations.
Other features of Breeze include:
Reports
Event Registration
Pledges
Contact groups
Built-in emailing and texting
Donation tracking
Reports
Year-end statements
| Pros | Cons |
| --- | --- |
| Breeze is easy to use and affordable. | For large churches, it may not be suitable. |
| It has good customer support. | |
| Having multiple users. | |
A cloud-based nonprofit application called Neon CRM was created back in 2004. With a variety of pricing options and a good selection of features, this software has something for everyone. Neon CRM offers a user interface that is appealing, well-organized, and well-developed. It offers a handy Mailchimp integration. The majority of users found NeonCRM to be simple to use, while a few users have occasionally claimed that the software is not straightforward. Neon CRM includes fundraising management, membership management, donor management, event registration and management, customized reporting, and much more.
Pricing- There are three pricing plans for Neon CRM. The least priced option is the Essentials package, which starts at $99 per month but unfortunately does not work with QuickBooks Online. You will need to pick one of the more expensive plans instead. The Impact pricing tier begins at $149/month, while the most feature-rich Empower plan is $299/month. You must pay an additional one-time fee starting at $600 if you need data conversion services. To make setting up your software simple, you can also buy a consulting and training package. The one-time cost for these plans starts at $600.
Features- A great number of features are available in the software, including those for managing contacts, volunteers, donations, event planning, and more. The fundraising module or the membership module must be chosen depending on the Neon CRM pricing plan you select; however, with any other plan, you have access to both. Good automation in Neon CRM includes batch donations and automatic receipting. Also, you can design unique fundraising pages and even mention the connections between contacts. Users have their own contact login, similar to Kindful, where they can check their history and handle donations.
Neon CRM offers:
Thank yous and gifts
Campaigns
Prospects
Grants
Letters
Event Registration
Reports
User permissions
Volunteer project management
| Pros | Cons |
| --- | --- |
| It is easy to use and it has good customer support | Neon CRM is expensive |
| Neon CRM has Modern UI | |
Consider using Method: Donor if you want to make managing donors easier. Method: Donor includes a lot of wonderful features to help you manage your nonprofit successfully and effectively, freeing up your time to concentrate on the goals of your organization. Donor synchronizes with QuickBooks software without a hitch, making donor management simpler than ever. The software is quite affordable, especially when compared to other products on the market, and it is simple to install and use. Customers consistently give this CRM positive feedback, praising it in particular for its usability and customizability. Although the software is reasonably priced, the membership fee is charged per person, making it somewhat pricey for larger enterprises with multiple users.
Pricing- For Method: Donor, there are two different pricing options. The monthly cost of the entry-level contact management package is $28 for each user. Unfortunately, this option limits your ability to add vendors and donors. The CRM Pro package is required if you want your program to completely interact with QuickBooks Online. This plan costs $49 per month per user.
Features- All you will get if you subscribe to the Contact Management package is that. This could be a cost-effective choice for your nonprofit if you only need to manage your donations and other contacts. Unfortunately, this plan's ability to sync with QuickBooks Online is quite limited. You have access to a lot more features if you choose the Pro CRM plan. You will be able to conduct customized reports, automate workflows, and boost productivity within your organization in addition to contact management. Other features of the Method: Donor includes are-
Follow-up scheduling
Donation tracking
Email campaigns
Integrations with other apps and software
Accept online donations
Automate manual tasks
| Pros | Cons |
| --- | --- |
| It is customizable and easy to use | For organizations with multiple users may be expensive |
| Method: Donor has a modern UI | |
Features of QuickBooks Online Non-Profit Integration
Nonprofit-specific features are not available in QuickBooks Online. You can designate your business as a nonprofit when you create your QuickBooks Online account, and this will result in the creation of a specific nonprofit chart of accounts. Instead, the robust accounting tools of QuickBooks Online are the key advantages for NGOs. Here are some of the key features that make QuickBooks Online stand out for nonprofits, though you can read our complete review to find out more.
Tracking of Expense: Your nonprofit's bank account, credit cards, or services like PayPal or Square can all be used to quickly import your spending into QuickBooks Online. With QBO's receipt capturing tool, custom tagging, and auto sorting, you may further streamline expenditure tracking.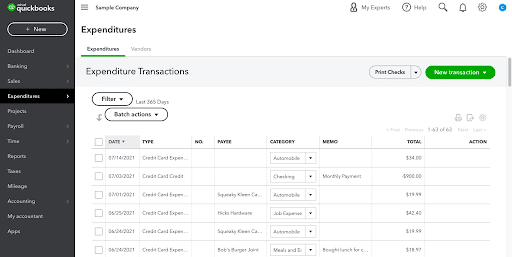 Donation Tracking: You can use QuickBooks Online to track your donations instead of keeping track of your income. QuickBooks Online makes it simple to synchronize your accounts so that donations are automatically imported, doing away with the need for manual entry.
Management of the project: If your nonprofit is starting a project (or several), you may use the QuickBooks Online project management function to track money and labor expenditures, generate and send invoices, and quickly and easily keep your projects on schedule.
Reporting: Transparency with your board, donors, and governing bodies is among the most crucial elements of managing a nonprofit. Fortunately, you can access a wide variety of reports using QuickBooks Online. You should be aware that in order to receive more sophisticated reporting, you must subscribe to one of the higher-tier price plans. Reports that could be useful to your nonprofit include account lists, general ledgers, contact lists, inventory lists and worksheets, open pledges, pledges and received payments, pledges, open pledges, and more.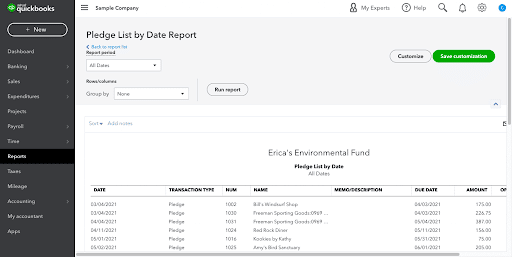 Tracking of Time: QuickBooks Online allows you to keep track of billable hours. If required, these hours can be included automatically in invoices. You can enter your own time or allow staff members to track their own time using the software. With the Simple Start plan, time tracking is not possible.
Payroll: Payroll can be added to your QuickBooks Online membership for an extra cost. You may ensure that the employees of your organization are paid promptly each time by utilizing QuickBooks Payroll instead of another piece of software.
Best QuickBooks Online Nonprofit Integrations
By integrating QuickBooks Online, nonprofits may maximize their benefits. Effective integrations carry out tasks including tracking donations, managing memberships, registering for events, and creating specific nonprofit reports, among others. Nonprofits can achieve their objectives with one simple package due to integrations with Sumac, Kindful, Breeze, NeonCRM, and Method: Donor, which syncs effortlessly with QuickBooks Online.
SUMAC: The best option for charitable organizations seeking a highly configurable CRM solution.
Kindful: Best for charities in need of cloud-based software with lots of integrations.
Breeze: Most suitable for small to medium-sized churches in need of nonprofit church-specific software.
NEON CRM: Most suitable for charities in need of a complete CRM solution.
Method: Donor: Best for NGOs needing straightforward donor management.
Accounting Professionals, CPA, Enterprises, Owners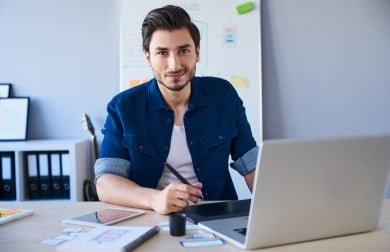 Looking for a professional expert to get the right assistance for your problems? Here, we have a team of professional and experienced team members to fix your technical, functional, data transfer, installation, update, upgrade, or data migrations errors. We are here at Dancing Numbers available to assist you with all your queries. To fix these queries you can get in touch with us via a toll-free number
+1-800-596-0806 or chat with experts.
---
Frequently Asked Questions (Faqs)
Does QuickBooks Online have a nonprofit version?
Yes! Through the nonprofit technology marketplace TechSoup, QuickBooks provides discounted goods for organizations. QuickBooks Online Plus or QuickBooks Advanced provides the advantage of all the tools, tracking, and reporting features we provide.
Does QuickBooks online have fund accounting?
You can track distinct funds while utilizing Fund Accounting in QuickBooks Online by employing Class tracking and banking sub-accounts.
How can I set up QuickBooks Online for nonprofits?
Follow the following steps in order to set up QuickBooks online for nonprofits:-
1. Navigate to the Account and settings and click on Settings.
2. Hit on the advanced button.
3. Select Edit under the Company type button.
4. Select the nonprofit organization button and from the dropdown menu select button Tax form.
5. Click done button in order to confirm the message.
6. In order to see the modifications reflected throughout QuickBooks, you have to hit the sign out button and then login again in the main page.