The most recent version is QuickBooks Desktop Enterprise 2022. QuickBooks Enterprise is a dedicated accounting platform for expanding enterprises and non-profit organizations that integrates activities like payroll, payables, inventory management, and more into one system.
QuickBooks Enterprise 2022 provides the same functionality as QuickBooks, but it includes more advanced procedures and capabilities, such as advanced pricing, payroll, and inventory monitoring. More data capacity, more complex inventory management, and numerous organizations are also included.
Save Time, Reduce Errors, and Improve Accuracy
Dancing Numbers helps small businesses, entrepreneurs, and CPAs to do smart transferring of data to and from QuickBooks Desktop. Utilize import, export, and delete services of Dancing Numbers software.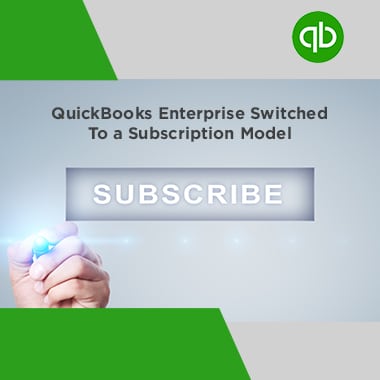 Before you start using QuickBooks Desktop Enterprise 2022, read this article to discover all you need to know about the version. This new QuickBooks subscription plan includes a number of extra features and benefits. This should urge you to upgrade to the subscription-based model from your prior version.
What does QuickBooks Enterprise 2022 offer you?
If you subscribe to QuickBooks Desktop Enterprise 22.0 by October 29, 2021
QuickBooks Enterprise Silver: $1020 for 1st year.

It is the only version that is available without Payroll. It is the lowest subscription that one can buy easily if not using the payroll. In case of users required the payroll they can switch to any of the subscriptions according to their business requirements.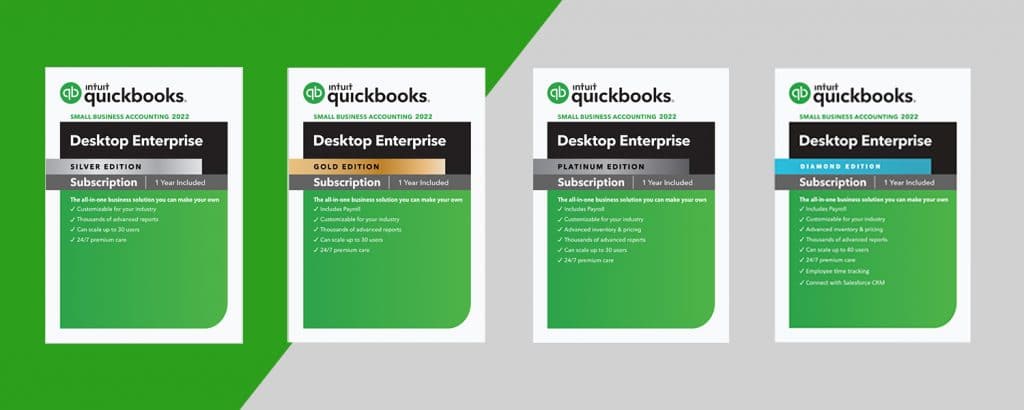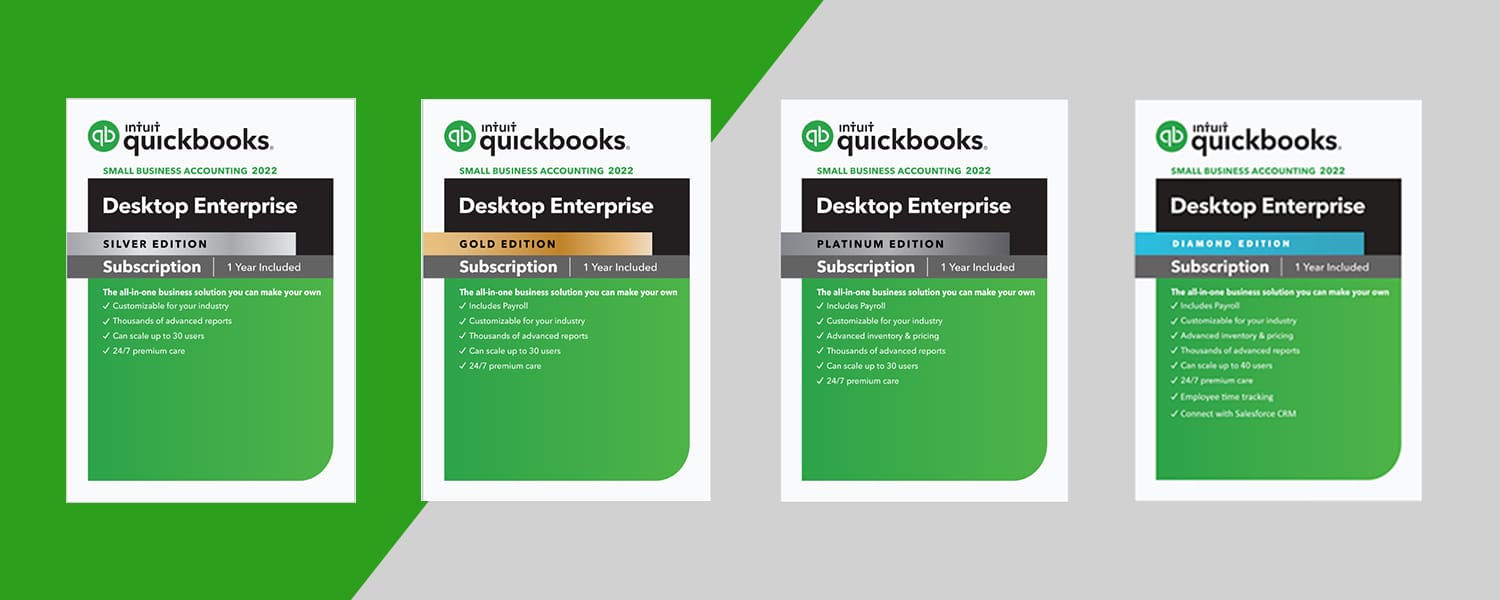 The price of the subscriptions are mentioned below in table format:
QuickBooks Desktop Enterprise 2022
Users
Local Access (Annual Subscription)
Cloud Access (Monthly Subscription)
Core
Classic
Deluxe
Gold
Platinum
Diamond
Gold
Platinum
Diamond
Gold
Platinum
Diamond
Gold
Platinum
Diamond
1
1324
1628
3216
178.16
206.06
355.1
188.2
217
365.5
198.16
226.06
375.1
2
1936
2240.8
3859.2
288.82
317.62
469
309.8
337.7
489.8
328.82
357.62
509
3
2344
2648.8
4281.6
380.58
409.38
562.2
411.6
440.4
593.4
440.58
469.38
622.2
4
2751.2
3056
4713.6
472.34
501.14
656.3
514.3
542.2
697.9
552.34
581.14
736.3
5
1776.6
1948.05
2894.4
465.4
484.6
589.6
517.3
536.6
641.6
565.4
584.6
689.6
6
1948.05
2120.4
3067.2
537.84
557.04
662.4
600.6
619.8
724.8
657.84
677.04
782.4
7
2120.4
2292.3
3250.8
610.88
630.08
736.4
683.8
703
809.2
750.88
770.08
876.4
8
2292.3
2464.2
3429
683.32
702.52
809.8
767
785.6
893
843.32
862.52
969.8
9
2464.2
2636.1
3612.6
756.36
775.56
883.8
849.6
868.8
977.4
936.36
955.56
1063.8
10
2636.1
2808
3790.8
828.8
848
957.2
932.8
952
1061.2
1028.8
1048
1157.2
More than 10 to up to 40 users
Connect with the QuickBooks Help Desk Team.

Your account on file will be automatically invoiced for the first year at the indicated discount for the service you choose starting at sign-up. The plan is as follows:
All users can save up to 40% off the current retail price.
If you license 1-4 people for the first year, you'll get a 10% discount off the current list price.
If you license 5- 40 users, you will get a 40% discount on the current list price.
After a Year of Subscription: Your credit card on file will be charged on a monthly or annual basis at the then-current subscription rate for the plan and service you choose until you cancel.
Note: This deal is only available to new QuickBooks Desktop Enterprise customers and cannot be combined with other QuickBooks Desktop Enterprise promotions. Discounts are applied to the above-mentioned price. Promotional deals for QuickBooks Desktop Enterprise Platinum or any other Intuit software may not be coupled with Diamond Package savings.
Why QuickBooks Desktop Enterprise?
Quickbooks enterprise helps you to grow the business that helps you to easily access your company data, further protecting with complete security.
Enterprise also includes the following things:
It helps to enhance and personalize enterprise to more than 200 apps that would help to grow your business.
It improves the security as it is assigned to certain employees and vendors that would manage the data.
It increases the QuickBooks Desktop Pro and Premier capacity by 6%.
It also enables you to access more than a million customers, vendors, and inventory items with 100000 classes and custom fields.
It further scales up your online customers to 40%.
It provides flexibility to your team to work from anywhere if they have cloud access.
Features of QuickBooks Desktop Enterprise
The main features that users get in QuickBooks Desktop Enterprise 2022 are explained below:-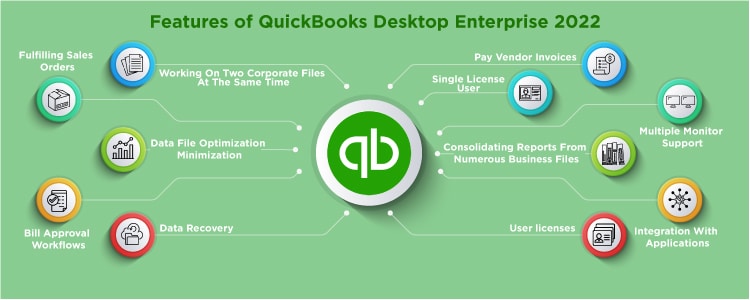 1. Single License User: Licenses are sold in single-user increments of one to ten users. There are also 20 and 30 user licenses available. Diamond can accommodate up to 40 people. There are fees involved.
2. Multiple Monitor Support: Up to three displays are supported. In a hosted environment, this feature is not accessible. According to a 2008 University of Utah research, switching from an 18″ single monitor to a 20″ dual monitor arrangement can enhance productivity by up to 44 percent for ordinary office work.
3. Integration with Applications: Enterprise connects with over 200 apps to personalize your experience. There may be additional charges. Third-party vendors may provide some applications.
4. Bill Approval Workflows: QuickBooks Enterprise Platinum and Diamond subscriptions provide this feature.
5. Working on Two Corporate Files at the Same Time: When executing two files at the same time, certain functionality may be reduced.
6. Data File Optimization Minimization: The size of your file by deleting the audit trail of historical transactions and a few tables from the database that are not utilized or required by the corporate file.
7. Data Recovery: In some circumstances, such as when the damage is substantial, unrecoverable, or involves a huge Data File, servicing may take longer than usual. Data Services will contact you to inform you of the estimated completion date.
8. Pay Vendor Invoices with QuickBooks: There are additional costs if you pay with a credit card or use the optional Fast ACH and Fast Check expedite services.
9. Fulfilling Sales Orders: QuickBooks Desktop Enterprise Platinum and Diamond subscriptions are the only ones that include this feature. An internet connection is required.
10. User Licenses: A license is required for each individual user. Each license must be purchased separately. QuickBooks must be the same version-year on all copies.
11. Consolidating Reports from Numerous Business Files: All company files must be on the same QuickBooks Desktop Enterprise edition. Microsoft Office 2010 SP2 – 2019, or Office 365, is required (32 or 64 bit). Office 2013 – 2019, or Microsoft 365, is required (32 and 64 bit).
Some Extra Features of QuickBooks Desktop Enterprise 2022
There are a few more features that you get the benefit of. All the new and more features of QuickBooks Desktop Enterprise are here that are also included in the enterprise software. The extra features are: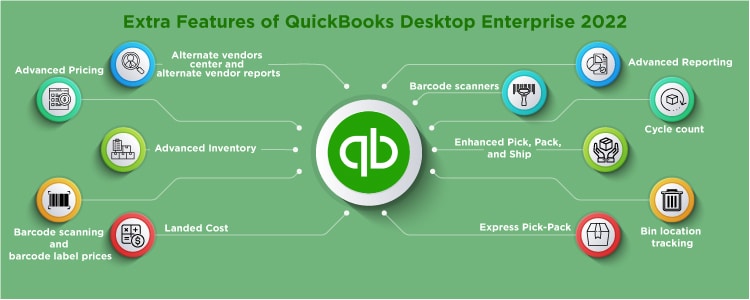 1. Advanced Reporting: QuickBooks Advanced Reporting is a tool that allows you to build personalized reports. You may utilize your QuickBooks data to create your own report tailored to your individual requirements. This allows you to see how your business is progressing.
2. Advanced Pricing: Advanced Pricing is a new subscription-based service that is exclusively offered to QuickBooks Desktop Enterprise users. QuickBooks Advanced Pricing automatically updates the cost of products on sales forms based on the rules you provide.
3. Advanced Inventory: QuickBooks Advanced Inventory is an Enterprise add-on tool that allows a company to keep, track, and virtually shift inventory. Using QuickBooks Advanced Inventory, a company can: Manage your inventory process from a single dashboard. Track by bin, lot, or serial number. Use mobile or traditional bar code scanning.
4. Barcode Scanning and Barcode Label Prices: In QuickBooks Desktop, you may utilize barcodes to make data input faster and easier. After you've assigned barcodes to things, you'll be able to scan them anytime you purchase or sell them.
5. Alternate Vendors Center and Alternate Vendor Reports: It's easy to match your vendors' products to your inventory when you use alternate merchants. When it's time to buy anything, you can quickly compare vendors and decide which one to go with.
6. Barcode Scanners: Barcode Scanner is used to read the code lines with identification marks on your products. The code has a lot of information that is coded in a limited space. Barcode also holds information about the stalk in your company.
7. Cycle Count: QuickBooks Enterprise Image Result for Cycle Count. In contrast to a typical physical inventory count, when activities are paused to count all inventory items in stock, cycle counting counts a select fraction of the inventory products currently in stock.
8. Bin Location Tracking: Bin locations specify where inventory items should be housed, which is critical for warehouse organization. They might be a shelf, a pallet site, a storage room, or any other location where things are kept.
9. Enhanced Pick, Pack, and Ship: The Pick, Pack, and Ship tool in QuickBooks Enterprise 19.0 allows you to follow the process of sales order fulfillment. The use of a single dashboard to track pick, pack, and ship progress improves order fulfillment speed and accuracy. This is only available in the Advanced Inventory module and Shipping terms and conditions are set up to UPS, FedEx, and USPS.
10. Express Pick-Pack: The Express Pack function enables you to perform the order's pick and pack procedures as a single action rather than two separate operations. Using the Sales Order Fulfillment Dashboard to track pick, pack, and ship status improves order fulfillment speed and accuracy. It is only included in the Platinum and Diamond subscriptions.
11. Landed Cost: The landing cost comprises everything from the parts used in manufacture to the processing expenses. Manually calculating this amount takes time and might result in a loss of earnings. Having this option in QuickBooks Desktop Enterprise improves business management and protects your earnings. It is included only in the Platinum and Diamond subscriptions.
QuickBooks Desktop Enterprise 2022 System Requirements
In the QuickBooks Desktop Enterprise 22.0 model, there are different system requirements on the basis of software access. There are 2 types of access: Local or Cloud access. You have to choose any one of them. The system requirements are mentioned accordingly.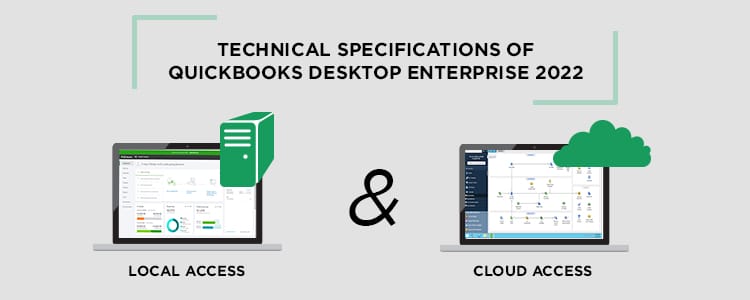 For Local Access
Operating Systems- Windows 8.1, Windows 10, or updated versions
Windows Servers

Windows Server 2012 R2 Standard and Essentials
Windows Server 2016 Standard and Essentials
Windows Server 2019 Standard and Essentials

Processor- Minimum 2.4 GHz required
RAM- 8 GB for 64-bit and recommended is 16 GB
Disk Space- Required is 2.5 GB disk space and additional for data files
Optical Drive- 4X DVD-ROM drive if you are doing CD installations
Internet access is required for Enterprise, Payroll, and Online features
Browser- Internet Explorer 11 (32-bit) with internet access
Registration of product is required
The subscription of QuickBooks Desktop Enterprise 22.0 required an active subscription to use it on the mobile application. The device you are using must be camera-enabled using Android 5.0, iOS 12, or later.
Screen Resolution- 1280*1024 screen resolution is required or higher with up to 2 extended monitors. Default DPI settings are optimized for a given computer.
Software Integrations

You can transfer data from MS Excel 2013 to 2019, QuickBooks Mac 2016 to 2022, Office 365 (32-bit and 64-bit), or Quicken 2016 to 2021.
Invoices, Email Estimates, and other forms with the Microsoft Outlook 2013 to 2019, Gmail, Outlook.com, Office 365, and many other SMTP-supporting email clients. In addition, integration with the QuickBooks POS 19.0.
Microsoft Excel and Word integration require MS Office 2013 to 2019 or Office 365.

Data Management- AES-1288 for data encryption for all PII and PCI data.
Operational Security

The remainder is not applicable as the program is installed in the customer environment without storing any data on the systems of Intuit.
PCI PA-DSS certified, assessed annually according to the payment of application.
For Cloud Access
If you want to have a subscription to QuickBooks Desktop Enterprise of Cloud Access then you have to connect via Microsoft Remote Desktop Connection Client. For this, the system requirements are quite different. Here are the requirements according to the operating system:-
For Windows

The remote desktop software must be in Windows 8, Windows 8.1, or Windows 10.
An internet connection is required (upto 56K or higher than this).

For Mac OS X

Mac OS X version 10.3 or higher
Display 1280*1024 or more
Broadband or high-speed internet connection required
MS Remote Desktop 10.
QuickBooks Desktop Payroll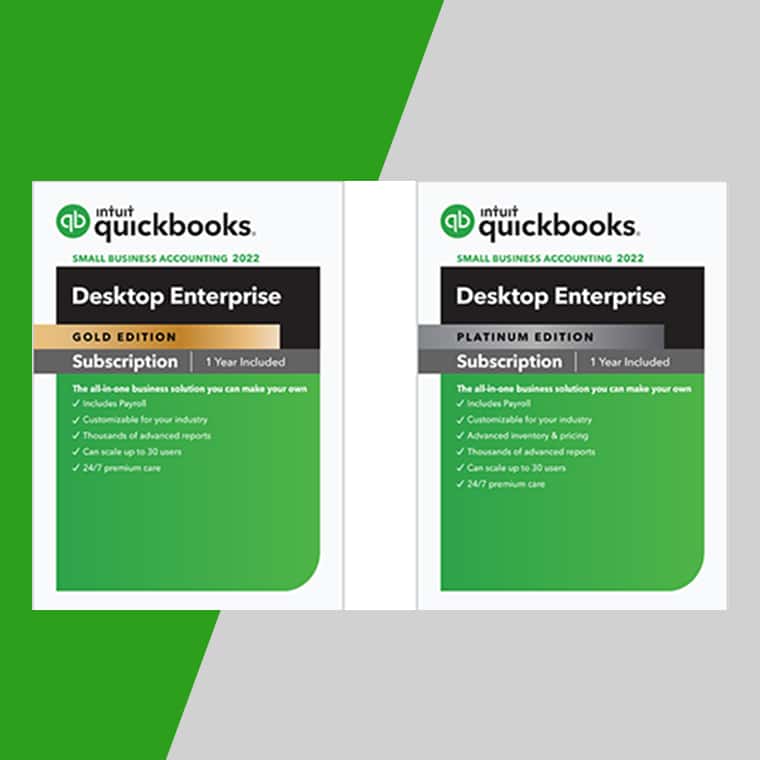 1. QuickBooks Desktop Enhanced Payroll
This Payroll subscription is available in the Enterprise Gold and Enterprise Platinum subscriptions only. The charges are applied when you add the payroll to the Enterprise Silver subscription.
Direct Deposit is Free: This service is free for the employees of W-2 with the payroll in your QuickBooks Enterprise 22.0 subscription. If it is used by the 1099 contractors.
Services of Money Movement: The services of money movement like direct deposit that are provided by Intuit Payments Inc.
Easy Tax Filing and Payment: You have to set the filing method to process the filing.
Live Assistance: Connect with the team anytime whenever required to get your queries or issues resolved.
2. QuickBooks Desktop Assisted Payroll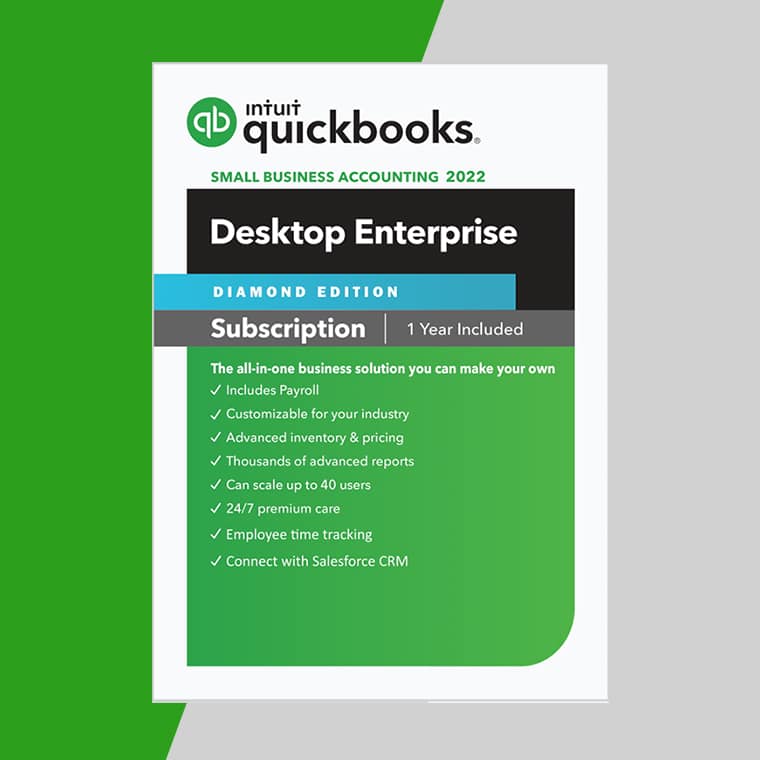 Direct Deposit of Next Day: In this, the Payroll is processed before the 5:00 PM PT. it can arrive the same business day. It also requires bank verification and direct deposit setup. The next day direct deposit is directly on the eligibility criteria.
Services of Money Movement: The money management services are directly provided by Intuit Payments Inc.
On-time and Accurate Tax Penalty Guarantee: The payroll federal and state tax filing is the responsibility of Intuit to have payments directly from your accounts. The payments are done on the basis of the data that you supply.
Premium Customer Assistance: Customer assistance is available 24/7 hours. The assisting hours exclude the occasional time because of U.S. holidays, server maintenance, company events, and more.
U.S. Based Setup Assistance: The assistance available Monday to Friday 6 am to 6 pm PST. the assistance hours exclude the holidays and other events time.
QuickBooks Time Elite
1. Time Elite Tracking: QuickBooks has a time-tracking tool that allows your staff to note how much time they spend on each activity. You may select which client receives the charge for billable tasks. Time monitoring is included with the Enterprise Diamond basic subscription. Monthly costs are charged per employee. Each employee is charged $5 each month. An internet connection is required. QuickBooks Time is used by thousands of organizations to track and manage employee time for payroll, invoicing, and scheduling.
2. Sync Desktop Enterprise: The QuickBooks Sync App makes it simple to generate and manage a duplicate of your QuickBooks data, making it available through standard database tools, software drivers, and analytics.
3. GPS Tracking: Users of the QuickBooks Time mobile app may share their location data while on the clock. The precision of GPS coordinates necessitates the use of a cell phone. In order to clock in and monitor time using the QuickBooks Time mobile app, account managers may require users to set their location settings to "Always".
4. QuickBooks Time Tracker: It is a cloud-based time tracking and employee scheduling program that lets your workers clock in and out of work using the devices they already have in their pockets. QuickBooks Time Elite mobile access is offered at no extra charge with Enterprise Diamond. Data access is subject to the availability of cellular/Internet provider networks, as well as periodic downtime due to system and server maintenance and circumstances beyond your control.
Salesforce CRM Connector
It is a kind of service provider that is available as an add-on by DBSync. This is a subscription-based integration extension that is separately sold by DBSync. The Salesforce CRM Connector works with a few versions like Enterprise, Professional, and Unlimited versions. If you want to use Salesforce then you have to buy it separately and then integrate it with your QuickBooks software.
What about the Salesforce CRM Connector Subscription?
The new CRM connection is an optional subscription service that syncs data from QuickBooks Enterprise Diamond to Salesforce CRM to help you eliminate redundant data entry, get insights into your business, and get paid faster. One business file is supported per Salesforce CRM connection subscription, which is restricted to one subscription purchased. Your account file will be charged from the time you join up until you cancel on a monthly basis. Your Salesforce CRM Connector subscription will also be canceled if you terminate your QuickBooks Enterprise Diamond subscription as well.
Setup of Salesforce CRM Connector
The setup is required to connect the Salesforce CRM with QuickBooks. The setup is provided by the DBSync so that you can easily implement it. The packages are available with different steps and the price varies according to the package setup that you bought.
Data Migration
The data migration is done when you want to import your data to the QuickBooks Desktop Enterprise 2022. So you can import data from Microsoft Office, Excel, Quicken, and from other QuickBooks Versions.
If You Want to do Data Migration for QuickBooks Desktop Enterprise
You can easily transfer all your data from the following software to your QuickBooks Desktop Enterprise software. The software such as QuickBooks 4.0 to 18.0, Microsoft Excel 2010 SP2 and above versions, and Quicken 2016 to 2018.
If You want to do Data Migration for QuickBooks Online
For MS Word and Excel integration, you require the Microsoft version 2010 SP2 and above. You can also do it using Office 365 that is also a Microsoft product. In QuickBooks Online, you can import data from all versions of QuickBooks Desktop.
QuickBooks Payments
1. Credit Card Payments: Customers benefit from the ease and flexibility provided by businesses that take credit cards. They are used for in-person purchases, one-time, and return payments. When a consumer uses their credit card to pay for something on your website, the payment gateway receives the information first. What's the best part? You may safely handle credit card payments with the help of a payment gateway. The money is sent into your merchant account first when your transaction is authorized. After that, you can transfer money to your company bank account. Credit card payments may include setup fees, transaction fees, or monthly fees, although these expenditures are generally well worth it in exchange for the revenue you'll receive.
2. E-invoicing: Electronic invoicing,' is a mechanism in which GSTN authenticates B2B invoices electronically before allowing them to be used on the common GST site. All invoice information will be sent in real-time from this site to the GST and e-way bill portals.
3. Next Day Deposits: If your direct deposit lead time is set to Following-day deposit, employees are paid the next banking day after you give your payroll to your bank. The next day, you must create and approve payroll before 5 p.m. PT. Depending on how quickly you handle the cash, your payments will be deposited in your bank account. The money in your bank account the next business day if you complete payments before 3 p.m. PT. If you process payments after 3 p.m. PT, then it will be deposited in two business days.
4. Instant Deposit: QuickBooks Payments offers Instant Deposit that is subject to certain qualifying requirements. In minutes, payments are transmitted to the bank account associated with an approved debit card within 30 minutes. Due to third-party delays, deposit timings may vary. Available money can be requested 24 hours a day, 7 days a week. In addition to the standard ACH or credit card rates, a 1% transaction charge is applied to the dollar amount of the quick deposit. It's necessary to have a QuickBooks Payments account, which is subject to eligibility, credit, and application acceptance.
5. Payment Links: Payment links is a feature of QuickBooks Desktop that allows you to accept payments. This is something you may share with your consumer as a means to be paid faster. Customers will now be sent to the site after clicking the link. Then, as if settling an invoice, they input their payment information.
Priority Circle
The membership in the priority circle and their benefits are available to the customers located in the 50 United States that including DC also. It is for those who have a paid subscription that is active status to QuickBooks Desktop Enterprise. The users who are not active will no longer receive benefits.
The QuickBooks Desktop Enterprise 2022 is now a subscription-based model and is providing many new and advanced features for its users. You can subscribe to it easily and get your business financial things done easily. All the data is accessible and protected with QuickBooks Desktop Enterprise 22.0 software. In conclusion, all the related information is mentioned that users must be aware of such as features, pricing, types, and requirements. For any further or related queries, connect with the Dancing Numbers helpdesk team. The members of the team are available 365 days a year to assist you by providing all the solutions.
Accounting Professionals, CPA, Enterprises, Owners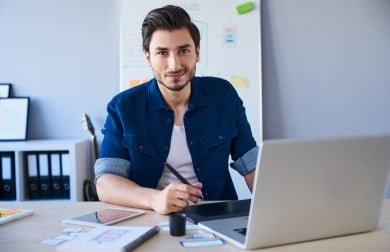 Looking for a professional expert to get the right assistance for your problems? Here, we have a team of professional and experienced team members to fix your technical, functional, data transfer, installation, update, upgrade, or data migrations errors. We are here at Dancing Numbers available to assist you with all your queries. To fix these queries you can get in touch with us via a toll-free number
+1-800-596-0806 or chat with experts.
---
Frequently Asked Questions (Faqs)
How is the QuickBooks Enterprise 2022 38% faster in this New Release?
It is tested and verified that the new QuickBooks Enterprise 2022 subscription-based model is now 38% faster. The results are based on the lab testing with the previous QuickBooks Desktop version (32-bit) that uses the 1 GB of average file size. The observations is done by running Custom Transaction Detail Accrual Report that was of 400 MB and on this average speed improvement was 31%. The actual user-based results may vary.
What Advanced Features are offered by QuickBooks Desktop Enterprise 2022?
The advanced features that users get benefit of are reporting and advanced inventory. More other features offered by third-party partners are CRM and Human Resource management.
Which Features are not offered by QuickBooks Desktop Enterprise 2022?
The international company potential is not offered by the QuickBooks Desktop Enterprise 22.0 version.
Is the Pricing of the QuickBooks Desktop Enterprise 2022 Subscription Model the same for all?
The price may vary according to each business model and their needs. The number of users you increase the price also increases. The price also varies according to the subscription model payment plan you choose such as monthly and annually.
What about the QuickBooks Assisted Payroll plan in QuickBooks Desktop Enterprise 2022?
The price of QuickBooks Assisted Payroll monthly billing plan includes only 1 state. If you include more states in it then each additional state costs you $12 per month.
Did I get all the Updates of QuickBooks Desktop Enterprise 2022?
Yes, you get all the updates if the subscription status is active when the new update is available. If you are not an active subscription member then you won't receive any update for your software. The update must be released within 12 months of purchase date of QuickBooks Desktop Enterprise 22.0 or renewal date.