The new QuickBooks Desktop Pro Plus 2022 is the latest release (R3) for all users with exciting new features and benefits. This latest release is 38% faster than before. It supports 64-bit processing that maintains integrations from third-party. This version includes the basic features of Pro with Pro plus into one. Easy to manage everything in one place to grow your business seamlessly.
Save Time, Reduce Errors, and Improve Accuracy
Dancing Numbers helps small businesses, entrepreneurs, and CPAs to do smart transferring of data to and from QuickBooks Desktop. Utilize import, export, and delete services of Dancing Numbers software.
Here you get to know everything about the QuickBooks Pro Plus 2022 version and edition that you must know about before starting using it. This surely convinces you to switch from your older version to this subscription-based model.
Select the Product According to Your Requirements
Pro Plus 2022- $349.99/yr Annual Subscription
Pro Plus 2022+Payroll- $749.99/yr Annual Subscription

Features Included in these Subscriptions are:-
These features are included in both the Pro Plus subscriptions whether you buy them with or without payroll. The detailed information of features is explained below:
Upgrades are Unlimited: Access to the latest version with security patches and updated features. It includes the new tools that automate your tasks.
Automatic Backup of Data and Recovery: The Intuit Data Protect takes local backup of your company file automatically on a regular basis. Diminishing the computer crashes, corruption of data, and power failures. Revert to a previous file from the past 45 days from daily backup if required. To restore the file you can easily get help from the helpdesk team.
Premium Features of Money Management and Time-saving: Send customized bill payment stubs to the vendor that maintains professional communication. You can add on the E-Commerce tool to integrate QuickBooks with it.
Desktop Mobile Application to increase Screen Productivity: Using the mobile the customized recessed expenses can be created automatically if you just have to take a photograph and then review it. With the transaction, you can attach documents in an easy way by just uploading them using the mobile application. After uploading the document, there is no requirement to store it physically. By automatic bill entries, it seems more organized using the mobile app by import and then review.
QuickBooks Customer Assistance: In QuickBooks Desktop, press the F1 key for the Smart Help. You can also buy the Annual Care plan to save money. Unlimited support with access to QuickBooks experts.
Moreover, Features Include:
You can Systematize your Business Finances using QuickBooks: You can usually send automatic reminders to the customers when their payments are due and get paid faster. creating the estimate and invoices are more easily than before. Create rule-based customer groups to improve insight and communication and Customer Management. it helps in updating I think automatically that is based on the type of customer, location, balance, or status.
For informing Decisions, Track the Performance: This gives you a great view for decision making according to your data. With a single click, you can make the sales, tax, and financial report. For the tax time, have reliable reports. For cash flow, you can have real-time invoice status visibility to be on top.
Upto 3 users Can Collaborate at a Time: Work together in multi-user mode and save time. It allows you more than a single user to do the work. For the accountant, a copy of the company file needs to be created. The sensitive data is protected with the user-access levels.
Easy to Set up and Use the Software: For using the software you are not required to have the knowledge of accounting. It just took less time to set up and run the software. Then it provides you a guide in detail steps for using the main features of the software. You are required to do upto 4 clicks to do the upgrade.
Transferring Data into QuickBooks is Fast and Easy: Data import from Quicken, Excel, and from other software becomes easy. Import all the data using the excel spreadsheet, manage all the multiple businesses. Categorize the bank transactions automatically.
In the QuickBooks Pro Plus 2022 with Payroll Subscription you get the following Enhanced Features:
Easy and fast payroll features and things into your QuickBooks account.
The payroll taxes are automatically calculated by software for you.
You can use both printed checks and direct deposits in QuickBooks that includes payroll.
Live customer assistance using chat and phone.
The Add-ons to be done According to Subscriptions are:-
Pro Plus 2022-

Payroll, E-commerce integration for easy online sales.

Pro Plus 2022 + Payroll-

New E-commerce integration for easy online sales.
New Features Added in QuickBooks Desktop Pro Plus 2022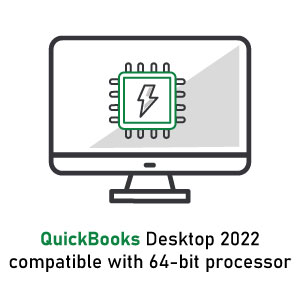 There are various newly added features in the QuickBooks Desktop Pro Plus 2022 release. Firstly, it becomes a subscription-based model and with that, it becomes more compatible with 64-bit power processing. Further, all the features are explained below that are newly added in this newly released version.
1. Enhanced 64-bit Computing Power:
Many computers have 64-bit processors as it helps in making performance better and maximizes stability. The 64-bit power processing makes it up-to 38% faster. The third-party integrations can be managed easily.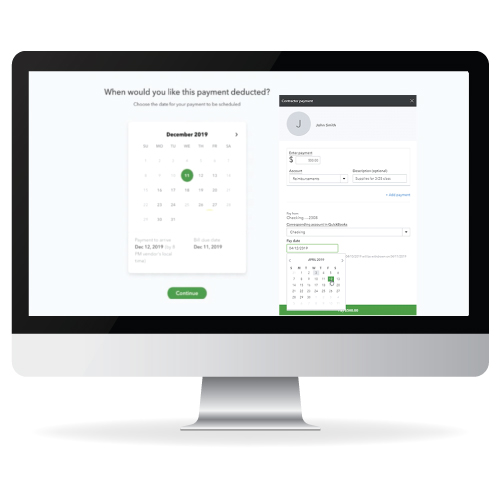 2. Pay Vendor Bills in QuickBooks
Save your time by scheduling and paying your bills. The QuickBooks marked the bill as paid automatically and also notifies you when the money is sent. To get financial flexibility by start paying bank or card transfer and then send money using bank transfer or physical check.
3. Automated Mobile Bill Entries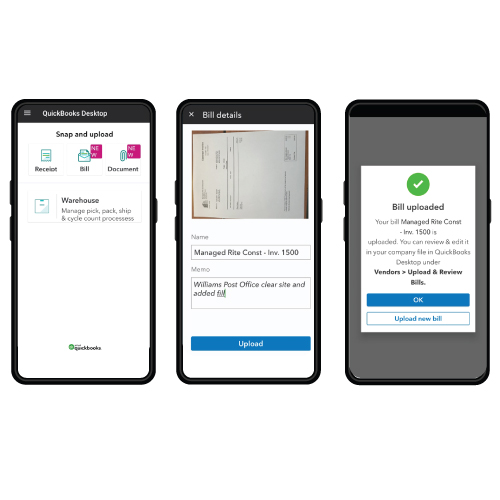 Use the mobile application to upload the bills to save time. Click photograph then you have to import the photograph into the application after that review it and you are done. Attach the files to the bill transactions for audit trails to stay organized. If your vendors directly send the invoices to QuickBooks then it keeps the bills in draft for your review.
4. Attach Documents to Transactions
The documents can be attached faster as you just have to upload them directly using the QuickBooks Desktop mobile app. No need to store the documents physically. Match the multiple documents at once.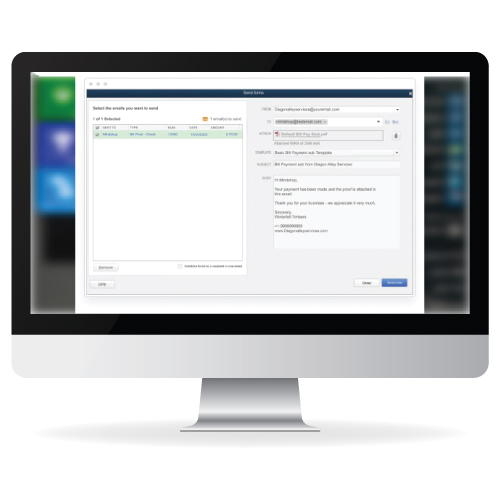 5. Customize Bill Payment Stubs
The bill payment stubs are customizable that can be maintained professionally. The communications are done with vendors using emails to be consistent. The things are done easily like formatting, logo, balance-paid-to-date, and other information for billing. All this is from within the QuickBooks Desktop Pro Plus. You can send email bill payment stubs to one or multiple vendors at the same time and save time.
QuickBooks Desktop Pro 2022 Technical Specifications
The system requirements are mentioned here are required for the QuickBooks Pro 2022 software. Must check and verify that all requirements are fulfilled to avoid any problems or issues. The list of system and browser requirements are as follows:
Operating Systems-

Windows 8.1, Windows 10

Processor-

Minimum 2.4 GHz required

RAM-

8 GB for 64-bit and recommended is 16 GB

Disk Space-

Required is 2.5 GB disk space and additional for data files

Browser-

Internet Explorer 11 (32-bit) with internet access

Servers

Windows Servers

Windows Server 2012 Standard and Essentials
Windows Server 2012 R2 Standard and Essentials
Windows Server 2016 Standard and Essentials
Windows Server 2019 Standard and Essentials

Linux Servers

Red Hat Enterprise 8 (RHEL 8)
Fedora 31, 32
openSUSE Leap 15.1, 15.2

Registration of product is required
Internet access is required for Plus, Payroll, and Online features

Optical Drive-

4X DVD-ROM drive if you are doing CD installations

Screen Resolution-

1280*1024 screen resolution is required or higher with up to 2 extended monitors. Default DPI settings are optimized for a given computer.
The subscription of QuickBooks Desktop Pro Plus must be active to use it on the mobile application. The device you are using must be camera-enabled using Android 5.0, iOS 12, or later.

Software Integrations

You can transfer data from MS Excel 2013 to 2019, QuickBooks Mac 2016 to 2022, Office 365, or Quicken 2016 to 2021
Microsoft Excel and Word integration requires MS Office 2013 to 2019 or Office 365
Invoices, Email Estimates, and other forms with the Microsoft Outlook 2013 to 2019, Gmail, Outlook.com, Office 365, and many other SMTP-supporting email clients. In addition, integration with the QuickBooks POS 19.0.
Things You Can do for Your Business using QuickBooks Pro Plus 2022
1. Track Inventory
In this, you have to stock up your business for success. follows that you can do under this feature:
You can easily track the cost of goods, products, and also receive notifications when inventory goes low.
For keeping the track of what's on order, you have to create purchase orders.
The inventory can be adjusted easily for any kind of shrinkage, loss, or theft.
2. Track Sales Tax
Now tracking sales tax is easy with QuickBooks Desktop Pro Plus 2022. This helps you to stay on top of the sales by checking it and never missing it.
Throughout the month you can automatically track the sales check.
Is not defined which products and which customers are taxable.
To get to know what you owe, you have to run the sales tax liability reports.
3. Invoicing
Get paid faster and it also gives you a professional look to do your work. hair are the things listed below related to invoicing:
The universities for good, services, time, and expenses that are billable.
Create payment receipt, invoice, and estimate professionally.
Invoice status is visible on the basis of real-time scenarios to be on top of cash flow.
The payments can be accepted from the invoices and also send automatic reminders on the payments that are outstanding.
4. Manage Bills and Accounts Payable
By managing it you get to know what you owe in your business. Things related to it are:
Easy to take action on unpaid bills by managing the cash flow of your business.
Track all the bills and orders that are purchased in a single place. To view unpaid bills from vendors to easily manage the payments.
The bill entries are done Automatically using the mobile application of QuickBooks desktop. in the bill can be paid using the funding source that you select in the form preferred by vendors.
Take discounts of early pay automatically.
5. Track Income and Expenses
Track your money to get to know that where you are spending your money on your business.
Video for automatically download categorized transactions you have to connect with your credit card and Bank.
Using QuickBooks desktop mobile application, you can automatically create and categorize received expense entry that saves your time.
Manage and organize Your business with vendors, employees, and Customer Centres.
Import your previous data from Excel and other programs easily.
The above article is about QuickBooks Desktop Pro Plus 2022; it is a new release of the QuickBooks Desktop subscription-based model. It includes all the features and benefits of pro and Pro Plus into a single model. If you have any issues or problems then you can get in touch with the dancing numbers team. The team members are trained to fix all kinds of issues problems are errors caused by you while working on the software. Get the assistant 24/7 by connecting the team members whenever you are stuck with any complications.
Accounting Professionals, CPA, Enterprises, Owners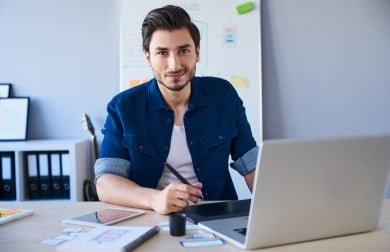 Looking for a professional expert to get the right assistance for your problems? Here, we have a team of professional and experienced team members to fix your technical, functional, data transfer, installation, update, upgrade, or data migrations errors. We are here at Dancing Numbers available to assist you with all your queries. To fix these queries you can get in touch with us via a toll-free number
+1-800-596-0806 or chat with experts.
---
Frequently Asked Questions (Faqs)
What will Happen if The Subscription of QuickBooks Desktop Pro Plus 2022 Expires?
If the subscription expires then you will not be able to access your own data. The software access is limited to subscription-only. In case you cancel the subscription then you were no longer able to access the QuickBooks software. You have to export the data before your QuickBooks Desktop subscription expires or before canceling it. So that you have all the important information with you.
How does QuickBooks Desktop Pro Plus 2022 auto-renewal Subscription Works?
After buying the QuickBooks Desktop 2022 subscription; it activates the auto-renewal method with the credit card. This helps you in making smooth service whenever subscription gong to expire it auto-renew the subscription on its own. You can also disable this service using the settings of QuickBooks software. So whenever QuickBooks product subscription expires it won't auto-renew it.
What if I want to Download QuickBooks Desktop Pro Plus on different Systems?
You can easily download the QuickBooks Desktop Pro Plus on different systems. The Pro Plus subscription allows up to 3 users or systems. So it is easy to do the installation.