QuickBooks workforce service is designed to transform everything smoothly and conveniently for the employees, like sharing the paycheck data with the selected employees online. This helps them to view paycheck and W2 anytime they want. In order to reap the benefits of its services, it is important to activate them.
Save Time, Reduce Errors, and Improve Accuracy
Dancing Numbers helps small businesses, entrepreneurs, and CPAs to do smart transferring of data to and from QuickBooks Desktop. Utilize import, export, and delete services of Dancing Numbers software.
In case you are running your QuickBooks payroll service, you must know that workforce is an essential aspect of that service. Such a thing aids you to give your employees control regarding paying the stubs and reviewing their W2 forms.
To know more, read this article completely to know how to view your Paycheck and W2 in QuickBooks Workforce.
Here are some official & important links that you need to know
What is a QuickBooks Workforce?
For those who use it for professional work, Intuit has launched a very important tool for QuickBooks. The W-2 forms are accessible and printable for employees through QuickBooks Workforce. Moreover, it helps users with online QuickBooks pay stubs. All employees who have been added to the QuickBooks Workforce are informed of their updated paycheck when the most recent payroll is run. They have access to their salary at any time, and they can check it.
The employees can be kept up to date continuously using QuickBooks Workforce to get all the necessary tax-related data and verify the data in Intuit's ViewMyPayCheck service. However, the company has made a comeback with ViewMyPaycheck and QuickBooks Workforce. All employees of a particular company can access the W-2 form and look up their history using this service. However, users must either sign up for QuickBooks Workforce or be invited in order to access the tool and feature.
How does QuickBooks Workforce Work?
The tool QuickBooks Workforce is simple to use. The tool is incredibly effective even for someone with little or no knowledge of QuickBooks. The tool makes life easier for both business owners and employees. You can safely access the QuickBooks Paychecks by using QuickBooks Workforce. Since all of the data is saved online, there is no chance that the information will be lost. Any version of the QuickBooks software user can access the software thanks to the web-based solution.
How to Set up Your QuickBooks Workforce Account?
In order to view your Paycheck and W2 in the QuickBooks workforce, you need to set up your QuickBooks workforce account.
To set up a QuickBooks Workforce account, you need to complete certain steps and guidelines as given below here:
Agree to the Employer's Invitation
Before initiating to check your Paycheck and W2 form, you need to acknowledge the invitation from the employer. The invitation received will be applicable for 30 days.
In the first step, you need to check an email together with the subject like the Business name.
This particular invitation is to check your pay stubs online or related data to get you paid.
If you are not able to check the invite, then it is recommended to see the spam folder. You can also let the employees know about it.
Now, in this step, you need to open an email. Now select the Create Account option to acknowledge the invitation.
Post this, you will be ready to make your Intuit Account with your particular ID and the password.
If you have already made your Intuit account, just like the previous QuickBooks Workforce, then you need to sign in with the registered ID and the registered password.
Important Points to consider
If you prepared your QuickBooks workforce account previously, then you will have the option to acknowledge the invites from a different employer.
If you receive access to QuickBooks Online, then you need to use a different email ID for the particular QuickBooks workforce account.
You need to enter the same email address that you can use for the present QuickBooks workforce account
The most important advice is to use the work email ID for the particular QuickBooks Online along with the personal email ID for the workforce.
Enter Your Personal Details (if available)
In case you are newly hired by your particular employer, then you need to enter some personal details. To make it viewable, you may get an email where it is mentioned that your personal data is needed in order to set up the employee or get you paid. You need to apply these steps as fast as possible to get the payment right on time.
At first, you need to open your email and then press the option Complete Setup or get set up now. The option can also read, Sign-in.
Add all the related data in the said field, like a bank account, personal data, and W4.
The bank account appears on the window when your particular employer selects to pay via direct deposit.
Now you need to authenticate and check all the details and after that, you sign in the W4.
Press the Submit or Save button.
When the process is complete, the personal data is saved and the employer can see it.
In case there is any change required, you can notify your worker.
Switch on the Notifications For The New Pay Stubs
Once all the above steps are complete, you will receive an email message when the pay stub is accessible every time. In order to set up the features, please adhere to the steps given below:
First, you need to navigate to the workforce.intuit.com official website.
Now, you need to open Settings.
Now select the email notification.
When the other pay stubs are easily accessible, press the option Send an email.
QuickBooks Workforce makes it convenient and safe for you to check and handle the W2s, paychecks, and other crucial employee details.
View Your Paychecks (Paystubs) and W-2 in QuickBooks Workforce
Once you set up your Workforce account, then you can view and print your checks and Form W-2. Follow the steps to view your bank details, home address, other employment info, and your joining date.
Get Your Pay Stubs
If you want to view, download, and print the pay stubs then you can do the same in QuickBooks Workforce. Let's start with how you can do this.
Firstly, sign in to the workforce.intuit.com.
Then click on the Paychecks.
You have to choose a date range.
One great advantage is that here you can see multiple paychecks all at once for as long as one year.
Below are a few points you can follow any one of the following:

If you want to open, view, Download, or print, you have to select a paystub
On the pay, stub click on the Download that you want to download
Below the paycheck list, look if the Download All button is available or not, then pick it to download all the pay stubs at once. (it is not available for everyone)
See Your Personal Info, Time off, Year-To-Date Pay
The Paycheck screen gives the data that could be vital to you. Let's have a look at a few points given below portraying what you can see on the paycheck screen.
Available Time off: You can look at your vacation, other time off balances, and sickness.
Year to Date: Look at your year-to-date net and gross pay, deductions, and withholding easily.
To view your info selects Profile.
Get Your W-2s
From the W-2 screen, you can see your W-2 copies B, C, and 2. You would need to check your telephone number or some personal data first to see. Follow the few points to view your W-2.
Firstly, click on the W-2 menu.
Then, click on the W-2 copy that you need to see or download.
More you can do is that you can also print W-2.
Invite Your Employees to QuickBooks Workforce
An employer can welcome their employees to add their data or view their pay stubs and W-2 in QuickBooks Workforce. This feature is just accessible in QuickBooks Desktop Payroll Basic and Enhanced or QuickBooks Online Payroll.
So let's know the steps:
QuickBooks Online Payroll
In QuickBooks Payroll you can welcome both new and existing representatives to the Workforce account. Follow the moves to welcome.
Know How to Set up and Invite a New Employee
At the very first, click on Payroll and then Employees
After that, add an Employee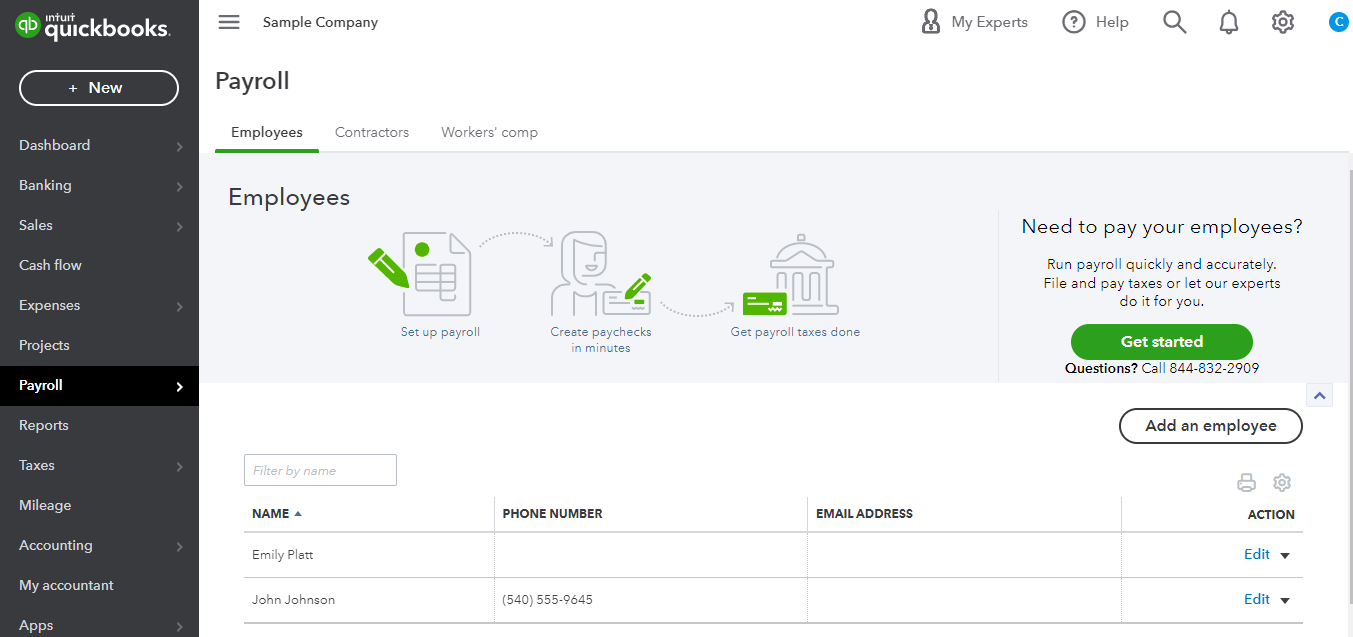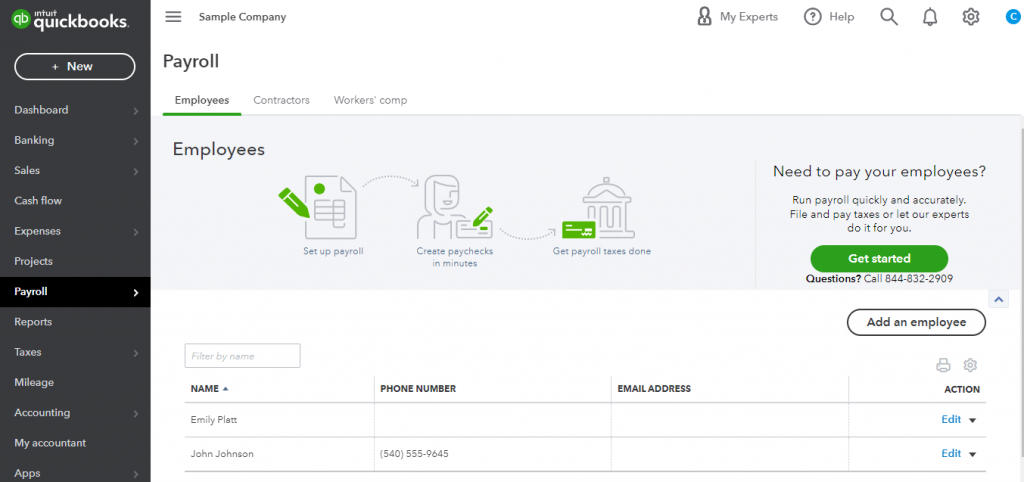 As you can see in the above image you can add the employee's info and email address. By doing this it will automatically invite employees by dispatching them an email.
In case you want that new employee to add their info, then mark the checkbox asking this employee to enter their personal, tax, and banking info with QuickBooks Workforce.
When you will complete this, click on done.
Invite an Existing Employee
Click on Payroll and then on Employees.
To invite click on Invite to Workforce.
Search the employees that you want to invite and check the box that is next to their names.
Then enter their email address.
After finishing, click on send invitations.
QuickBooks Desktop Payroll
With the following process, invite your new and existing employees to the QuickBooks Workforce.
Invite an Existing Employee
Firstly, as an admin sign in to QuickBooks
Then go to the employee's menu and choose to manage Payroll cloud services
Be sure that the status is turned on under QuickBooks Workforce and then click on Invite Employees.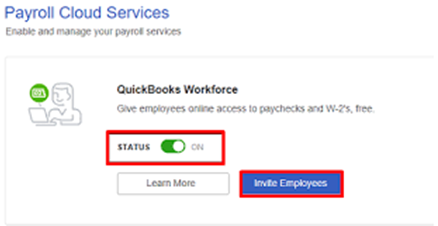 You will need to sign in into the Intuit account. But there is a condition that you can only sign in if you have a QuickBooks Payroll license.
On the screen, you will see an employee list. By seeing that list choose the employees to add and fill in their email addresses.
At last click on send invite. After sending the invite it will show the invite in the status column.
Invite a New Employee
You will need to click on Employees and then on Employees centre
To add new employees you have to click on the add new option
After adding the employees fill in their email address
Lastly, click on send invite
How to Use QuickBooks Workforce?
As you know, the QuickBooks Workforce is an integrated tool with Intuit's QuickBooks Desktop. The QuickBooks Desktop software allows the users to switch between the Workforce service. If you want to use the tool and want to invite other employees then you must update the application. Your assigned employee will then be notified of the invitation and given access to the QuickBooks Workflow.
To View My Paycheck there are two ways to access. They are:
QuickBooks Workforce Login:
Follow the steps that are mentioned below for QuickBooks Workforce Login:
There is no hassle for the user who is an existing member of the QuickBooks Workforce.
To access the QuickBooks Paycheck make sure that you have been invited to access it.
Then you have to go to Intuit's Payroll and Accounting services. After that, you have to fill in the credential of the QuickBooks for QuickBooks Workforce Login.
After logging in successfully, you can now use the QuickBooks Workforce.
QuickBooks Workforce Signup:
Follow the steps that are mentioned below for QuickBooks Workforce Sign Up:
If you don't already have an account with QuickBooks Workforce, you must do so first.
Visit the Intuit website for more information.
To create a new account follow the steps that are displayed on the screen.
Other than the QuickBooks Workforce, QuickBooks Online Payroll is a helpful tool. The service also enables users to invite their employees to participate in QuickBooks Workforce.
We hope that the information given above was adequate for you about QuickBooks workforce, Paycheck and W2, and you can create an account without any issue. Such things will give a clear idea to your employees and they get easy access to pay stubs.
Accounting Professionals, CPA, Enterprises, Owners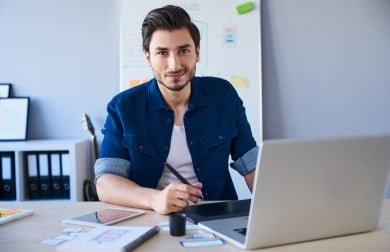 Looking for a professional expert to get the right assistance for your problems? Here, we have a team of professional and experienced team members to fix your technical, functional, data transfer, installation, update, upgrade, or data migrations errors. We are here at Dancing Numbers available to assist you with all your queries. To fix these queries you can get in touch with us via a toll-free number
+1-347-428-6831 or chat with experts.
---
Frequently Asked Questions (Faqs)
What are the W2 forms?
W2 or form W2 is a short statement for taxes and wages that you need to provide every year to your employees. W2 should be emailed or sent before Jan 31 every year. Furthermore, W2s are only created for employees, which means if your business hires independent contractors then it is imperative to create 1099 for them rather than W2s.
What is the cost of QuickBooks Workforce?
No additional charges are required for QuickBooks workforce service. As per your requirement, you can select the enhanced or the basic QuickBooks Desktop version. However, you should be sure that you have received the related Intuit services with the assistance of which you can sign in and use the workforce.
Is QuickBooks Workforce secure?
Yes. QuickBooks Workforce is secure. They follow the two-factor authentication process. They use it to authenticate all the data. This way, your employees receive easy and reliable access to their respective payroll data.
Why Can't I Sign in to the QuickBooks Workforce?
There could be many justifications for why you fail to login into QuickBooks Workforce. We should talk about this in detail.

In case your employer sends you multiple emails, make a point to sign in with the most recent one.


If you are having the access to QuickBooks Online, then don't use the same address for QuickBooks Online and Workforce account.


If you are having an account with another Intuit product and you haven't provided that email address to the employer, use the one that you gave to your employer.
How do I Delete my QuickBooks Workforce Account?
If you are an employee and need to delete your QuickBooks Workforce account, you can send the request. Always remember that once your data is deleted, you can't get it back.

To start, sign in to the QuickBooks Workforce account.


Then go to the Setting symbol and pick Account settings.


You'll be diverted to the Intuit page and there click on the Data privacy from the left menu.


Click Delete and choose to make a delete request.
What do I do if My W-2 Doesn't Show up?
Below are a few reasons why you didn't get your W-2.

Intuit didn't receive your W-2.


When your employer didn't use QuickBooks payroll to file W-2.


Intuit has received your W-2 but is still working on it.
Why Can't I See All of My Pay Stubs From my Employer?
As many employers can't give copies of stubs or records. Some use third parties to produce stubs based on payroll data and can give duplicates of wage data in a different format. Some experience calamities that destroy all of their records. Many banks charge a fee for getting to and copying records.
Why Can't I See My W-2s Yet?
Form W-2s are known as the Wage and Tax Statement. If you haven't received your W-2 then reach out to your employer as soon as possible. Maybe they will provide you with a copy, and in case they don't contact the Internal Revenue Service. The Internal Revenue Service will contact your employer or employer and they will request the missing form.
Is QuickBooks Workforce an App?
In QuickBooks Workforce you can view your paychecks and W-2s. To run this app you need to enable Javascript.
What is the Workforce Payroll?
Payroll is the process of compensating employees for their time. It involves creating a compensation plan, keeping track of employee time, calculating withholdings, distributing paychecks, and submitting payroll taxes.
Is the QuickBooks Workforce Secure?
You can easily and securely access and manage your paychecks, W-2s, and other employee information with QuickBooks Workforce. On the day of your first pay period, your company will email you a Workforce invitation. Your invitation is valid for up to 30 days after your company sends it.