QuickBooks has different versions and helps you to maintain your business easily and quickly. But sometimes QuickBooks gets errors that are too frustrating and can interrupt your work. Once the such error is QuickBooks error 3371 Status Code 11119, this error can occur due to damaged or missing company files.
Save Time, Reduce Errors, and Improve Accuracy
Dancing Numbers helps small businesses, entrepreneurs, and CPAs to do smart transferring of data to and from QuickBooks Desktop. Utilize import, export, and delete services of Dancing Numbers software.
This error can cause a loss of company files but you don't need to worry at all. Fixing this error is very easy. Today, in this blog we are going to show you how you can fix [Error 3371, Status Code -11118] QuickBooks could not load the license data..
What's QuickBooks Error 3371 Status Code 11118?
EntitlementDataStore.ecml contains your license properties and if this system file gets damaged or corrupted then you can get [Error 3371, Status Code -11118] QuickBooks could not load the license data.. The system files can get corrupted if you don't shut down your system properly and files are still running in the background. Hence, QuickBooks fails to sync the license properties and this results in this error.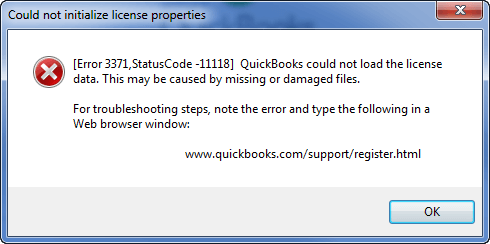 The error comes with a dialogue box that has the message "[Error 3371, Status Code -11118] QuickBooks could not load the license data."
Could not initialize license properties. QuickBooks Error 3371: QuickBooks could not load the license data. This may be caused by missing or damaged files.
Could not initialize license properties. [QuicKBooks Error 3371, Status Code -11118] QuickBooks could not load the license data. This may be caused by missing or damaged files.
Could not initialize license properties. [Quickbooks Error 3371, Status Code -1] QuickBooks could not load the license data. This may be caused by missing or damaged files.
Could not initialize license properties. [Quickbooks Error 3371, Status Code 11104] Damaged/Missing QuickBooks Component.
What are the Causes of QuickBooks Error 3371?
QuickBooks error 3371 can occur due to many reasons. Here are some of the causes:
Some system protections, such as an antivirus program, also block QuickBooks Desktop, preventing it from synchronizing with the critical Windows components required by QuickBooks.
QuickBooks Desktop Crashing Due to a Com Error.
Repair the damaged MSXML component, which is related to the Windows operating system and is required to run QuickBooks Desktop Software.
QuickBooks Error 3371 cannot load the license data, this is an additional damaged component. This can cause missing or corrupted files. Each time you launch QuickBooks, it attempts to read the damaged QBregistration.dat file.
You may encounter the following errors while installing and repairing QuickBooks: QuickBooks Errors 1603 and 1903, QuickBooks Error 1722, and QuickBooks Error 1904
Issues printing, emailing or saving to PDF from QuickBooks Desktop.
QuickBooks has stopped working properly due to a problem. The program will automatically get closed and you will get a notification.
Issues with QuickBooks Desktop performance.
You lose access to the QuickBooks data file.
Failed or half-done Windows Updates can keep your Windows components outdated and not as required by QuickBooks. Outdated windows can also cause issues with QuickBooks Desktop.
How to Fix QuickBooks Error 3371?
Following are the latest solution methods to resolve the QuickBooks error code 3371:
Solution 1: Install the Most Recent Windows Update
First, make sure you have the most recent Windows updates installed.
After that, open all Programs and then click on Windows Update.
Solution 2: Uninstall the ECML file
To begin, press Windows + R on your keyboard at the same time.
In the window, type C: ProgramDataintuit Entitlement Client v8.
The above-mentioned address will then be displayed in Windows Explorer.
Delete the ECML file. Close the window after that.
Finally, reboot QuickBooks and re-register the item.
Solution 3: Rename the Entitlement File
Users of Windows XP
Windows XP users must first click on the Start tab and then select the Run box.
After that, go to the "Entitlement DataStore.ecml file: Documents and Settings AllUsersApplication DataIntuitEntitlemen Clientv2".
When you're finished, hit the OK button.
After that, rename the Entitlementdatastore.ecml file.
Users of Windows 7:
All windows 7 users should go to the start tab and then click on run.
Go to the C:ProgramDataIntuitEntitlement Client folder now.
The Entitlement file should now be renamed.
After that, QuickBooks will open and create a new file for you automatically.
The following procedures will be taken to unhide the application data folder.
Select Computer, Organize, Folder, and then Search from the drop-down menu.
Now go to the hidden folders and files.
Finally, restart QuickBooks to see whether the issue persists.
Solution 4: Install the Latest Version of the Windows Operating System
The first step is to press the Begin button.
Next, go to All Programs and then Window Update.
Then, select Check for Updates.
You must then reinstall and update QB Desktop.
Method 5: Run a fresh Windows Installation
You'll need to download and install the most recent Windows update.
Now select the All Programs tab and after that go to the Windows Update options.
All Windows update upgrades should be compl and prepared to install QuickBooks software.
The Damaged entitlementdatastore.ecml file should be recreated.
Now just resolve registration and license issues.
The final step is to select reinstall and perform a fresh install.
Note: Considerations Before Troubleshooting QuickBooks Error 3371
First and foremost, make sure that your Windows is up to date.
If you continue to receive QuickBooks Error 3371, your Windows operating system may be corrupt system.
Error 3371 in QuickBooks Code 11118 is most likely to occur when the entitlementDataStore.ecml file, which contains the license properties, becomes corrupted. You can resolve the problem by updating your Windows system, renaming the entitlement file, and installing the latest Windows updates.
QuickBooks Error 3371 Status Code 11104
When there is an issue with the QuickBooks license – QuickBooks Error 3371 status Code 11104 occurs. It stops users to open QuickBooks, which obstructs the smooth work functionality, entailing productivity loss. Quick assistance is needed to fix QuickBooks Error 3371. Status code 11104. Don't worry! You are at the right page.
Causes of QuickBooks Error 3371 Status Code 1104
A few components/files required by QuickBooks for operating are damaged or missing:
QuickBooks Registration.dat: this is a QuickBooks installation file that consists of the license information related to QuickBooks. Once QuickBooks is active, the license information needs to be recovered and validated. QuickBooks will not work if the file is damaged.
MSXML component: QuickBooks requires this Microsoft component for running successfully. Operating this section, QuickBooks can recover the information stored in the QuickBooks registration.dat file, which keeps QuickBooks open.
The operating system is not updated or the antivirus is not allowing access to some QuickBooks files.
The file is opened before saving it. The .cube file has to be saved before importing it.
Few Steps to Fix QuickBooks error 3371 Status code 11104
First, the user must install the current updates of Windows. If this is not done, the QuickBooks installation could fail or get damaged.
The user is required to hit on the Windows logo, and then choose all programs, followed by Windows Update. Post the installation of updates, the user needs to install QuickBooks.
Now, the user must complete this step in the order to show.
Other Solutions
Solution 1: The damaged entitlement data store. Eastman file must be recreated to fix license and registration errors:
First QuickBooks and all its running processes must be closed
Next user must Press the CTRL+ SHIFT+ ESC key to open the task manager.
In Windows 10, users have to choose more details for the task manager to open.
Next, the User must select the process tab, followed by the process name. Header in the order to sort the process in an alphabetical sequence.
Now, the user must find QBW32.EXE files and then select the end task.
Adhering to this, the user must open the entitlement data folder for the operating system & version of QuickBooks.
Post that, a user must hit windows + R, which will navigate to open the run window & there they must write." C:\ ProgramData\Intuit\Entitlement Client\v8 (or v6)" and then hit on the enter key. The folder's location is the same for all addition of QuickBooks desktop and enterprise.
Then, the User must right-click the entitlement data store Dot East mill file and then select delete. Adhering to this, the user must choose yes to confirm that the file needs to be deleted.
Next, the user must open the company file and then follow the instructions.
Solution 2: QuickBooks Error 3371 status Code 111ution 2: Fixing MICROSOFT.NET Framework, MSXML, and C++ with QuickBooks install diagnostic tools
Kindly note once the tool has been run comma QuickBooks might have to be re-registered or reactivated. If users can't complete these steps, or an error occurs during the installation of Windows Update. Expert must be higher to fix the problems.
Running QuickBooks Install Tool
Once the QuickBooks install diagnostic tool has been downloaded, the user must save it on the desktop when there. Is a prompt. After closing all open programs? The QuickBooks install tool must be run. The time duration of this process is around 20 minutes.
Once the QuickBooks install tool has been run, in order to properly update the components, the user must restart their systems.
Downloading Updates for Windows
All the missing improvements related to. NET Framework, MSXML, and C++ issues will get installed, Once the Windows updates have been downloaded.
QuickBooks might not install or open properly If the Windows operating system is out of date. Users can access Windows updates by hitting the Windows Key and entering Windows updates in the search option. Post installation of dates, the user must restart their computers. Adhering to this, the user is required to reopen QuickBooks to look if the problem has been solved.
Fix QuickBooks and Microsoft Components Problems Manually
The user is required to get in touch with the expert to fix QuickBooks and Microsoft component problems. In case the problem is not solved by the QuickBooks install tool.
Installing Uninstalling QuickBooks via Selective Startup
If the problem persists. When QuickBooks is installed or attempting any of the given solutions, the problem could be due to some issues with the computer or the operating system
We hope now you have enough information about the error and hopefully the above-mentioned steps will help you to Fix QuickBooks error 3371.
Accounting Professionals, CPA, Enterprises, Owners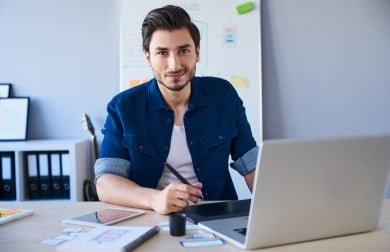 Looking for a professional expert to get the right assistance for your problems? Here, we have a team of professional and experienced team members to fix your technical, functional, data transfer, installation, update, upgrade, or data migrations errors. We are here at Dancing Numbers available to assist you with all your queries. To fix these queries you can get in touch with us via a toll-free number
+1-800-596-0806 or chat with experts.
---
Frequently Asked Questions (Faqs)
What can Cause of QuickBooks Error 3371?
The error code 3371 can be caused by a variety of factors:

Due to QBregistration.dat file.


Because of faulty MSXML components.


An interruption in anti-virus.
To Fix QuickBooks Error 3371, How do you use QuickBooks Tool Hub?
Follow these steps to install the tool hub on your system:

It is possible to run it while experiencing QuickBooks error 3371.


The first thing you should do is close QuickBooks Desktop.


Then, on your system, install the QB Tool Hub.


Then choose Quick Fix my Program.


Finally, follow the on-going prompts to resolve QuickBooks error 3371.
On Windows 10, How do I Fix QuickBooks Error 3371?
The complete steps for resolving QuickBooks error 3371 are listed below:

Turn off QuickBooks.


Then, download the most recent version of QuickBooks Tool Hub.


Now, open the recently downloaded file.


Finally, follow the prompts to accept the terms and conditions to solve the problem.