Squarespace is software through which you don't need coding knowledge to use the QuickBooks or creating a website. Having a website is one of the most crucial investments for every business owner. However, since coding is required for creating a website which is not simple.
The major advantage of integration is that the coding is not necessary. You will find the integration procedure convenient because it allows you to automate several accounting activities.
Save Time, Reduce Errors, and Improve Accuracy
Dancing Numbers helps small businesses, entrepreneurs, and CPAs to do smart transferring of data to and from QuickBooks Desktop. Utilize import, export, and delete services of Dancing Numbers software.
Let's have the example of the integration, you may automate order processing, generate invoices, and handle payments in QuickBooks. By avoiding manual data entry, you can save time by integrating Squarespace with QuickBooks Desktop and Online. Additionally, the combination of Squarespace and QuickBooks also reduces human error.
The most common accounting software for small businesses is QuickBooks, which is used by companies to track their financial health and manage income and expenses. It can be used for tax preparation, bill payment, report generation, and client billing. From a freelancer to a midsized enterprise, the QuickBooks product range has a number of excellent solutions.
A cloud-based financial management tool is QuickBooks Online. Its goal is to reduce the time you spend in managing the finances of your company by assisting you with duties like:
Developing quotes and invoices
Monitoring the cash flow and sales
Taking care of your clients and suppliers
Keeping track of your taxes and simplifying tax returns
Understanding the performance of your business
Budgeting and forward planning
QuickBooks Desktop is accounting software for small businesses designed to make easier for you to effectively manage your clients, vendors, and bank accounts. It is a double entry accounting program that combines powerful reporting and features to assist small businesses in conveniently tracking daily activities in a more efficient manner in response to quickly changing technologies.
This software is special in a variety of ways:
Clean appearance, quick and simple access to your company's graphic appearance.
Customizable dash control you may set it up as you want it.
Access all of your financial information in one location, including sales, costs, expenses, receivables, and payables.
Advantages of Squarespace Integration with QuickBooks Online and Desktop
With the help of the connectivity between Squarespace and QuickBooks, many company processes may be automated. However, it depends on a specific integration extension's capability. We are listing some advantages of combining Squarespace with QuickBooks.
The Squarespace customer data can be synced by users.
Processing of a whole order can be automated.
It gets simpler to create invoices.
The payments can be processed automatically by users.
Other accounting duties are automatable.
Reduce the possibility of human error.
By eliminating manually entering data, you can save time.
Users may be more interested in business expansion.
Automatic data sharing between Squarespace and QuickBooks Online helps you save time and money.
Connect numerous sales channels to QuickBooks Online to maintain accurate stock levels.
Eliminate shortcuts that frequently lead to human mistake and manual data entry.
Integrating of Squarespace into QuickBooks Online
You can quickly build up a seamless connectivity between Squarespace and QuickBooks Online using QuickBooks Connector.
Here is a step-by-step tutorial that highlights several important process-related essential aspects.
Connect Squarespace and QuickBooks Online
Your system integration should be connected.
We'll link Squarespace with QuickBooks Online by selecting Manage in order to continue.

Configure Your Squarespace and QuickBooks online Connection
It's your choice to choose how you want your Squarespace-QuickBooks Online integration to operate. To ensure that the integration settings are customized to your company's needs and accounting procedures, we anticipate that you must have a basic understanding of accounting.
Before you begin creating your workflows, set up your synchronization options. You must configure the following:

Time Zone Integrations for Accounts
Options for Email Sync Repot
Starting Date of Integration

You'll see a list of the primary workflows. Our sync will typically permit the following:
Squarespace sales will be transferred to QuickBooks Online.
Products will be delivered to QuickBooks Online from Squarespace.
If you have QuickBooks inventory feature activated, QuickBooks Connector may read this data and update Squarespace.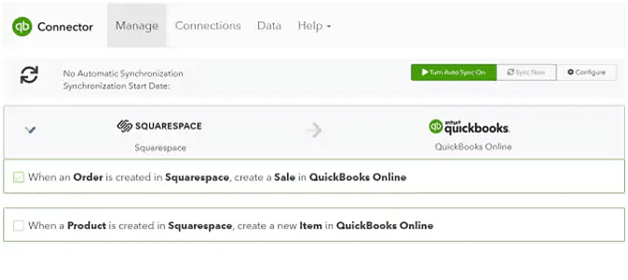 Selecting the first workflow to sync Squarespace orders with QuickBooks Online will begin the configuration procedure.

These configuration options will influence the following fundamental integration behavior:
Choose the Squarespace order statuses the app will use to pull sales data for QuickBooks Online syncing. You might also want to sync sales in the Pending or Fulfilled states, depending on the nature of your business.
Choose the appearance of Squarespace orders in QuickBooks Online. Choose whether you want your Squarespace orders to be forwarded as sales invoices or sales receipts to QuickBooks Online in the case of Squarespace. Choose the best choice for your company.
The terms "Default Product" and "Advanced Options" refer to advanced settings.

Order Number Prefix: Any orders that are retrieved from your Squarespace account will include the prefix you enter here. For instance, if you include the prefix "SQ-" in the settings and you have order number "1234" in Squarespace, your order will be retrieved into QuickBooks Connector with the order number "SQ-1234" and transmitted to QuickBooks in accordance.
Use a Shipping Item: In order to avoid potentially overcharging your consumers for shipping. If this happens, the integration might let you designate a specific item to which you want to apply these shipping costs. This will make it simple for you to monitor any revenue from shipping expenses.
Discount Product: Similar to the shipping item option above, you can pick a specific discount item so you can keep track of your discounts on purchases.
Gift Card Product: Much like the shipping and discount item options mentioned above, you may choose a specific gift card item so you can keep tabs on your gift card's sales.
Original Customer: When a sales invoice is created, the majority of accounting systems demand the identification of a customer record. You can select the type of client record that is being produced using this particular option. The Original Customer selection is the default. However, you can use the Customer's Organization option if your Squarespace clients select a firm name and you prefer to have that display within your accounting system instead. (Alternatively, you can choose the Generic Online Sale Customer option, which implies that all sales will be synced to your accounting system against a generic Squarespace customer record, if you don't want any customer records to be created at all inside your accounting system.)
Automatic Invoice Numbers: With this option, you can totally ignore the Squarespace order number and utilize your accounting system's sequential numbering scheme.
You can select a default Class or Location in your QuickBooks Online system by using the Assign Sales to Class and Assign Sales to Location options. Only if you have created Classes or Locations in your QuickBooks Company Files. It is specific to QuickBooks Online only.
Due Date Offset: If a transaction doesn't have a due date, one will be assigned. The transaction date and the Due Date Offset are used to determine this. The transaction date is taken as the due date if none is specified.

If you intend to sync refunded orders from Squarespace, enable the ability to produce credit memos in QuickBooks.

The Account from Which the Refund is Deducted: Choose the account from which you want QuickBooks Connector to deduct the return from QuickBooks.

Refund Number Prefix: This lets you specify the prefix you want for your credit memo numbers. Your newly produced credit memos in QuickBooks will be added by QuickBooks Connector.
Products used to represent partial returns are called partial refund products.

Complement QuickBooks Online with Squarespace products. We anticipate that you have all of your Squarespace items set up with distinctive SKUs in order for sales to correctly interface with your accounting system.

Name: We compare the SKU information from Squarespace to the NAME field from QuickBooks Online for the product.
SKU: We sync the product's Squarespace SKU field with its QuickBooks Online SKU field.

The page for tax configuration will be displayed to you. Here, you must choose the appropriate sales tax in your accounting system for each tax created or defined in Squarespace.

If you want QuickBooks Connector to add new items to QuickBooks Online, turn on this setting:
To use the Income and Expense Accounts for Non-Inventoried Items, you must first choose them.

You can decide whether you want payment information from Squarespace to be logged against sales in QuickBooks Online by using the payment configuration settings. Select Map Individual Payment Methods if you want to assign various payment methods to various clearing accounts.

Enabling this option also gives you the choice to send order payment costs that were handled by Squarespace.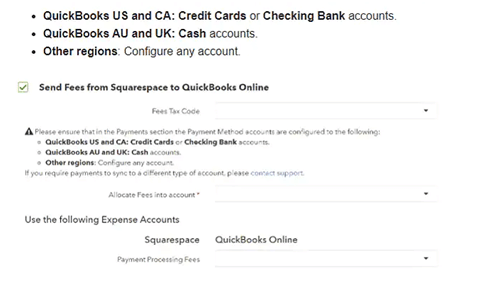 The following workflow option will enable QuickBooks Connector to read every item on Squarespace and produce a new QuickBooks Online transaction for it.
Some customers desire that only the goods utilized in actual sales be made, but other users like to send all the Squarespace items.

Selecting this option will enable QuickBooks stock level adjustments to sync with Squarespace. You'll be prompted to choose whether you wish to match the items to QuickBooks Online using their names or SKUs.
To save your changes, be sure to click Save.
Synchronize Your Data from Squarespace to QuickBooks Online
Your account is now prepared for data syncing between your applications. Your account should sync automatically every hour when it is enabled, but you can manually initiate sync at any time. Simply choose Sync Now from the Synchronization Options menu at the top of the Manage tab.
Connecting Squarespace to QuickBooks Online
This step-by-step tutorial will show you how to link Squarespace to QuickBooks.
A connection between Squarespace and QuickBooks

Log in to your account on QuickBooks Online.
Choose Find Apps from the Apps menu, then locate and Install Squarespace Connector.
Choose Connect.
To connect and give our service permission to access information from your Squarespace store, select Connect to Squarespace.
Type in your Squarespace login information. Select Log In next.
Select the website with QuickBooks Connector to connect to. Choose the store with which you want to sync data.
Choose "Approve."
Your QuickBooks Connector file is now linked to and authenticated with your Squarespace account.
Squarespace Working with QuickBooks
Integrate Squarespace and QuickBooks Online to automate your bookkeeping. Never again enter invoices, clients, or items by hand.
Details
You won't ever need to manually enter data again if you use Squarespace Connector to link QuickBooks Online with Squarespace. Squarespace Connector will connect by QuickBooks automatically.
Between Squarespace and QuickBooks Online, update stock levels.
Send any updated or newly generated Squarespace goods to QuickBooks Online.
Create a sales invoice or receipt in QuickBooks Online and share it when an order is placed there.
Ongoing assistance from our group.
Simply open the Squarespace website and add the QuickBooks plug-in to it in order to use QuickBooks Online. In this manner, you can use the Squarespace website to access your QuickBooks.
Enter your account login information on the "Squarespace" website.
To seamlessly integrate QuickBooks into your Squarespace website, browse the QuickBooks extensions available on the "Squarespace Extensions" page.
You can choose the "Connect" button as soon as you choose the "QuickBooks" option from the list of choices. You will then be connected to the QuickBooks website.
After that, you can carry on with the login procedure.
Choose your website after that.
Here, one must be sure to provide "QuickBooks" permission to access your website.
You can also verify the additional procedures on the QuickBooks website if they are necessary. You may continue working on your Squarespace website as you complete the integration process while keeping all of your accounting data in one location.
QuickBooks Commerce Working with Squarespace
You can connect your eCommerce store with inventory management systems by integrating third-party extensions with QuickBooks Commerce. You may use it to track shipments from QuickBooks Commerce to Squarespace, deliver orders, get new orders, and much more.
The fundamental procedures for integrating Squarespace with QuickBooks Commerce are listed here.
Launch "QuickBooks Commerce" on your computer.
After that, move to the left navigation bar and click the "Browse Apps" icon.
You can look for the "Squarespace" app here.
Now select "Get App" from the menu. You will be directed to the authorize page as a result.
To proceed, click the "Authorize" button.
Following that, a "Squarespace" account will be listed on your website.
After that, you can link your website to QuickBooks Commerce by clicking the "Allow" option.
Sync Stock Levels: Stock levels in QuickBooks Commerce are immediately updated when you sell something on Squarespace or other platforms, including B2B, preventing stock outs.
A Sales Order Creation: QuickBooks Commerce immediately generates a sales order and an invoice after a customer place an order on your Squarespace store. You did not exert any effort.
Send Confirmation of Fulfillment and Fulfillment Status: The fulfillment status and tracking confirmation will be given to Squarespace once your order has been dispatched, keeping your customers informed.
Ideal for Cross-Channel Sales: QuickBooks Commerce integrates all of your sales channels, regions, and currencies while automating backend Squarespace operations.
Experience with B2C eCommerce for Buyers in Bulk: Using a private, completely configurable B2B eCommerce platform, provide your wholesale customers with a fantastic shopping experience.
Strong Integrations for eCommerce: You can manage orders from a single platform and easily grow your Squarespace business across other well-known platforms like Amazon, Etsy, and Ebay.
You can combine Squarespace with QuickBooks with ease if you follow the instructions. Simply adding an extension can help you integrate Squarespace with QuickBooks. You may be able to access capabilities that are advantageous to your company website depending on the integration solution.
All you need to do is ensure that you carry out these actions while receiving professional direction. However, you should get in touch with our Dancing Numbers team via LIVE CHAT if you have any issues using the Squarespace integration with QuickBooks. We provide users with simple integration services to make your work easier.
Accounting Professionals, CPA, Enterprises, Owners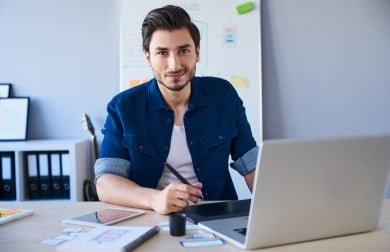 Looking for a professional expert to get the right assistance for your problems? Here, we have a team of professional and experienced team members to fix your technical, functional, data transfer, installation, update, upgrade, or data migrations errors. We are here at Dancing Numbers available to assist you with all your queries. To fix these queries you can get in touch with us via a toll-free number
+1-800-596-0806 or chat with experts.
---
Frequently Asked Questions (Faqs)
Does Squarespace Integrate with QuickBooks Desktop?
Log in to your account on QuickBooks Online. Choose Find Apps from the Apps menu, then locate and install Squarespace Connector. Choose Connect. To connect and give our service permission to access information from your Squarespace store, select Connect to Squarespace.
Can I use QuickBooks Desktop and online together?
Both have their own separate platforms and features and functionality. They are designed to operate independently and work differently.
Can QuickBooks Online Connect to Square?
You can manage all aspects of running your business with QuickBooks Online, including tracking sales and costs, paying personnel, and more. Your bookkeeping is completed once you link your Square account to QuickBooks Online using the free Connect to Square software. Go to the website for QuickBooks Online Connect to Square.