Unsaved data may be destroyed if QuickBooks crashes repeatedly. Further consequences include the loss of important data and delays in daily activities. Additionally, the frequent interruptions can be quite irritating and test the user's patience. Let's begin this comprehensive tutorial to assist you solve this problem from the ground up.
Save Time, Reduce Errors, and Improve Accuracy
Dancing Numbers helps small businesses, entrepreneurs, and CPAs to do smart transferring of data to and from QuickBooks Desktop. Utilize import, export, and delete services of Dancing Numbers software.
QuickBooks offers cutting-edge accounting solutions that are both creative and technically sophisticated. Small and medium-sized businesses might benefit from a variety of tools and capabilities that it provides, but you can run into a problem where QuickBooks opens then closes without warning. It's possible for this to happen with or without error warnings. In this post, we'll go through the numerous potential causes of the problem as well as possible solutions for how to unfreeze QuickBooks.
QuickBooks Unexpectedly Crashes (Crashes with or without an Error) When you are using it
The QuickBooks Desktop program unexpectedly shuts down while you are using it. You might have a crash while performing one of the following, for example, with or without receiving an error message:
Sending a large report by email
Random work on transactions, such as sales orders and invoices
Running many reports concurrently
Working at several Centers
Working in the Report Center.
While there are many features, there are a few problems that can occur occasionally. You can come across the QuickBooks closes Unexpectedly or ceased working problem while using the accounting application. It may manifest in any of the forms below: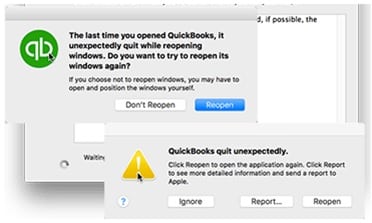 Unrecoverable Error (random codes).
QuickBooks has Stopped Working.
No Error (QuickBooks just disappears while working).
The software stopped functioning properly due to a fault, or Windows is looking for a fix.
These might be brought on by problems with your computer's hardware or by how QuickBooks works with your setup. To guarantee you have all the updated components, always upgrade your QuickBooks Desktop to the latest release as soon as it is made available.
Because of this, the application can just secure, keeping you from making any extra moves, and accordingly, your incomplete work would be all lost. Important accounting data business may be lost because of these sorts of crashes. Thusly, resolving these issues quickly is basic. On the whole, you really need to understand what causes such unexpected crashes. All of these possible causes are listed further in this blog.
What is QuickBooks Closes Unexpectedly Error?
When a user tries to launch the program, access their data, or otherwise utilize the program, QuickBooks crashes. When conducting a particular task, the program may suddenly start to operate slowly, open then close, or even unexpectedly crash, and QuickBooks may stall when opening a company file. Such problems might arise for a number of causes, including corrupted data, a broken installation, viruses, etc. Whatever the cause, it is necessary to rapidly resolve any issues and data threats by having a good manual on available to address QuickBooks desktop crashing.
The Main Causes of QuickBooks's unforeseen Problems on Windows 10/11
An error notice that reads "A Problem Caused the Program to Stop Working Correctly or Windows is Trying to Find a Solution" may occur when QuickBooks desktop crashes. You can lose any unsaved work when this happens since the program might occasionally simply freeze, preventing you from doing any more tasks.
When QuickBooks desktop crashes, the issue is typically either with the computer itself or with QuickBooks' ability to run on a certain machine. The first step in fixing QuickBooks desktop freezes on opening is to update Windows and QuickBooks to the most recent versions. In addition to the reasons mentioned above, we have also identified the following reasons why "QuickBooks opens then closes immediately":
The most common cause of the QuickBooks app's recurrent crashes is a corrupt QBWuser.ini file. Because it contains initialization data utilized by the QuickBooks application, this file is essential.
The company file being corrupted is yet another reason why QuickBooks keeps shutting.
All of this may occur because QuickBooks was installed incorrectly. Missing, incomplete, or partial installs may be caused by network connectivity problems or other disruptions, which can then result in the quickbooks keeps crashing upon opening error.
Utilizing a low-end PC might cause QuickBooks to crash as well. You could be prompted to look out how to shut down QuickBooks when it's frozen.
A corrupted hard drive is another potential cause of QuickBooks closing down during the loading process. QuickBooks may crash while opening a company file if the hard drive on which your company files are stored is destroyed.
Due to corrupt QuickBooks application files or an unreliable installation source, QuickBooks desktop frequently crashes. A QuickBooks opens and vanishes error might potentially result from it.
The application may lag or crash ultimately if the business file name is particularly long or has a lot of unusual characters, which might cause QuickBooks desktop 2023 to crash.
Another major factor in the problem is a corrupted or incompatible version of the Windows operating system. You could also wonder why QuickBooks keeps logging me out. The QuickBooks program may crash owing to an outdated Windows OS or an operating system that does not meet the QuickBooks.
Users may experience QuickBooks desktop freezing as a result of the QuickBooks Bex Error. The QB Bex issue occurs when an application starts storing more data than the storage memory will allow, interfering with Windows data execution.
Frequently freezing, hanging, and quickbooks keeps crashing of the application can also result from QuickBooks automatically closing while using an outdated QuickBooks application.
Attacks by viruses or malware are another cause of QuickBooks keeps closing down issues. The data may be so damaged and the corporate file compromised that the user may not be able to recover it.
Unrecoverable QuickBooks issues may keep happening and force the QB program to crash. Frozen QuickBooks desktop makes it difficult to use the app's capabilities and functionalities.
Another issue that might result in the QuickBooks 2022 keeps crashing error is third-party disruptions of the software's operation.
MS Office components that are missing or broken might cause QuickBooks to crash. The unintentional deletion of these files can result in a number of issues with QB's operation.
Problems with the directory files might potentially be the cause of your QuickBooks recurrence.
Note: QuickBooks freezing may be caused by one or more of these factors. However, we must think about the error's implications before we start troubleshooting it.
How Can You Identify When QuickBooks Crash Unexpectedly or Frozen?
Correctly identifying the QuickBooks desktop is frozen issue is very helpful in solving the problem. However, you should also be aware of its consequences so you can stop it from happening again. The following is a list of many indications to look for when the QuickBooks closes suddenly mistake occurs
Even after several tries, you can still be unable to access the QuickBooks Desktop program, and this is when the QuickBooks stuck on loading screen occurs.
The running program begins to often stall, and QuickBooks loads incredibly slowly.
Your computer's operating system unexpectedly crashes.
Whenever QuickBooks does a task, it crashes repeatedly.
You can see many error messages if the program fails.
It's possible that QuickBooks Desktop Pro 2023 continually crashing and "QuickBooks Crashes Registering" occurs.
Compared to other symptoms, the error "QuickBooks Crashes When Opening Company File" is far more often.
The desktop version of QuickBooks frequently crashes while distributing paychecks.
In certain cases, QuickBooks will open but function incorrectly.
Examples of Random QuickBooks Shutdowns
The following situations result in QuickBooks shutting down at random:
QuickBooks may randomly close when working on invoices or sales orders at random. Make sure you finish the first invoice or the current report before going on to the next one as a measure. However, if you open more than one report at once, QuickBooks may find it difficult to function effectively.
Various reports running at once might increase the workload and cause QuickBooks to shut down suddenly without notification or warning.
While shipping a large report, users could see that QuickBooks closes.
The problem may also show up while using a report or other programs.
The above mentioned steps could sometimes lead to QuickBooks Closing Unexpectedly. You must therefore work preventative measures while performing such tasks.
The following issues could occur if such tasks cause QuickBooks to close:
QuickBooks is no Longer Working.
QuickBooks Could Disappear without any Error.
Random Codes (Unrecoverable QuickBooks mistakes)
The Most Common Causes of QuickBooks' Automatic Shutdown
While the steps that are mentioned above situations may cause the error codes to show up, the following are some more major causes of QuickBooks' automatic shutdown.
Company Name
What the company name has to do with QuickBooks closing may be a wonder to you. It turns out that if the company name is too long or doesn't follow the rules, it may result in a close.
Issues with QBWUSER.ini File
One of the main causes of an unexpected QuickBooks shutdown is a damaged or missing QBWUSER.ini file.
Troublesome Hard Drive
When a user's hard disk becomes corrupt, QuickBooks shuts them out immediately after logging in.
Installation or File Problems
Unexpected shutdowns of QuickBooks 2022 might be caused by faulty or missing QuickBooks components, incomplete or improper installation, or corrupted program files.
Damaged or Outdated Windows OS
This issue can occur if your Windows operating system has been damaged or if you haven't updated it to the latest version.
Which Condition Showing QuickBooks Desktop Keeps Crashing Error
Case 1: When Reconciling Accounts, QuickBooks Freezes
You can use below solution to get rid of the unpleasant error if QuickBooks randomly shuts down while you are attempting to reconcile accounts:
Modify Adobe Reader choosing to solve QuickBooks Crashes During Reconciliation
Resolve Removing the Adobe Reader options fixes the QuickBooks fault that causes it to start but then close.
Open Adobe Reader first before making changes to the options.
After that, Pick the preferences option by clicking the Edit Tab.
Now Uncheck PDF view in the browser's Internet Option by clicking there.
Click Okay to end the Adobe Reader window.
Return to QuickBooks now and reconcile the same report.
Upgrade Adobe Reader Fixing QuickBooks crashes during reconciliation is preferred.
Case 2: When Attempting to Open the Business File, QuickBooks Crashes.
When users attempt to open their company file, they could run across the QuickBooks desktop keeps closing problem. You may fix this problem using the following technique:
Manual Rename the TLG and ND files
To prevent QuickBooks from crashing after logging in, start by shutting down any programs connected to it.
You must then navigate the QuickBooks business file path after that.
You must now search for files with the ND and TLG extensions.
Change the file extensions for both now.
Restart the computer, then launch QuickBooks again. Examine QuickBooks for crashes.
Methods to Fix QuickBooks Closes Unexpectedly or Keeps Crashing Error
Since we are now aware of the potential causes of the "QuickBooks Closes Unexpectedly" mistake, we can also recognize the problem if it arises by its signs and symptoms. Now let's examine the several approaches that may be used to fix "QuickBooks Desktop Crashes When Opening Company Files." Below we've provided you with a list of various approaches based on the scenarios that may arise:
Method 1: Update the QuickBooks Application
You could experience a number of QuickBooks-related issues, such as unexpectedly due to an outdated QuickBooks application. The cause could be a problem with the computer itself or a problem with how QuickBooks works with your system. In order to ensure that you have all the updated components, it is crucial to Update your QuickBooks Desktop as per the Latest Release (upgrade to newer versions of QuickBooks Desktop Pro Plus, Premier Plus, or Enterprise when they become available).
Method 2: Renaming the Qbuser.ini file
An essential file called QB.ini is in charge of storing all the fundamental data about the user and configuration upon program start-up. In addition, a defective or damaged QB.ini file might cause QuickBooks to repeatedly crash on Windows 10. The file can be renamed to fix this. Observe the instructions exactly: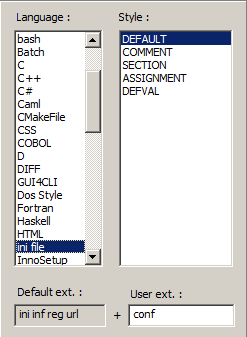 Locate the QuickBooks application directory folder in your system location (often on the C drive).
From the folder, look for files with the (.ini) extension.
To fix the QB crashes while opening error, rename the files to Qbw.ini.old.
Save these files with the.old extension.
You should access the business file before renaming the (.ini) files to avoid deleting any rundown records while trying to fix QuickBooks' start-up issue.
After renaming the DataStore.ecml file, restart the device once again.
See whether the QuickBooks keeps crashing problem is fixed by attempting to open the program again.
Method 3: Copy the Company Files and Paste them on the Desktop
Copying your files to the desktop and then opening them is another way to fix the Why does my QuickBooks desktop keep shutting problem. You may determine if the problem is related to the file or the location by moving your files around. To fix the QuickBooks shuts down automatically issue, take the following actions:
You must right-click on the Desktop screen and select the new option.
While you fix the QuickBooks crash while sending email, select the folder option and create a new folder.
Next, Visit the site of the most recent corporate file.
To fix QuickBooks Freezing Windows 10, copy your company files from here.
Return to the newly created folder.
To stop QuickBooks 2023 from crashing, right-click or hit Ctrl + V on the keyboard at the same time, then select the Paste option.
Press and hold the Ctrl key on the keyboard when QuickBooks hangs now. Hold on to the button until the No Company open window appears on the screen.
When QuickBooks send forms freeze, choose Open or Restore an existing business from the drop-down menu.
Select the Next tab when the business file has opened.
Go back to the new folder and open the company file if the QuickBooks frozen issue impacts you.
Take into Account the Following Factors as You go through this Process:
If you are able to access both the sample file and the business file in the new place, the issue with QuickBooks freezing is with the location or folder holding your company file.
Copy the file to a different folder to identify the issue if you see the example file opening but the QuickBooks business file won't open and displays the QuickBooks crashing error. Check to see whether the location or the corporate file is the issue.
You must fix the installation of your QuickBooks Desktop program if the example file displays issues like QuickBooks keeps crashing.
Method 4: Run the DISM and SFC Scans
The System File Checker application excels at checking and fixing both the system and personal files. Additionally, DISM, which stands for Deployment Image Service and Management, optimizes images and fixes any bugs that lead to a crash in QuickBooks while opening company files. Following are the steps:
In the Start menu, type cmd to launch the command prompt window.
To fix QuickBooks being frozen, right-click the command prompt icon and choose to execute it as administrator.
You need to enter SFC/Scannow after C:windowssystem32> in the command prompt window once it has opened.
Check to see if you still have QuickBooks crashing after an update after the scan has performed and completed its task.
Next, Adhere to the Instructions Below:
When QuickBooks first starts freezing, use the instructions above to open the CP window as an administrator.
Only after the previous command has been completed, execute the following commands one at a time:

Cleanup-Image /Online /CheckHealth /DISM /Online /Cleanup-Image /ScanHealth
Cleanup-Image/RestoreHealth in DISM Online

Check to see whether QuickBooks desktop Pro still crashing after properly executing these commands.
Method 5: From the QuickBooks Tool Hub Run the Quick Fix my Program
If you want to fix QuickBooks Crashes When Opening a Company File error, then you have to run the Quick Fix my Program that is from the QuickBooks tool Hub by the given steps that are mentioned below: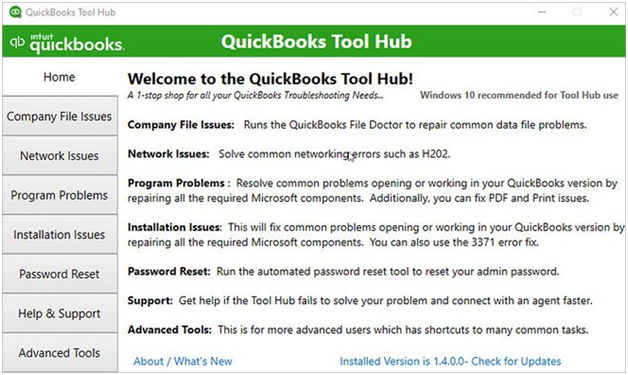 You have to start by closing the QuickBooks Desktop Application.
After this, you have to Download the QuickBooks Tool Hub file.
Then Open the file that you have downloaded QuickBooks ToolHub.exe and then Install the Tool Hub by following the instructions that are visible on the screen.
To Open it, double-click on the Tool Hub icon on your Windows Desktop.
After that, click on the Program Problems that are followed by Quick Fix my Program.
Lastly, Reopen the QuickBooks Desktop application.
Method 6: From the Tool Hub Run the QuickBooks Install Diagnostic tool
The QuickBooks Install Diagnostic Tool automatically detects and resolves problems with Microsoft components, such as QuickBooks Online's keeps freezing that the QuickBooks program uses for its functionality.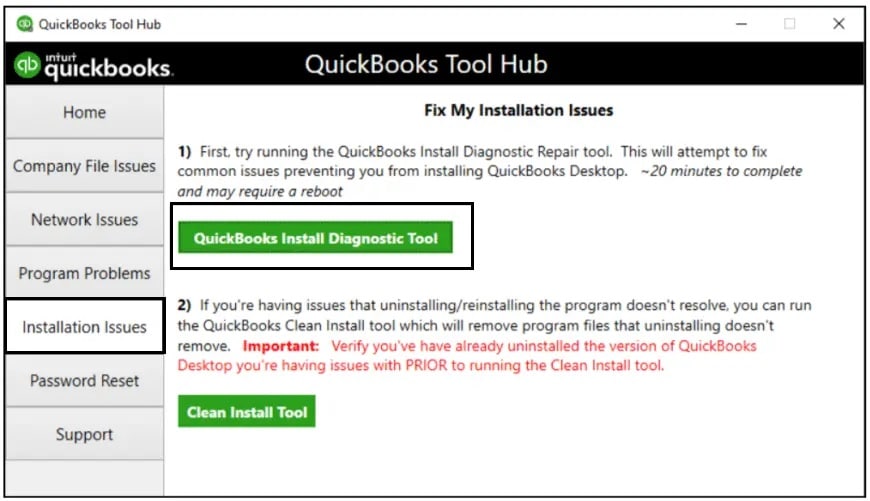 The first step is to Launch the QuickBooks Tool Hub and choose Program Problems.
Choose QuickBooks Connection Diagnostic Tool after that, and allow it to run. Finding and fixing the problem with QuickBooks Freezing Ehen Opening Company Files can take up to 20 minutes.
Restart your computer and the QuickBooks application after the tool has finished.
Method 7: Rename the QBWUSER.ini File
If the QBWUSER.ini file is corrupted or missing, QuickBooks may start crashing often. To resolve this issue, you must rename the QBWUSER.ini file. The steps listed below could be helpful:
You should be aware that whenever you rename the QBWUSER.INI file, the list of your previously opened company files is also erased. As a result, you must manually reopen your company file.
You must first Open the folder where you saved the QBWUSER.ini File. Observe the file path provided:
Users [Your user name] AppDataLocalIntuitQuickBooks [year]
You may need to Enable Hidden Files and folders due for some reason you are unable to see the folder.
After that, choose Rename by right-clicking on the QBWUSER.ini file.
Add .old to the File Name's end now. For example, rename EntitlementDataStore.ecml and QBWUSER.ini.old.
Finally, try Re-open the QuickBooks Desktop application to see if the problem still persists.
Method 8: Repair the Program
There are high chances that you are using a suitable OS version and an updated QB application. But did you attempt to repair the program? It can assist you in repairing the QuickBooks unexpectedly closes error. To repair the program, follow the instructions below.
You must first Restart the computer.
Then select Control Panel from the Windows menu by clicking it.
You must then Choose to Uninstall a Program after clicking on Programs and Features.
In case you are not able to find the Programs and Features option, then instead of this you can select Programs. You can select Program and Features
You must first choose QuickBooks from the list of programs, and then click Uninstall/Change.
Click on Continue and then on Repair
Once more, click Next and wait for the tool to Start its diagnosis and when you are finished click on Finish.
Run QuickBooks as an Admin after the repair procedure is finished. Right-click the QuickBooks icon on your desktop and choose the Run as Administrator option to accomplish that.
Method 9: Suppress the QuickBooks Desktop Application
At times, damage to the company file causes QuickBooks to crash. However, QuickBooks must attempt to open your old company file in order to determine whether the problem is with QuickBooks or your data file. You can do this by following the instructions below:
Double-click the QuickBooks Desktop icon; hold down the Ctrl key while doing so.
Important: Unless QuickBooks freezes or generates an error message, you don't need to release the Ctrl key until you see the "No Company Open" display.
Lastly, Select a company file and then click on Open.
Method 10: Run the Clean Install tool from the Tools Hub

Your old install folders are automatically renamed for you by the Clean Install tool. As a result, when you reinstall QuickBooks, new install files can be included. Your company's files won't be deleted.
Method 11: Update Windows
Outdated window updates can result in error: The employee center in QuickBooks freezes. Therefore, you must upgrade it to resolve to install issues by following the given steps that are mentioned below:
Restart your workstation after the update is complete.
In case you are able to open the QuickBooks applications without the occurrence of this error, then you can do is to Open QuickBooks and your company file.
Try again if you are unable to Install QuickBooks Desktop for any reason.
Finally, your error is fixed if you can install and Open the QuickBooks application. If not, move on to the next solution.
Know how to update the version of windows from microsoft, You can go through the Windows Update article.
Method 12: Manually fix Windows Components
You can attempt to repair particular Windows components on your own if the QuickBooks Install Tool and the update didn't resolve the QuickBooks closes unexpectedly error.
If you are a confident Windows user or have assistance from Microsoft support specialists, follow the instructions listed below.
Reinstalling or Repairing Microsoft .NET Framework
Repair Microsoft MSXML
Method 13: To Install QuickBooks Desktop Use Selective Startup
You must install QuickBooks when in Selective Startup (Safe Mode) to get around third-party applications like Antivirus and antispyware tools that may block the installation.
To launch the Run Command, simultaneously press the Windows + R buttons on your keyboard.
In the text box, enter msconfig, and then press OK.
Next, select Selective Startup and Load System Services under the General tab.
After that, select Hide all Microsoft Services from the Services menu.
Then click on the option of Disable all.
After this, Unmark the Hide all Microsoft Services checkbox.
Additionally, you must confirm that the Windows Installer checkbox on the list of services is selected. In case it is not then select the checkbox and then click on OK
Finally, in the System Configuration Window, Select Restart.
How Can You Fix the QuickBooks Crashing Error in MacOS?
To fix the QuickBooks Desktop crashing issue on MacOS, do the following:
Restarting the operating system is step one.
Manually update your programs.
Check to see if your QuickBooks program is Mac compatible.
Remove the preference file from the Mac's storage.
In the above blog, all the effective troubleshooting methods are mentioned that can help you out in resolving the error QuickBooks closes unexpectedly without any issue. If you are still facing any issues even after following the above solutions, then you can connect with Dancing Numbers team via LIVE CHAT is available for the users round the clock to provide users with the best troubleshooting solutions to get errors resolved.
Common Question Answers Related to QuickBooks Closes Unexpectedly or QuickBooks Keeps Crashing Issue
1. Why does My QuickBooks Keep Closing?
There are several factors, including a corrupted file, an out-of-date version of the software, or a clash with another program, which might cause QuickBooks to continually close out. To find the exact cause of the problem, it is important to troubleshoot.
2. When I Open QuickBooks it Closes Immediately?
If you are attempting to restore a corrupted QuickBooks file. In this case QuickBooks doesn't understand what to do and then it freezes and closes immediately.
3. Why Does QuickBooks Online Keep Crashing?
QuickBooks Online keeps crashing due to following reasons:
Corrupted or missing QBWUSER. INI Files
Because of excessive use
If your installation is incomplete
If your backup is failed
Because of too much cache data
Antivirus Blocking
4. Why does QuickBooks 2023 Keep Crashing?
This problem may occur from overheating the system. It may also freeze due to insufficient RAM memory. Attacks from viruses might cause QuickBooks to freeze or crash. This error could be caused by damaged or missing files.
5. Can I use QuickBooks Desktop in 2023?
Yes, and QuickBooks Desktop Premier Plus 2023 was made available in September 2022, which is wonderful news. The pricing and subscription policies have changed, but the main change is that a new version is now available. QuickBooks desktop 2023 is an option for people who still do not want to switch to Online software.
6. Why does QuickBooks Keep Aborting?
QuickBooks Keeps Aborting Due to:
There are Damaged Program Files.
The QuickBooks update is either incomplete or out of date.
This problem in your PC is also brought on by antivirus software and firewalls, which stop QuickBooks from working.
It is necessary for the folder where the file is saved to have additional permissions.
7. What to do When QuickBooks Freezes?
If your QuickBooks freezes then you have to restart your computer first
Then you have to try to clear your browser cache and cookies
There are several factors, including a corrupted file, an out-of-date version of the software, or a clash with another program, which might cause QuickBooks to continually close out. To find the exact cause of the problem, it is important to troubleshoot.
Accounting Professionals, CPA, Enterprises, Owners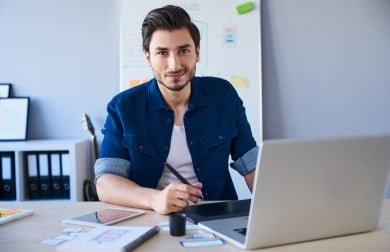 Looking for a professional expert to get the right assistance for your problems? Here, we have a team of professional and experienced team members to fix your technical, functional, data transfer, installation, update, upgrade, or data migrations errors. We are here at Dancing Numbers available to assist you with all your queries. To fix these queries you can get in touch with us via a toll-free number
+1-800-596-0806 or chat with experts.
---
Frequently Asked Questions
What Leads to QuickBooks Freezing?
There are several open or ongoing applications.
Drivers that are outdated or damaged.
Excessive heat.
Low RAM.
Current modifications to BIOS settings.
External gadgets that are broken.
Computer viruses.
Missing or damaged system files.
Software damage.
How can I Stop QuickBooks from Freezing?
The following are some solutions:
Turn off the antivirus
After selected start-up, return to normal
Restore your company's file from the backup.
Why do My QuickBooks Crashes so Frequently?
These could be brought on by problems with your computer's hardware or by how QuickBooks works with your setup. To guarantee you have all the updated components, always upgrade your QuickBooks Desktop to the most recent release as soon as it is made available.
What Time does it Require to Rebuild the Data in QuickBooks?
It could take some time to complete the diagnosis and repair of your data file, as it depends on the size of the file, whether it is local or on a network, and other factors. It shouldn't take the network only mode longer than a minute or two.
What if Your QuickBooks is Not Responding?
There can be a few reasons by which your QuickBooks will stop responding:
There should be Conflict in Some Program
Installation Error
If you have Entered a longer Company Name than required
Corrupted Hard Drive
Because of Damaged Windows OS
In case some Program Files are Damaged
What if Your QuickBooks Continuously Crashing?
The reason for continuously QuickBooks crashing is that your old QuickBooks file might be corrupted. Due to this it crashes every time whenever you are trying to restore it. In case you want to resolve this issue then you have to go back to your previous QuickBooks version and then have to fix the damage by running the verify rebuild data.
Why does the QuickBooks Tool Hub Assist in Preventing QuickBooks Crashes?
All of the additional QuickBooks features are available with the QuickBooks Hub application. It contains the necessary tools for resolving numerous QuickBooks issues, including the Doctor, the Condense Data Tool, the QuickBooks PDF and Print Repair Tool, and others. There are several tools available in the QuickBooks Tool Hub that can be used to analyze and resolve software-related issues. The QuickBooks tool center aids in bug fixes and other problem solving while preventing program crashes.